Pirates top Phils to move five games over .500
Early offense behind Volquez helps continue recent NL Central push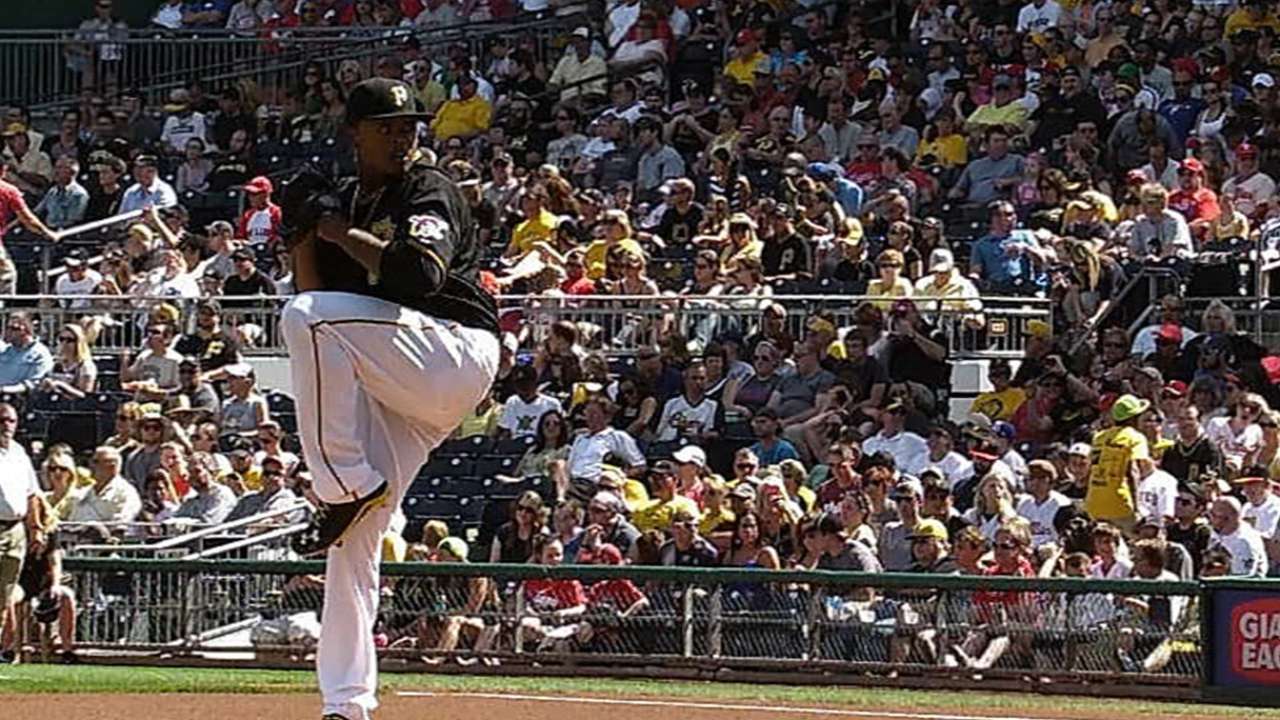 PITTSBURGH -- Edinson Volquez was a little out of sorts in the first inning against the Phillies on Saturday, which prompted a message from pitching coach Ray Searage.
"He slowed me down," Volquez said. "I was too fast to the plate, and everything was late with my hands. I couldn't do what I wanted. After that inning, he came to me and said, 'Slow down, stay back and make the right pitches.' "
It worked. And behind Volquez's third strong outing in a row, the Pirates continued their feast of sub-.500 teams Saturday, pushing their record the furthest north of the break-even mark it has been all season, edging the lowly Phillies, 3-2 at PNC Park.
Volquez settled down and gave up just one run in seven innings, the fourth time in five starts he has allowed one or no runs. At the plate, the Pirates got most of their offense three batters into the game, when Andrew McCutchen lasered a two-run homer to center. That blast, paired with another run in the second, lifted the Bucs to their fifth win in six tries.
It was also Pittsburgh's 11th victory in its past 15 games -- all against teams that were in last place at some point during the series -- and lifted the club's record five games above .500 at 46-41.
"We're doing everything," catcher Chris Stewart said. "Driving in runs, our starting pitching has been outstanding, going deep into ballgames, saving the bullpen's arms. The bullpen has come in, doing their job. That's what it's all about, scoring more than the other team, and we've done that a lot lately."
Volquez did not allow a run in the first inning despite issuing two walks, and he posted another zero in the third even with two more free passes. Luckily for the right-hander, his pitching line's blemish came with the bases empty when Cody Asche hit a solo homer in the fourth inning. After the run was scored, however, Volquez faced just one over the minimum to record his final 12 outs.
"He trusted his stuff; he didn't try to make it better than it normally is," Stewart said of Volquez's effectiveness. "He was throwing it, not really guiding it, not really trying to make it nastier or anything like that. [He was] getting ahead, challenging guys, forcing them to put the ball in play. We had a lot of early contact outs after the second; it was nice."
Asche's homer was the first against Volquez since June 1, and it ended the veteran's streaks of 16 scoreless innings and 34 innings without having a pitch leave the park.
For the second consecutive game, the Pirates gave their starter a lead after the first inning. McCutchen's homer scored Gregory Polanco, who led off the game with a bloop single, and came on the simplest of pitches -- one Phillies starter David Buchanan said "caught too much of the zone."
"It was a dead fastball down the middle," McCutchen said. "I do a pretty good job of hitting those, and all around the league, everyone does a pretty good job of hitting fastballs down the middle. I was able to get that first pitch, and I was ready to hit it."
Volquez helped his own cause in the second, when he chopped a grounder with the bases loaded that scored Pedro Alvarez. It was Volquez's second RBI of the season, a stat he did not mind boasting about with a smile in the clubhouse after the game.
The second inning was keyed by a Jordy Mercer double, his first of two on the afternoon. Mercer has a hit in all five games this month, with multihit showings in three of those contests. The shortstop is 9-for-14 (.643) in July.
"He's in a good place," Pirates manager Clint Hurdle said. "Confidence is big up there. He was aggressive from the time he gets in."
Former Pirate Marlon Byrd cut the Pirates' lead in half with a solo homer to start the ninth inning against closer Mark Melancon. However, Melancon got the next three batters, including a strikeout of pinch-hitter Cesar Hernandez, to end the game for his 16th save.
Stephen Pianovich is an associate reporter for MLB.com. This story was not subject to the approval of Major League Baseball or its clubs.