Solid efforts from Lewis, bats help Rangers snap skid
Chirinos, Beltre connect for homers off veteran right-hander Colon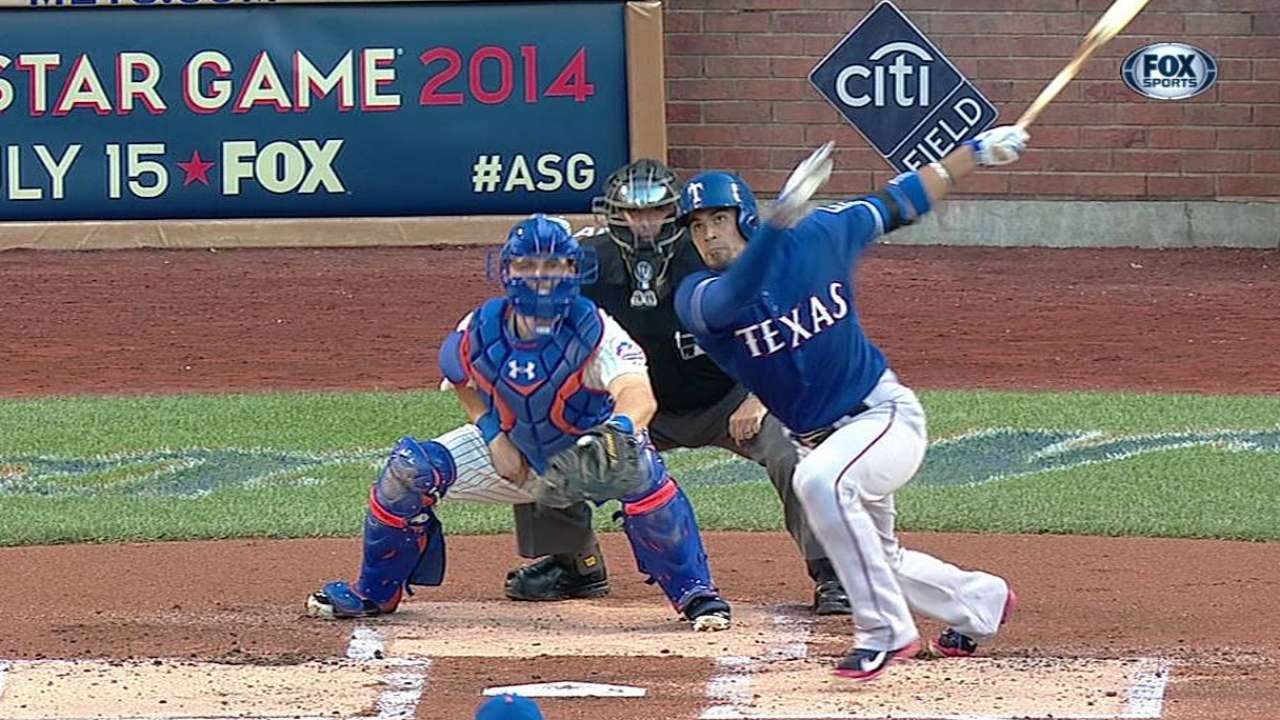 NEW YORK -- There was no dancing or singing in the clubhouse on Saturday night. The voice of shortstop Elvis Andrus could be heard, but that's normal whether the Rangers win or lose.
This time they won, 5-3, snapping another losing streak, but they look at the victory as something they should be doing more than they have and need to start doing more of in a hurry.
"It's great, but I don't think we should be excited to get a win," third baseman Adrian Beltre said. "The last few weeks have been difficult. We haven't played the way we wanted, but a win shouldn't be a relief, it should be routine. It should be something we're doing more of. I know we have injuries, but that's no excuse. We should still be winning. We still have a good team and should be winning more ballgames."
But right now they'll take what they can get. Colby Lewis pitched six solid innings, and Robinson Chirinos smashed a three-run homer that helped carry the Rangers over the Mets at Citi Field.
The loss snapped the Rangers' six-game losing streak. They had also lost 10 straight on the road, their longest skid away from Arlington since they dropped 12 straight in 2003.
"It's no relief, because we still have games to play," manager Ron Washington said. "We finally won a ballgame, but we have to win more than just one game. It's nice to win, but we've got to come back tomorrow and be consistent. … Score some runs and pitch."
Lewis, in outpitching Mets starter Bartolo Colon, allowed three runs on eight hits to improve his record to 6-5 with a 5.51 ERA. He did not walk a batter and struck out seven before Neal Cotts took over in the seventh.
"You always want to build off the previous game," Lewis said. "We won tonight, but we want to do it again tomorrow. We're not out of this yet. It's only the All-Star break. You never know what can happen. We just have to keep running guys out there and stay healthy. You never know."
Lewis left the game with a two-run lead, and the bullpen made it stand with three scoreless innings from Cotts, Shawn Tolleson and Joakim Soria. The Mets had nine hits and two walks, but the Rangers limited the damage by holding them to 3-for-13 with runners in scoring position.
The Rangers' were 3-for-8 in those situations, but one of the three was the three-run homer by Chirinos that helped them take a four-run lead in the first inning.
"From the first inning, Colon was making good pitches," Chirinos said. "He was throwing it on the black. I was just battling him and was able to get him with two strikes."
It was Chirinos' eighth home run of the season and his sixth in his last 24 games. In addition, it was just the fourth three-run homer by the Rangers this season and the first since Beltre hit one on June 4. The four-run outburst was also the biggest for the Rangers in the first inning since they scored five against Oakland on Sept. 27, 2012.
"We finally put some runs on the board. That's what we have been needing to do," Washington said.
Beltre hit his 11th home run with two out in the third to give the Rangers a five-run lead. He now has six home runs off Colon, his most against any pitcher.
The third inning was big for Lewis. The Mets scored two runs in the frame, assisted by a couple of defensive mistakes, but Lewis kept it from getting out of control.
Ruben Tejada began the rally with a single. Colon, showing bunt, instead swung away on a slash play and hit a grounder to Beltre, who threw wildly on a force attempt at second. That left runners on first and second for Curtis Granderson, who doubled home a run and moved Colon to third.
Daniel Murphy followed with a fly ball into shallow left. Shin-Soo Choo tried to make a diving catch, and did get the ball in his glove, but he couldn't hold it and it fell out for a single without the runners advancing.
Lewis retired David Wright on a pop to center, then gave up Bobby Abreu's line-drive RBI single to right. The bases remained loaded, but Lewis got out of the inning by striking out Lucas Duda and getting Juan Lagares on a grounder to second.
"For me it was just trying to make pitches in that situation," Lewis said. "I don't know if this is bad to say, but if I'm going to get beat, I'm not going to walk a run in. I am going to throw my best stuff and come right at you. I'd rather give up a grand slam than a walk."
Travis d'Arnaud led off the fourth with a home run, but that was all the scoring off Lewis, who retired nine of the last 11 batters he faced and exited after six with a two-run lead. He is 2-1 with a 4.94 ERA in his last four starts.
It's an improvement, but the basic message out of the clubhouse was that a win or two are not going to make anybody satisfied right now. There is much more to do, and this is only a start.
T.R. Sullivan is a reporter for MLB.com Read his blog, Postcards from Elysian Fields and follow him on Twitter @Sullivan_Ranger. This story was not subject to the approval of Major League Baseball or its clubs.