Royals come up short after Guthrie's early exit
Offense pounds out 12 hits; veteran starter pulled in fifth frame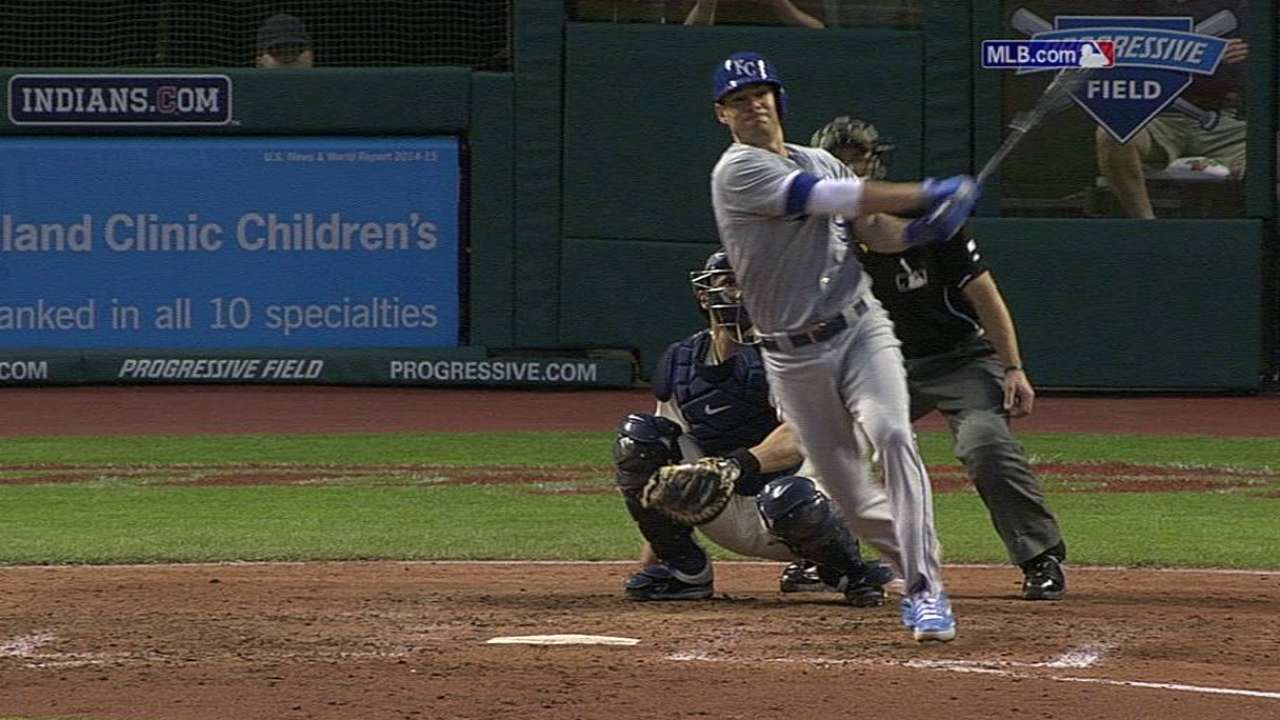 CLEVELAND -- Nothing worked out for the Royals.
Not a shakeup in the batting order. Not a starting pitcher who had been very tight-fisted. Not a bases-loaded chance in the ninth inning.
In the end, the Indians flattened the Royals, 7-3, on a pleasant 73-degree Saturday night with a crowd of 24,481 at Progressive Field.
Kansas City manager Ned Yost began the evening by dropping Billy Butler from the third position in the batting order to sixth and installing Salvador Perez in Butler's old spot.
"Whenever you're not producing at the level you're supposed to, you've really got no reason to complain," Butler said.
Butler got a couple of early hits, but they produced nothing. He came up twice later, each time with two runners on base, but each time he made the third out. Perez got one single that contributed to a run.
Right-hander Jeremy Guthrie, coming off four starts that the Royals won (he got the win in three of them), was chased in just four-plus innings. He gave up 11 hits and was charged with six runs.
"They made him work right from the get-go," Yost said.
It turned out to be Guthrie's shortest outing of his 18 starts this year.
"They just hit everything," Guthrie said. "I kept the ball down for the most part. A lot of singles -- they just kept hitting it where we weren't, and they just kept piling up."
Michael Bourn's leadoff home run in the third inning started the assault on Guthrie. Three singles and a walk with no outs in the fifth ended his evening.
"That's a club that can really put runs on the board in a hurry. Especially if they're getting pitches they can hit," Yost said. "But Bourn's home run actually was a really good pitch, it was up and in. But the other ones just kind of found holes. They didn't really drive the ball all over the place, they were just finding holes."
After giving up an RBI single in relief of Guthie, left-hander Francisley Bueno shut down the Indians for three innings, and when Danny Valencia delivered a home run to start the seventh, the Indians' lead was cut to 6-3.
"It was a fastball inside," Valencia said. "I just hit it enough to get it over. I didn't know if I hit it high enough because the wall's pretty tall, but it's nice that it got out and cut the deficit a little bit."
The blast came off Indians rookie left-hander T.J. House, who was headed for his first Major League victory.
"Pretty good, sneaky fastball, good changeup," said Perez.
Omar Infante gave the Tribe a scare in the eighth inning when, with Alex Gordon on, he came close to clearing that left-field wall against reliever Bryan Shaw. But the ball hit high off the barrier and jumped back so quickly that Infante got only a single and Gordon couldn't score. Butler then bounced into the third out.
Even after reliever Casey Coleman gave up the Indians' seventh run in the eighth, there was a promising uprising in the Royals' ninth.
"As the ninth inning got interesting, it was nice we had those extra runs," said Indians manager Terry Francona.
Interesting indeed. Valencia singled for his third hit, Alcides Escobar singled and, after Cody Allen's wild pitch and Escobar's stolen base, Jarrod Dyson walked to load the bases.
Nobody was out and the potential tying run was at the plate. But Lorenzo Cain struck out and Eric Hosmer grounded into a game-ending double play.
"We had 'em in a spot where we were going to make it real interesting. It just fizzled out," Yost said.
It was that kind of night.
Dick Kaegel is a reporter for MLB.com. This story was not subject to the approval of Major League Baseball or its clubs.