Indians build foundation in House's first career win
Rookie snags elusive W as eight batters record at last one hit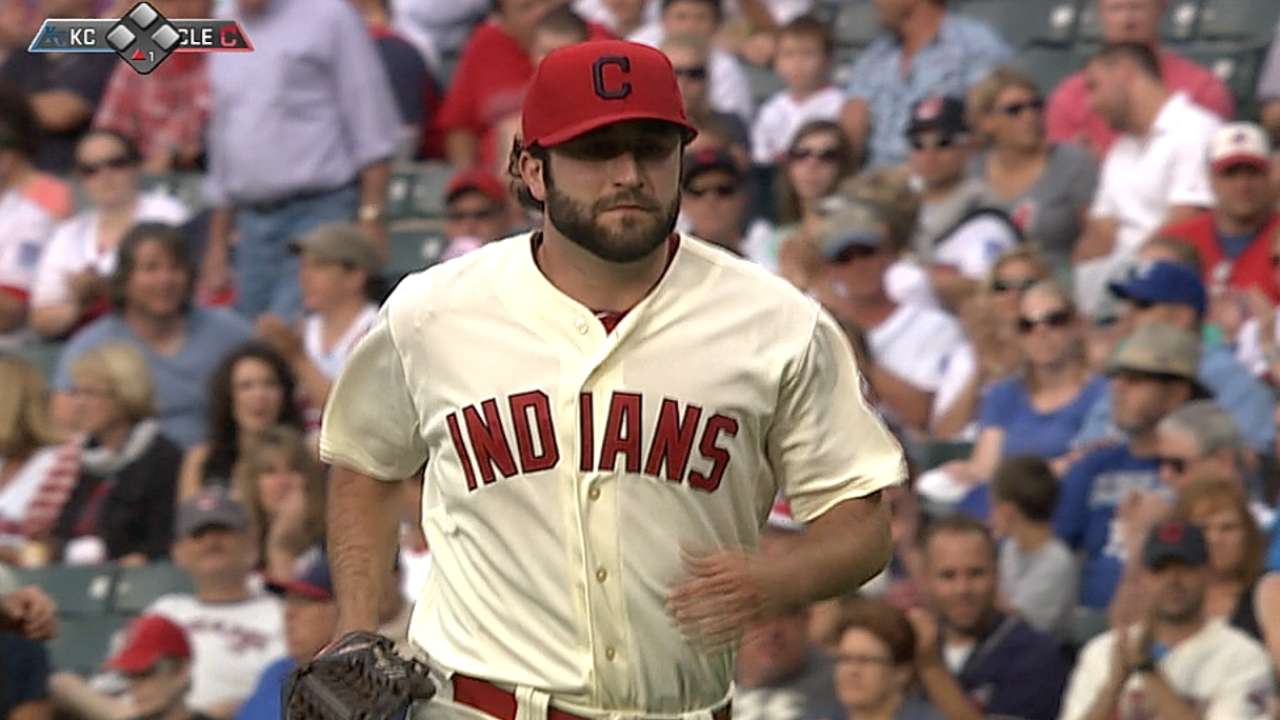 CLEVELAND -- T.J. House hadn't even gotten a chance to look at his phone to see which of his family members had given him a call. He was too busy getting a beer shower from his teammates.
"I'd take one every time we get a W," House said.
House celebrated not just any win, but his first one in the Majors on Saturday night, battling through 6 2/3 innings of three-run baseball as the Indians beat the Royals, 7-3, at Progressive Field. The Cleveland bats made sure to back up the rookie southpaw with plenty of support, coming alive for 14 hits and a pair of three-run innings after a forgettable Fourth of July showing.
"He's pitched well enough to have a win before now," Indians manager Terry Francona said. "But his first official win, I'm sure that's very special."
The effort saw House (1-2, 4.24 ERA) throw 64 of his 87 pitches for strikes while walking none, and gave him his third quality start in seven outings this season. He allowed just one run through the first five frames before surrendering lone runs to Kansas City on a sixth-inning RBI groundout and a seventh-inning blast by Danny Valencia.
"They got some balls through the holes. Just a bunch of singles," House said. "But definitely battled through it. [The offense] came in, got me some runs, and I held it down for them."
The Indians' lineup, meanwhile, jumped on a shaky Jeremy Guthrie, pushing six runs across on 11 hits in four-plus innings. The heart of the order caused much of the night's offensive damage, with Michael Brantley going 3-for-5 and four others notching two hits, including second baseman Jason Kipnis -- his sixth multihit performance in the last 10 games.
"I thought we did a good job. We didn't just settle for one. We ran the bases. We took what [Guthrie] gave us," Francona said.
The Tribe (42-44) snapped its nine-game losing streak against the American League Central with the win and evened its season series with the Royals at 4-4.
The Royals scored first, and they did so about as quickly as they could. Outfielder Lorenzo Cain smacked a first-inning leadoff double down the right-field line, stole third base and then scored on an Eric Hosmer groundout to go up, 1-0.
But Cleveland answered in the third inning by taking a 3-1 advantage on a Michael Bourn home run, his third of the season, and RBI knocks by Kipnis and Lonnie Chisenhall. The Indians got to Guthrie again in the fifth frame, loading the bases to set up Nick Swisher's two-RBI bloop single to shallow center and pulling ahead to a five-run lead.
Kansas City fought to make things interesting in the ninth inning, with the first three batters managing to reach base safely. But reliever Cody Allen wound up working his way out of a bases-loaded, no-out jam by striking out Cain and getting Hosmer to ground into a game-ending double play.
"He didn't have any feel for his breaking ball," Francona said. "Fortunately, he got the strikeout on an elevated fastball, and then he got the groundout double play. ... He was fighting his command."
Bourn was replaced by Mike Aviles -- who played left as Brantley shifted to center -- in the ninth inning after feeling his hamstring tighten up in the previous frame, though Francona says the injury is not related to the one that caused him to miss time earlier in the season.
"His left hamstring got tight coming around the bag. Not where it was [surgically] repaired," Francona said. "He was examined. It's a little hard while he's still hot, but he had pretty good strength. We'll know a lot more tomorrow."
For House, it was simply another milestone in what has been a season of firsts for the 24-year-old. It may not be his final time getting doused with beer, but it is the last time he'll take home a lineup card labeled "first Major League win."
"That's going right home. I'm sure my mom's going to be proud to have that," House said.
Alec Shirkey is an associate reporter for MLB.com. This story was not subject to the approval of Major League Baseball or its clubs.