D-backs cough up early lead as Bolsinger stumbles
Enciarte goes deep, but rookie endures shortest start of career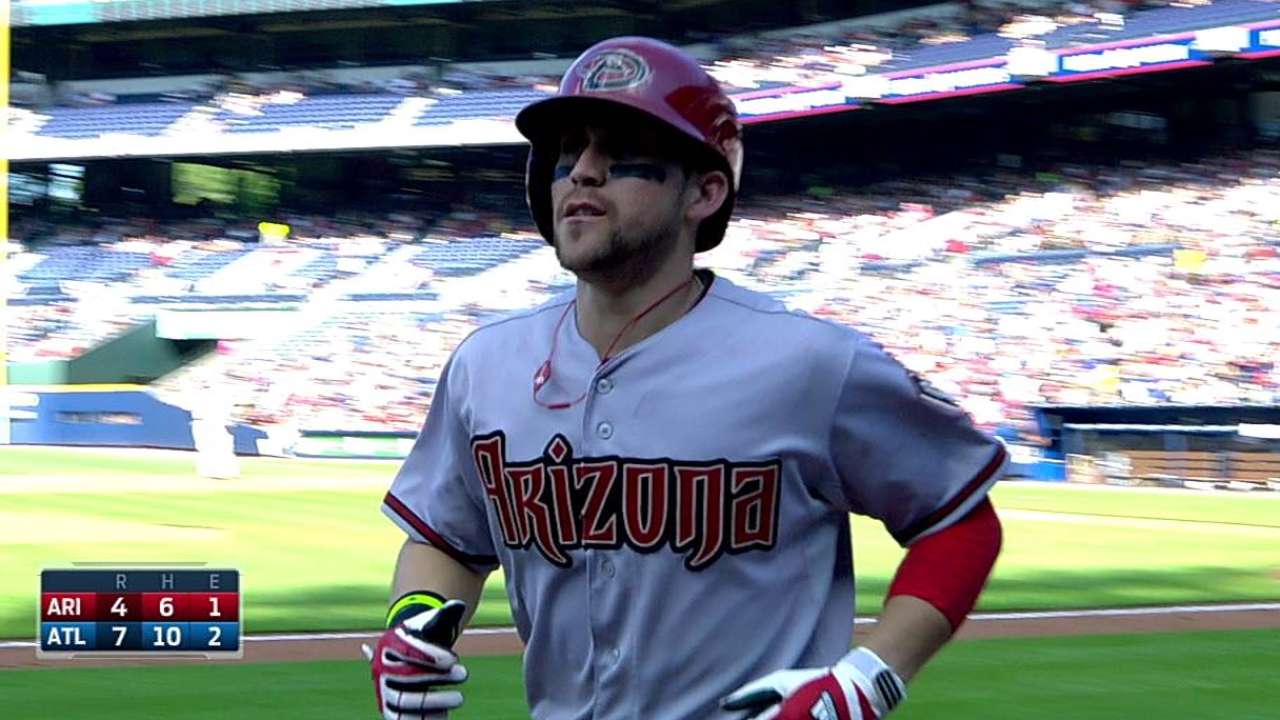 ATLANTA -- The D-backs had scored only two runs in Mike Bolsinger's past two starts, saddling the right-hander with back-to-back losses despite his 1.98 ERA in 13 2/3 innings against the Giants and the Padres.
So when Arizona gifted him three runs in the first on Saturday afternoon, the early outburst seemed like it would be plenty for Bolsinger. But instead he faltered, and the offense couldn't keep up as the Braves beat the D-backs, 10-4, at Turner Field.
The defeat sealed a losing record for Arizona's current road trip and marked the D-backs' sixth series loss in the past eight since taking consecutive sets against the Rockies and the Braves to begin June. Arizona is 8-16 since those series wins.
"We had some opportunities to make some plays; they made some plays," D-backs manager Kirk Gibson said. "It hasn't been a very good trip for us."
Bolsinger gave up seven runs (five earned) on 10 hits and two walks in 3 2/3 innings, his shortest of eight starts in his fledgling career. In his previous two turns, he only surrendered eight hits combined.
"Today was probably the worst that I've had commanding," Bolsinger said. "Everything I was throwing was kind of up. I really didn't have a feel for my curveball, and I couldn't throw the inside fastball to righties. That was a big difference maker."
Bolsinger's struggles wasted what was an optimistic offensive start for a slumping Arizona lineup that made Atlanta starter Aaron Harang throw 30 pitches in a three-run first.
The explosive first inning and Ender Inciarte's first career home run helped the D-backs score more than two runs for only the second time in the past nine games.
Arizona batted around in the first inning courtesy of two rare errors by Gold Glove shortstop Andrelton Simmons. Paul Goldschmidt, Miguel Montero and Gerardo Parra provided the RBI hits as Goldschmidt's run-scoring double put him on base safely for the 26th consecutive game.
But the good fortune ran out there, as the offense sputtered beyond its great start, hitting into four double plays that wasted leadoff runners in the third and seventh innings and killed one-out rallies in the eighth and the ninth. After leading the Majors with 160 double plays last season, the D-backs have hit into 71 in 2014.
"We hit into four double plays -- that's tough to score runs," Gibson said. "We were 2-for-4 with runners in scoring position, yet we erased four runners on double plays."
Meanwhile, Bolsinger struggled mightily with his location, resulting in a hit parade. He allowed five extra-base hits, including triples to B.J. Upton and Freddie Freeman, who entered Saturday's game with only six triples in 2,289 career plate appearances.
But the big hit came in the bottom of the fourth courtesy of Simmons, who redeemed himself after his rough defensive first inning with a two-run double that put the Braves ahead for good, 5-3.
Freeman then tripled home Simmons and scored on a Justin Upton sacrifice fly. Upton, who also homered, has hit .375 (15-for-40) with three homers, 10 RBIs and a .490 on-base percentage against his former club since being traded to Atlanta.
"They just hit the ball," Bolsinger said. "There were mistakes that I made, and I definitely paid for it."
Gibson added: "He made some mistakes, couldn't locate. It's hard to defend when you can't locate. He just wasn't able to get the ball where he needed to get the ball."
After three straight seasons of .500 baseball, the D-backs are struggling to stay afloat this year. They have spent only two days out of last place in the National League West since the season began, hampered by their rough 8-22 start.
But for a team that has 10 rookies on the active roster, a 28-31 record since April 30 is both promising and frustrating. As Goldschmidt said when the club arrived in Atlanta on Friday, Arizona is "just trying to be a little more consistent."
"We're trying hard. We're concentrating. We're trying to put all the things together," said Inciarte, echoing Goldschmidt's sentiments. "Things are not going well some days. We've just got to be more consistent, and we weren't today."
Joe Morgan is an associate reporter for MLB.com. This story was not subject to the approval of Major League Baseball or its clubs.