Garza shuts out Reds to end Brewers' skid
Ramirez drives in Milwaukee's only run, but that's all Crew would need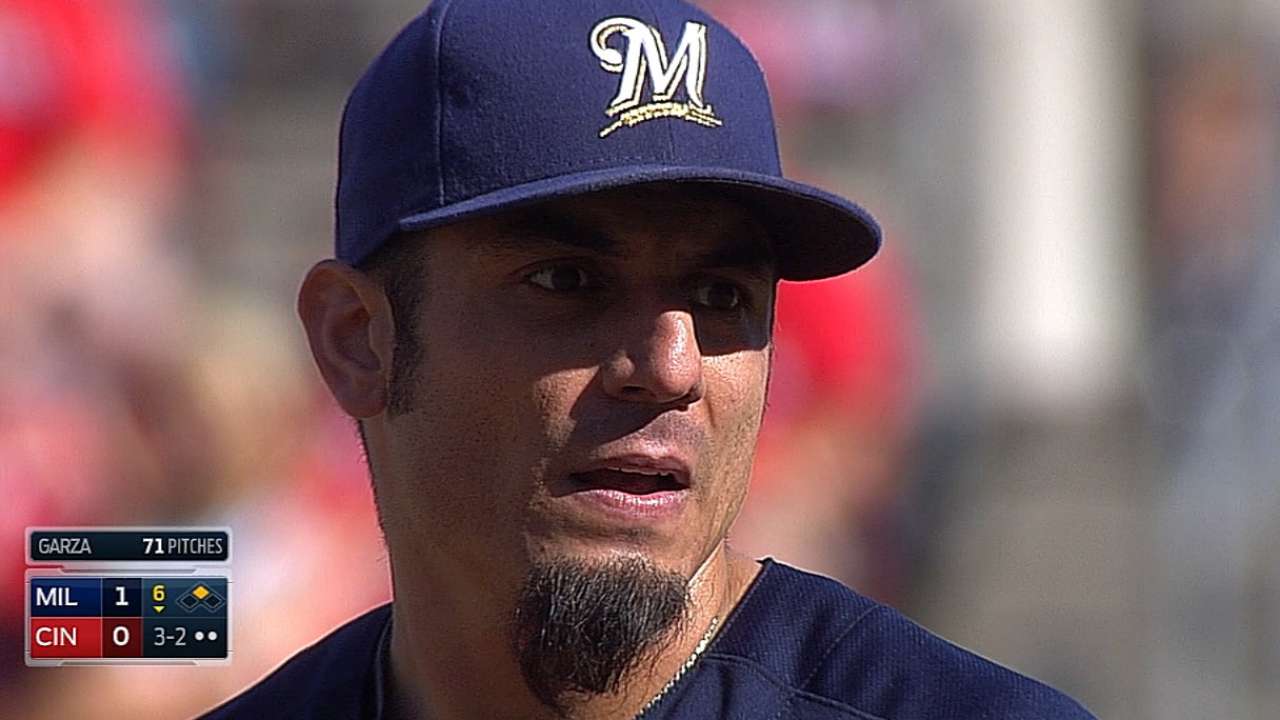 CINCINNATI -- With runs at a premium on a sunny summer Saturday, Matt Garza needed to be nearly perfect.
Fortunately for the Brewers, he was just that.
Delivering exactly the sort of start that prompted the Brewers to open their pocketbook in January, Garza retired the first 12 Reds he faced and allowed only two hits over all nine innings of the Brewers' 1-0 win at Great American Ball Park.
When Joey Votto fanned at a 95-mph fastball to end the game, Garza had his ninth strikeout of the afternoon and his first shutout since throwing a no-hitter for the Rays against the Tigers in 2010. By avoiding what would have been their first five-game losing streak this season, the Brewers boosted their lead in the National League Central back to five games over the second-place Cardinals, 5 1/2-games over the third-place Pirates and seven games over the fourth-place Reds.
"We were talking earlier today that we needed one of our pitchers to have a big game," said Brewers manager Ron Roenicke. "That was a big game."
It was also a rare one.
• Garza became only the seventh opponent to pitch a shutout in 12 years at high-scoring Great American Ball Park, and the first in more than three years. The last was the Pirates' Charlie Morton, who won a 5-0 game on May 18, 2011.
• It was the Reds' 930th regular-season game in this ballpark, but only the 15th 1-0 game. Four have come this season, three of which were won by the visitors.
• It was the 24th shutout with two or fewer hits in Brewers history, but only the third such performance in the past five seasons and the sixth since 1991. No Brewers pitcher had struck out as many batters and allowed as few hits in a shutout since CC Sabathia's contested one-hitter at PNC Park in August 2008.
"I just kept attacking," Garza said. "I had a plan and just stuck with it. Me and 'Luc' [catcher Jonathan Lucroy], like we talk before every game, and the plan just worked. We went after these guys and we challenged them."
Garza was perfect through four innings on only 36 pitches, 22 of them strikes. Brandon Phillips erased hopes of a perfect game with a sharp single leading off the fifth inning, and Jay Bruce followed by becoming the first Reds batter to reach a three-ball count.
When Bruce smacked a line drive right at Brewers first baseman Mark Reynolds, who stepped on the base to complete a double play, Garza began a second phase of his outing, one in which he threw nearly twice as many pitches over his second four innings of work (66) as he had through the first four. But Garza worked around a one-out double in the sixth inning, a two-out walk in the seventh and a one-out walk in the eighth. He was at 102 pitches entering the ninth inning with the top of the Reds order coming up, and asked Roenicke for a shot at a shutout.
The manager obliged, and Garza rewarded him with a 1-2-3 ninth inning, featuring a pair of long fly-outs and Votto's game-ending strikeout. It finished Garza's 10th career complete game and fourth shutout.
"He was right today. He has it in him," Lucroy said. "That's what he's capable of doing. If he can continue doing that right there, we're going to be in pretty good shape, I think. That's pretty impressive."
"This is probably his fourth, fifth game in a row that he's thrown the ball well," Roenicke said. "I'm hoping, this being the best of them, that this will get him back in that groove where he reels off a couple of months of great ballgames."
Brewers hitters tried to aid Garza's efforts, but after Lucroy scored in the first inning on Aramis Ramirez's RBI single, found themselves stymied by Reds starter Homer Bailey and the Cincinnati defense. In the sixth inning and again in the seventh, the Brewers challenged the arm of Reds right fielder Bruce by sending a runner home with two outs, only to see the runner thrown out on relays started by Bruce.
"You have to do it," Roenicke said of sending the runners both times. "It's going to be tough to score runs, going to be tough to put together a lot of hits in a row off of Bailey, and I think when you get the opportunity, you make them have to make a great play. And they did."
Garza won anyway.
"We needed a break and we needed to win, and we came through today," Garza said. "Bailey threw the ball well, too. Shoot, he had that one hiccup in the first and then it was just a straight street fight between the two teams today. It was a good game."
Adam McCalvy is a reporter for MLB.com. Read his blog, Brew Beat, and follow him on Twitter at @AdamMcCalvy. This story was not subject to the approval of Major League Baseball or its clubs.