Yanks fall to Twins on 11th-inning throwing error
Cervelli commits decisive E; Phelps strong, but allows late tying HR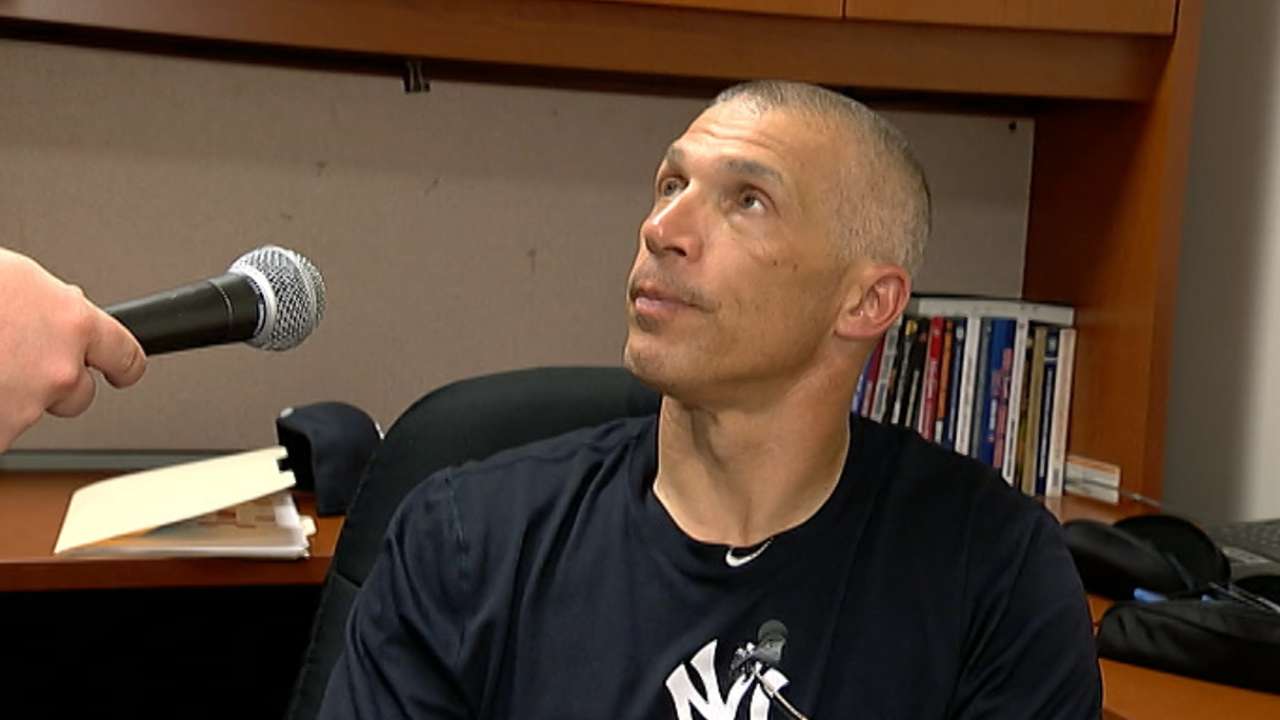 MINNEAPOLIS -- Francisco Cervelli was helpless as he watched the game slip out of his hand and into right field.
"I couldn't stop the ball," he said.
After stepping on home for the second out of the bottom of the 11th inning on Trevor Plouffe's grounder, Cervelli tried to throw to first and end the frame with a double play.
But with Plouffe in his line of vision running down the first-base line, the catcher tried to halt his throwing motion too late and overthrew first baseman Mark Teixeira by a country mile. The gaffe allowed Josh Willingham to waltz in from third base for the game-winning run in a 2-1 Twins victory on Saturday afternoon at Target Field.
"It's bad," Cervelli said. "We don't want to end the games like that. Especially myself."
The Yankees couldn't muster any serious threats against Twins starter Yohan Pino until the fifth inning. Pino had allowed only one baserunner through the first four frames before walking Carlos Beltran to lead off the fifth.
Then Ichiro Suzuki hit a sharp grounder to first baseman Chris Parmelee, who went to second to get Beltran, but Suzuki was quick enough to keep shortstop Eduardo Escobar from attempting a throw to first.
That's when an early exit for Twins manager Ron Gardenhire -- who was ejected in the third for arguing about an uncalled balk with home-plate umpire Marty Foster -- might have affected the game. Suzuki attempted to steal second and was called safe by umpire Alan Porter despite replays that showed Brian Dozier applying a good tag. With no Gardenhire in the dugout, the Twins decided not to challenge.
"I was in my office, and I thought they'd challenge that one," Gardenhire said. "But there was no reaction from Dozier, so the people in the dugout had no clue about it."
Suzuki then advanced to third on a wild pitch by Pino. A couple of pitches later, Cervelli -- who was a late addition to the lineup after Brian McCann was held out with a sore right foot -- knocked a single to left field, and Suzuki had an easy jog to the plate for the first run of the ballgame. The Yankees would not score again.
"It happens," Yankees manager Joe Girardi said. "Some days you score a lot more runs than you do on other days. But when you only give up two, you hope you can get a few more."
Despite an excellent performance, starter David Phelps was not able to hold the slim lead.
The 27-year-old righty had retired 11 straight Twins going into the seventh inning and had surrendered only two hits total at that point.
But Willingham led off the inning with a moon shot off the video board between the first and second decks in left field. The blast was measured at 398 feet and got the home crowd of 36,514 out of their seats.
"I was trying to go down and away with a fastball," Phelps said. "He doesn't take many good swings down and away. It just came back middle, and he just put a good swing on it.
"There's going to be games where we don't score a lot of runs, and that's why it's frustrating for me to give up a leadoff homer in the seventh. Put up a zero there, and we can put the game away with our bullpen."
In the eighth inning, the Twins almost scored a go-ahead run when Yankees left fielder Alfonso Soriano couldn't get to a lazy pop fly in foul territory, and then let a soft liner from Dozier pop out of his glove in shallow left.
"He had a chance to catch it," Girardi said. "I thought it went under his glove a little bit, but he made a good effort."
The play ignited a Twins rally that nearly broke a 1-1 tie, but an outstanding diving catch in center by Jacoby Ellsbury saved a run, and Shawn Kelley struck out Kendrys Morales, then Willingham with runners on second and third after throwing a wild pitch, to end the inning and give New York a chance to win the game in extras.
Minnesota's Chris Colabello began the bottom of the 11th with a pinch-hit shot to right field that came within inches of getting over the wall and ending the game. Later in the inning, with the bases loaded and one out, Plouffe hit his soft grounder to pitcher Matt Thornton, who threw to Cervelli for the easy forceout at home.
Then came the throw that Cervelli wanted to take back immediately.
"I tried, but it was too late," he said. "The ball just flew out of my hand."
Alex M. Smith is an associate reporter for MLB.com. Follow him on Twitter @asmiff. This story was not subject to the approval of Major League Baseball or its clubs.