Twins capitalize on error to walk off in 11th inning
Plouffe's grounder turns into win; Willingham's homer ties it in seventh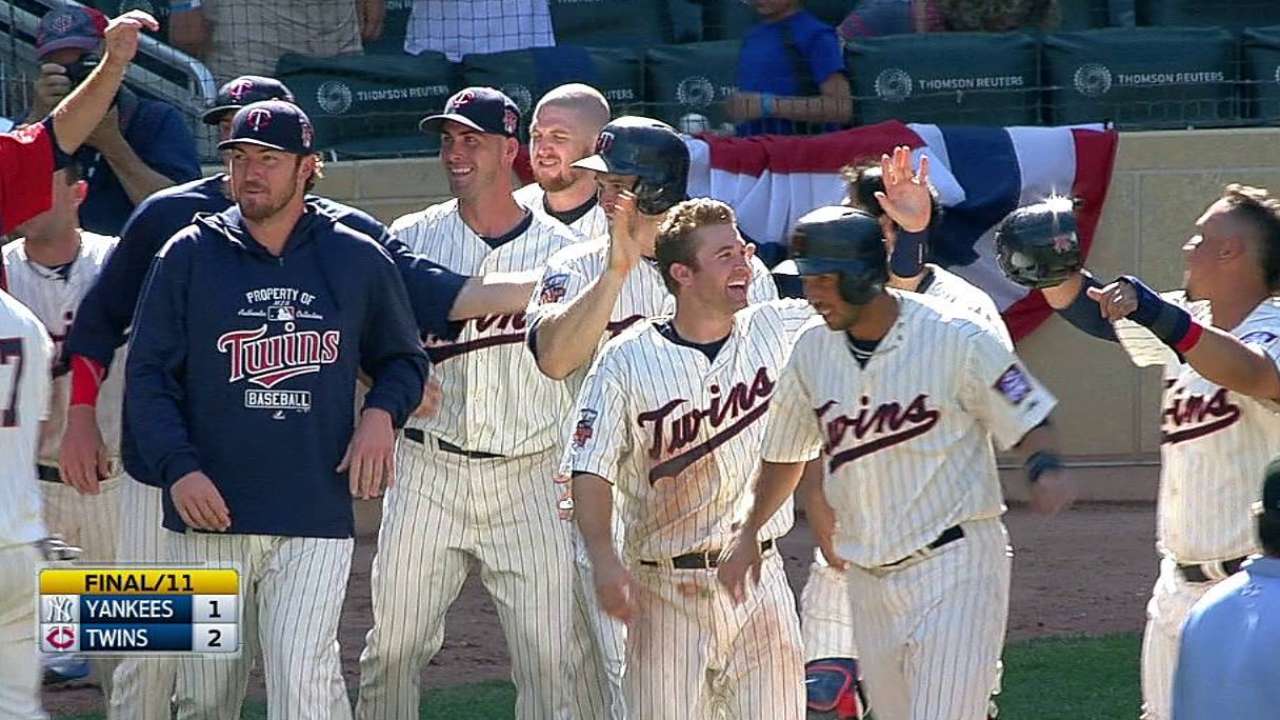 MINNEAPOLIS -- With the way the Twins have had trouble scoring runs recently, they'll take a run -- or a win -- any way they can get it.
That was certainly the case on Saturday afternoon, when the Twins won in wild fashion, scoring on an error by catcher Francisco Cervelli in the 11th inning to come away with a 2-1 win over the Yankees at Target Field. Cervelli made an ill-advised throw to first base that sailed into right field to give Minnesota its fifth walk-off victory of the year.
"A win is a win, and we were desperate," Twins manager Ron Gardenhire said. "We had chances, but we missed a few opportunities, and finally we loaded them up and they made a mistake and we win a ballgame. We needed that. We've lost some tough ones, so this was a good one to win."
Chris Colabello started the rally against reliever Matt Thornton with a leadoff pinch-hit double to right field that was just short of being a walk-off homer. He advanced to third on a groundout from Kendrys Morales before Josh Willingham was intentionally walked and Oswaldo Arcia was hit by a pitch to load the bases for Trevor Plouffe.
Plouffe hit a tapper back to Thornton, who flipped the ball home for a forceout, but Cervelli's throw to first base in an effort to complete an inning-ending double play sailed high and into right field to allow Willingham to score the winning run.
"I wanted to throw, but I couldn't see the angle," Cervelli said. "And then I couldn't stop the ball, and I just made a bad throw."
Willingham said he was surprised Cervelli decided to throw to first base but was plenty happy with the end result.
"I was just kind of watching it," Willingham said. "I wasn't really sure if he was going to throw it because they underhanded it home. So thank goodness he did."
The Twins had struggled offensively up to that point and didn't get on the scoreboard against Yankees right-hander David Phelps until the seventh inning, when Willingham connected on a game-tying solo shot to left field. It was the eighth homer of the year for Willingham and his first since June 24.
Minnesota wasted a scoring opportunity in the third inning with two runners on and one out, as Chris Parmelee grounded out back to Phelps and Morales flied out to center field to end the inning.
The Twins also had two runners on and nobody out in the eighth inning against reliever Shawn Kelley but were unable to score. Parmelee flied out to center on a great sliding catch by Jacoby Ellsbury before Morales and Willingham struck out.
"We just weren't able to get the big hit," Willingham said. "That's kind of been the thing lately."
Right-hander Yohan Pino, making his fourth career start, was effective for the Twins, giving up just one run on three hits and two walks over six innings but was stuck with the no-decision, still searching for his first Major League win.
"I just concentrated on trying to get the ball down," Pino said. "Everything I threw was down. My sinker helped me a lot."
The Yankees scored their lone run against Pino in the fifth inning, with Ichiro Suzuki starting the rally by stealing second base and advancing to third on a wild pitch. Suzuki, though, appeared out at second on the stolen-base attempt, but the play was not reviewed. Gardenhire had been ejected from the game in the third inning.
Gardenhire watched the play from his office and saw that Suzuki was out. But Dozier never signaled anything back to the bench, so the play was never challenged.
"There was no reaction," Gardenhire said. "I was in my office, and I thought they'd challenge that one. But there was no reaction from Dozier, so the people in the dugout had no clue about it."
After the stolen base, Suzuki came around to score on a two-out hit from Cervelli, who was a late addition to the lineup with Brian McCann getting scratched with a sore right foot.
But it was all the Yankees could do offensively, as relievers Matt Guerrier, Casey Fien, Glen Perkins, Jared Burton and Brian Duensing combined to hold New York scoreless after Pino exited to snap Minnesota's three-game losing streak.
"Our bullpen came in and did a really nice job," Gardenhire said. "The whole bullpen came in and made pitches when they had to against a tough lineup."
Rhett Bollinger is a reporter for MLB.com. Read his blog, Bollinger Beat, and follow him on Twitter @RhettBollinger. This story was not subject to the approval of Major League Baseball or its clubs.