Jurrjens thumped by Dodgers in Rockies debut
Kershaw again stifles Colorado; Bettis effective in relief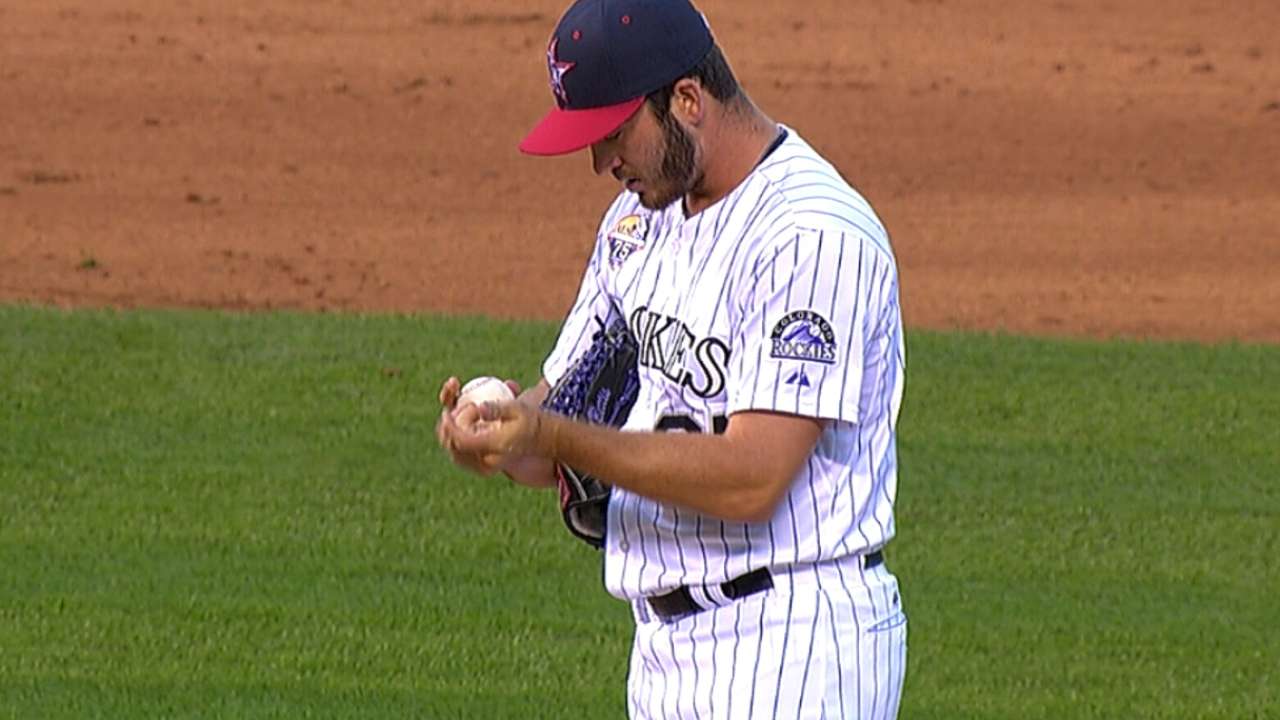 DENVER -- Clayton Kershaw may have surrendered two more hits and one more walk than he did in his last outing against the Rockies, but in the end, a sold-out Coors Field crowd was treated to an all-too-familiar sight.
In his first game against the Rockies since he no-hit them two weeks ago, Kershaw tossed eight shutout innings Friday night to secure a 9-0 victory for the Dodgers. Kershaw extended his overall scoreless-innings streak to 36, striking out eight Rockies while limiting their bats to two hits and a walk.
"He's on a pretty good roll, approaching historic measures," manager Walt Weiss said. "The way he's throwing it right now, it's as good as we've seen in a long time."
Already down Troy Tulowitzki (right groin tightness) and facing a pitcher who had thrown two consecutive complete games against them, the Rockies' chances seemed as gloomy as the pregame downpour.
Five pitches into Jair Jurrjens' Rockies debut, the Dodgers got all the runs they'd need as Yasiel Puig deposited a two-run shot over the center-field fence following Dee Gordon's leadoff bunt single. The Dodgers finished the first inning with a cycle against Jurrjens, with Hanley Ramirez doubling before Andre Ethier scored him with a triple.
Jurrjens managed to relax after that, facing one above the minimum over the next three innings. But the long ball got the best of Jurrjens again in the fifth, and this time, he wouldn't recover.
Following Scott Van Slyke's towering, three-run home run to left field, Jurrjens permitted the next four runners to reach as the Dodgers batted around. Kershaw's two-out, RBI single to left built the Dodgers' lead to 8-0 and ended Jurrjens' night.
"A couple long balls hurt him," Weiss said. "The one to Van Slyke, it was a slider that backed up on him. ... It looked like he was starting to settle in, but that one was the big blow."
Making his first Major League start since June 29, 2013, Jurrjens finished with 12 hits and eight runs against three strikeouts in 4 2/3 innings. Jurrjens had trouble breathing once departing the game and was sent to a local hospital. The Rockies had no update on his status but they did not believe it to be serious.
Jurrjens' 99 pitches were six more than Kershaw required to get through eight scoreless frames. DJ LeMahieu broke up Kershaw's streak of 12 1/3 no-hit innings against the Rockies and extended his personal hit streak to 10 games with a single in the third inning.
But besides that and Nolan Arenado's single in the seventh inning for his first hit since returning from a broken finger, Kershaw was untouchable.
"He's keeping both breaking balls down in the zone," said Dodgers catcher A.J. Ellis. "[Before], he would have an 'A' slider but a 'C' or 'D' curve, or an 'A' curve but a 'C' or 'D' slider. Now they're both electric strikeout pitches. That's why he's having strikeout totals unmatched in his career. You see a lot of clubs attacking early in the count, first-pitch swinging with a chance of getting a hit. If they don't, he stays in the game longer."
Drew Stubbs collected the only walk Kershaw issued and after the game said Kershaw's slider is "the best pitch in the game" right now.
"He's throwing it harder this year than I've ever seen before," said Stubbs, who finished 0-for-2 with a strikeout. "It's 87 to 90 mph and with the arm slot it comes out of, it looks like a fastball then just disappears. It's just a really tough pitch to lay off of when it's down and in to a right-hander."
Chad Bettis took over from there to register his first scoreless appearance since April 23. Entering having allowed 13 earned runs over his last six innings, Bettis limited the Dodgers to four hits and no walks over 2 1/3 innings.
Two days after serving up a go-ahead home run to Ian Desmond, Matt Belisle also came through with a scoreless frame. But the Dodgers would get to Rex Brothers in the ninth with Erisbel Arruebarrena scoring Miguel Rojas following back-to-back walks.
Cody Ulm is an associate reporter for MLB.com. This story was not subject to the approval of Major League Baseball or its clubs.