Kershaw dominates, extends scoreless streak
Dodgers ace unscored upon in 36 innings after two-hit outing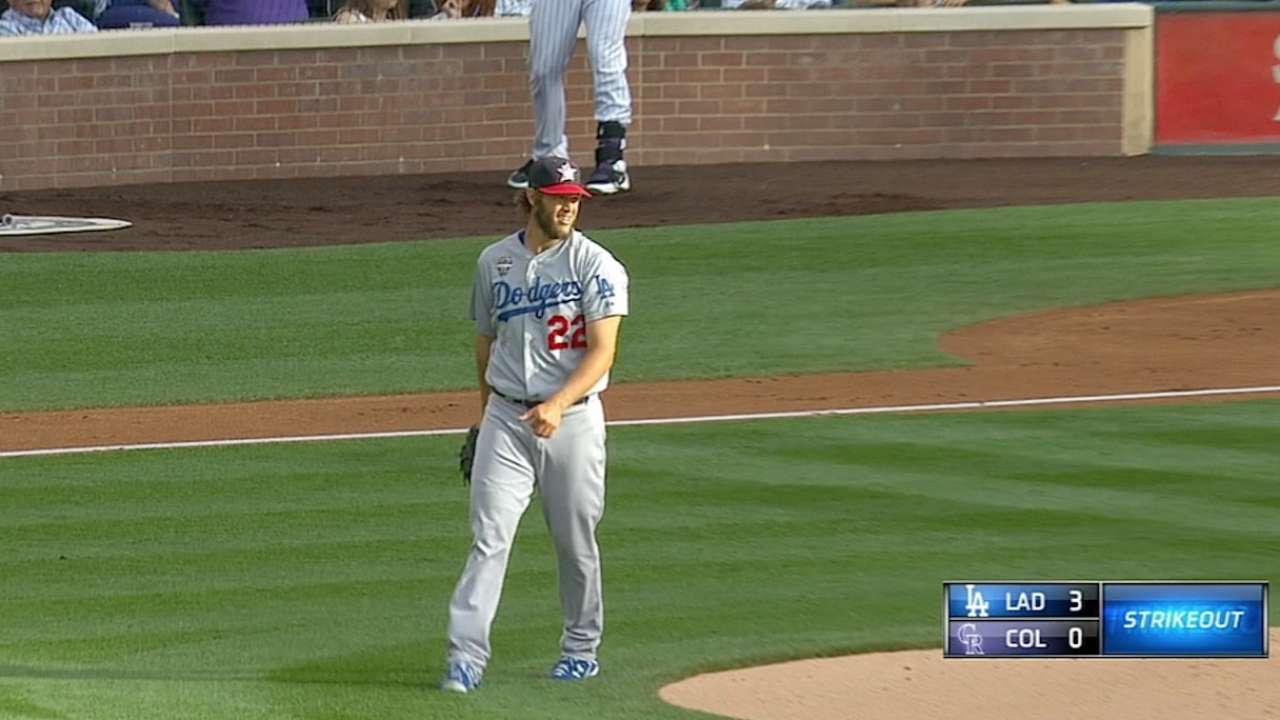 DENVER -- DJ LeMahieu singled in the third inning Friday night, and you almost expected the game to be stopped, the ball retrieved and sent directly to Cooperstown with his bat, spikes and cap.
It was the Rockies' first base hit off Clayton Kershaw in 13 innings, which included his June 18 no-hitter against them. And LeMahieu's was the only hit Colorado got until the seventh, as Kershaw pitched a two-hit shutout for eight innings, riding home runs from Yasiel Puig and Scott Van Slyke to another masterpiece victory, 9-0.
That extended Kershaw's scoreless-innings streak to 36, third-longest for a Los Angeles Dodger behind Orel Hershiser (59) and Don Drysdale (58). And the win extended the Dodgers' lead over the Giants to a season-high 1 1/2 games. The Rockies have lost 16 of 18.
Kershaw (10-2) struck out eight with one walk, lowered his ERA to 1.85 (1 2/3 innings shy of qualifying for MLB leadership), singled twice and drove in his first run of the season, achievements that will be recalled on Sunday when he's named to his fourth consecutive All-Star team.
Kershaw pleaded his case to pitch the ninth inning after throwing 93 pitches, but manager Don Mattingly said it "didn't make a whole lot of sense" in a 9-0 game.
"Guess my arguing skills aren't any good," said Kershaw.
This was Kershaw's ninth career scoreless start against Colorado, a record. He downplayed his dominance, saying the Rockies lineup was missing Carlos Gonzalez (disabled list) and Troy Tulowitzki (groin strain).
"The way he's throwing it right now, it's as good as we've seen in a long time," said Colorado manager Walt Weiss. "He's a young kid but he's done some things in this game already. He's certainly on quite a run right now."
Catcher A.J. Ellis said the reason Kershaw has taken his multi-Cy Young game to an even higher level is the ability to command the curve and slider together.
"He's keeping both breaking balls down in the zone," said Ellis. "He would have an 'A' slider but a 'C' or 'D' curve, or an 'A' curve but a 'C' or 'D' slider. Now they're both electric strikeout pitches. That's why he's having strikeout totals unmatched in his career. You see a lot of clubs attacking early in the count, first-pitch swinging with a chance of getting a hit. If they don't, he stays in the game longer."
Kershaw, the pitcher of the month for June, has 69 strikeouts and five walks during this seven-game win streak that gives him the best winning percentage in the league and the Dodgers the first two pitchers with double-digit wins (Zack Greinke is the other).
"I think his slider right now, to me, is the best pitch in the game for anybody," said Rockies center fielder Drew Stubbs. "He's throwing it harder this year than I've ever seen before. It's 87 to 90 mph and the arm slot it comes out of, it looks like a fastball then just disappears. It's just a really tough pitch to lay off of when it's down and in to a right-hander."
Kershaw's only brush with mortality was a throwing error on a bunt by opposing pitcher Jair Jurrjens, who Kershaw quickly picked off first base.
In his no-hitter, Kershaw got a web gem from Miguel Rojas behind third base and a scoop from Adrian Gonzalez. Juan Uribe pretty much duplicated the play with Gonzalez to rob Nolan Arenado of a base hit with one out in the fourth inning. Arenado had the only other hit, a clean single.
"Our defense after the first month has been unbelievable," said Kershaw.
Kershaw had as many base hits as the Rockies, while Dee Gordon, Andre Ethier and Ellis had three each. Gordon had two swinging bunts in the five-run fifth inning after a perfect bunt single in the first, none of the three traveling more than 40 feet.
Puig gave Kershaw a 2-0 with a center-field bomb, his first home run since May 28. Hanley Ramirez doubled and was tripled home by Ethier.
"I hit well in Kansas City, but the stadium is too big. I need to go to the gym," said Puig. "What I need are not home runs but hits."
The Rockies finally got LeMahieu's clean single to right field with one out in the third inning. Kershaw apparently was so surprised at allowing a hit that he forgot what to do when Jurrjens dropped a sacrifice bunt.
Kershaw fielded the bunt and bounced it 10 feet in front and wide of Gordon covering first for an error, LeMahieu going to third and putting Kershaw's scoreless-innings streak at risk. But Kershaw picked a lost Jurrjens off first for the second out and struck out Charlie Blackmon.
"That's a first for me. Pretty embarrassing," Kershaw said of the error. "It was bad."
Van Slyke, starting in left field to give Matt Kemp a day off, doubled the cushion in the fifth inning. After Gordon's infield single and stolen base, Ramirez was hit by a pitch on his left hand. Gordon tagged to third on Gonzalez's flyout and Van Slyke launched his eighth home run on a 3-2 pitch. The five-run inning continued with a walk to Ethier, an infield single by Uribe and RBI singles by Ellis and Kershaw that chased Jurrjens.
After the game, Jurrjens was taken to a local hospital with breathing problems.
Ken Gurnick is a reporter for MLB.com. This story was not subject to the approval of Major League Baseball or its clubs.