Smyly tagged with rocky outing as Rays even series
Solid outing goes awry in sixth inning for left-hander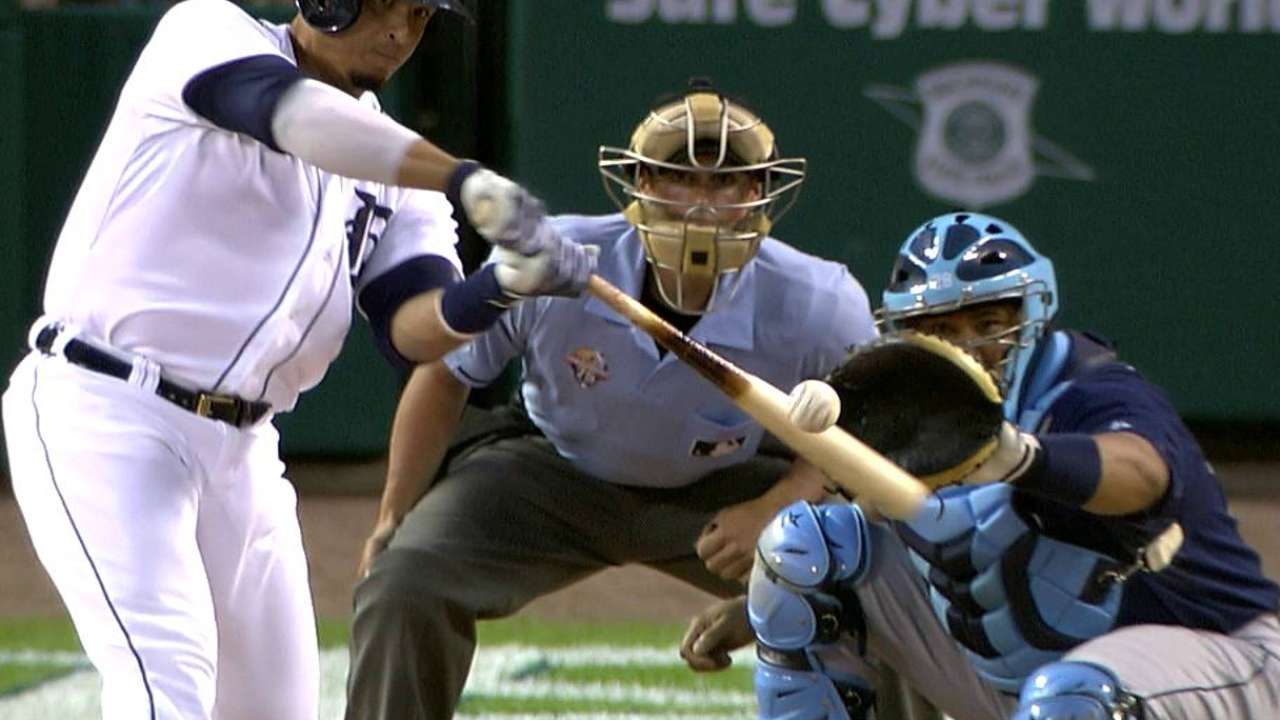 DETROIT -- The debate over whether Drew Smyly executed the pitch he wanted that hit Evan Longoria can simmer. The pitches that doomed him after that, the pitches that brought in the eventual difference in Friday's 6-3 loss to the Rays, were fairly clear.
While Tigers manager Brad Ausmus wondered whether Smyly ran out of gas, Smyly said he felt fine as the game got away from him in the sixth inning. In the end, neither Rays manager Joe Maddon's pointed words nor any warning from umpires could haunt him about hitting Longoria so much as the extra run did on Sean Rodriguez's two-run triple that knocked him out of the game.
The extra run pushed Tampa Bay over the five-run mark against the Tigers for the first time since 2011. The Rays had scored four runs or less in 19 consecutive matchups against Detroit since then, which was a huge reason why the Tigers won 16 of them.
"I was one pitch away," Smyly said, "and it was a bad pitch."
It was an 0-1 pitch that the right-handed-hitting Rodriguez sent to the depths of right-center field -- a home run in many parks, but good enough in this case -- one of six extra-base hits Smyly gave up to right-handed hitters.
All seven hits Smyly allowed came from the right side of the plate, including a pair of RBI doubles from switch-hitting Ben Zobrist. While righties went 7-for-18 with a walk, left-handed hitters went 0-for-5. Smyly entered the day allowing a .317 average (65-for-205) to right-handed hitters, compared with .138 (12-for-87) from the left side.
Until his last start, Smyly had allowed four earned runs over a four-start stretch, lowering his ERA and quieting a lot of concerns about his pitching as a starter. He has allowing nine runs on 16 hits over eight innings in his last two starts.
His loss Sunday in Houston had a lot to do with an upper respiratory infection that sapped his energy. That didn't have an impact this time, he said.
"I didn't feel like I was tiring," Smyly said.
In the end, Ausmus said, "I don't know if he started to get a little tired, but I think he lost the strike zone."
Both starting pitchers did at the end, intentionally or not. Both hit the leadoff batters in the sixth. Smyly hit Longoria, the Tampa Bay cleanup hitter, two innings after Victor Martinez took a pitch right below the back of his left knee. Alex Cobb hit Ian Kinsler with a breaking ball on his first pitch of the bottom half.
Both Longoria and Kinsler came around to score, in part because the next hitters after them walked ahead of a run-scoring hit. Neither Cobb nor Smyly lasted to see the end of the inning. But while Tampa Bay's two runs built a four-run cushion, the Tigers missed out on a chance for more, including the potential tying run on base with the bases loaded.
Cobb didn't retire any of his next three batters after Kinsler, walking Miguel Cabrera and J.D. Martinez with a Victor Martinez RBI single in between. Suddenly, the Tigers had Cobb out and the bases loaded, including the potential tying run on base in a 5-2 game.
Reliever Brad Boxberger contained the damage, however, with a Torii Hunter double play and a Don Kelly strikeout.
"I knew him from San Diego," Ausmus said. "Sometimes a change of scenery helps a guy. He always had a good fastball. He has a deceptive delivery, kind of crossfire and hides the ball on the hitter. His changeup has always been his pitch, but he threw a lot more fastballs than I expected tonight."
Boxberger went on to retire the side in order in the seventh after Desmond Jennings doubled and scored to restore a three-run lead.
Whether there's any bad blood left between the two teams, the hex Detroit had put on Tampa Bay's hitters halted. With two much-anticipated pitching matchups ahead -- Anibal Sanchez opposite Chris Archer Saturday, then Rick Porcello and David Price in a potential All-Star clash on Sunday night -- the series could revert to one run meaning everything.
On Friday, at least, the sixth inning was bigger than that.
Jason Beck is a reporter for MLB.com. Read Beck's Blog and follow him on Twitter @beckjason. This story was not subject to the approval of Major League Baseball or its clubs.