Rays' bats bounce back to even series vs. Tigers
Offense backs Cobb's solid start, Boxberger's stellar relief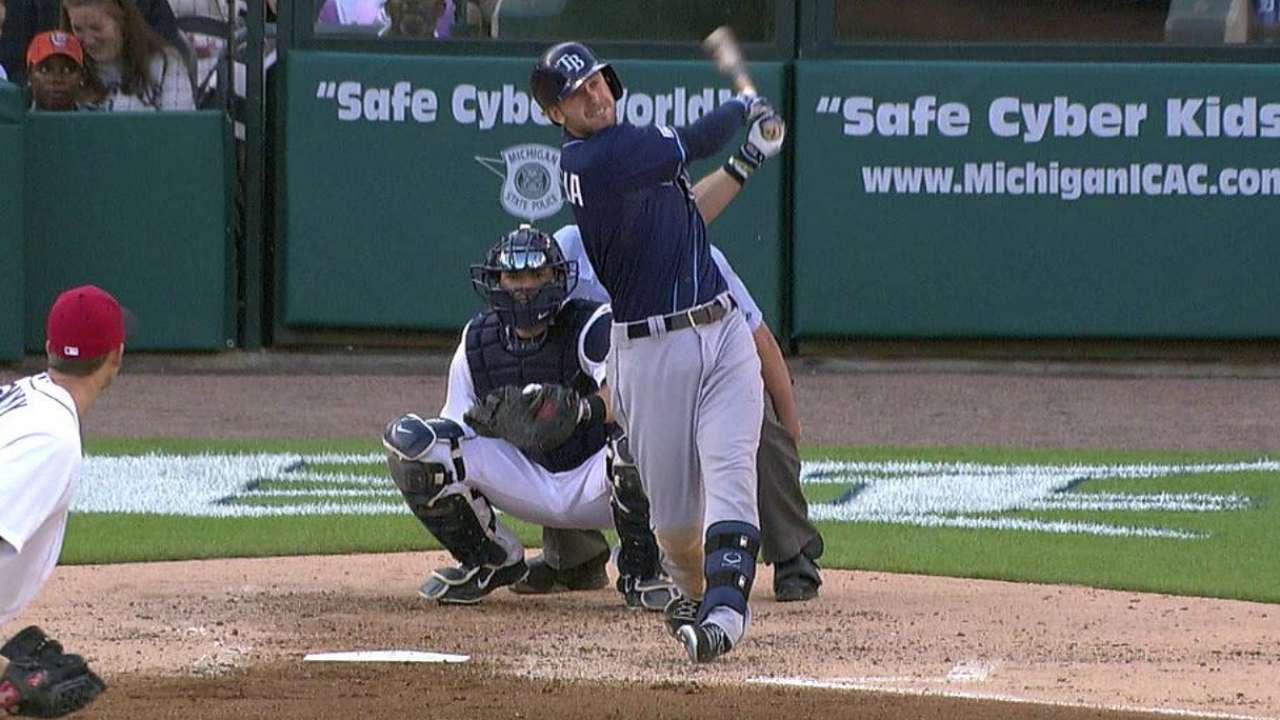 DETROIT -- A night after the Rays fell victim once again to the big inning, it seemed bound to doom them again.
Following some sixth-inning fireworks, which led to the ejection of Tampa Bay manager Joe Maddon, the Rays found themselves in a precarious situation with the game on the line.
Enter Brad Boxberger.
With the bases loaded and nobody out, the Rays' reliever recorded a double play and a strikeout, killing the Tigers' rally. Tampa Bay held on in front of a sellout holiday crowd of 40,657 at Comerica Park, 6-3.
"It was unbelievable," Rays starter Alex Cobb said of his savior, Boxberger. "He's done it for us all year."
Added Maddon: "He was the right guy in that moment.
"In that situation, you want the guy to put the ball on the ground or punch somebody out. If you get a guy who can do both, how good is that guy? Boxie's moment was the game for us."
Cobb pitched into the jam after he had been mostly effective for the opening five innings. He allowed three runs and didn't record an out in the sixth before Boxberger bailed him out.
Still, Cobb struck out five and called it "the best I've felt in as long as I can remember."
It took Tampa Bay only three innings Friday to exceed its season-low hit total from the night before.
Utterly silenced by Detroit ace Max Scherzer on Thursday, the Rays' lineup that only recorded two hits Friday refused to go quietly this time. Tigers starter Drew Smyly sat the Rays down in order to begin the game, but as he progressed through the lineup a second time, Tampa Bay caught up to him.
They scored in five consecutive frames, building a cushion that was more than enough for Cobb, especially with Boxberger to back him up.
"He's not afraid," Maddon said of Boxberger. "He's not rushed whatsoever."
Two straight doubles in the third by Desmond Jennings and Ben Zobrist gave Tampa Bay a 1-0 lead to match the one they took in the first inning Thursday. But instead of withering, they kept swinging.
Only this time, their hits fell in -- except when they didn't. Evan Longoria hit a solo shot in the fourth inning to give the Rays their second run. It was Longoria's 11th homer of the season, and his first since June 24.
Twice, Zobrist knocked an RBI double, leaving him one shy of Carl Crawford for the most doubles in franchise history.
The last batter Smyly faced, Sean Rodriguez, knocked a triple to deep right-center field, tacking on two runs to the Rays' lead. It was one of seven extra-base hits on the night for Tampa Bay.
"That ball would have been in our fish tank," Maddon said. "That ball was crushed."
The six runs scored by Tampa Bay marked the most it has scored against the Tigers since May 24, 2011. The two teams met 14 times in between that game and Friday night.
In Maddon's opinion, Smyly ensured the Detroit crowd received a double dose of holiday fireworks. The skipper insisted the lefty intentionally hit Longoria after Cobb hit Victor Martinez the inning before. Once Cobb hit Ian Kinsler in the sixth with a curveball that he said slipped, Maddon was ejected for protesting.
Maddon has stressed the importance of winning series to his team, and because of the bounce-back win Friday night, it'll still have the chance to do so in Detroit.
And the Rays will have that opportunity largely because of Boxberger, who slammed the door shut when it looked like the Tigers would pile it on for the second straight night.
"A couple quick hits from that lineup and it's a totally different ballgame," he said. "I'm not going to go run, jump around and do cartwheels and all that. But going out there and doing my job and keeping us ahead is definitely satisfying."
Matt Slovin is an associate reporter for MLB.com. This story was not subject to the approval of Major League Baseball or its clubs.