Quintana strong early but White Sox fall in 14th
Lefty fans 10 but bullpen struggles continue in loss to Mariners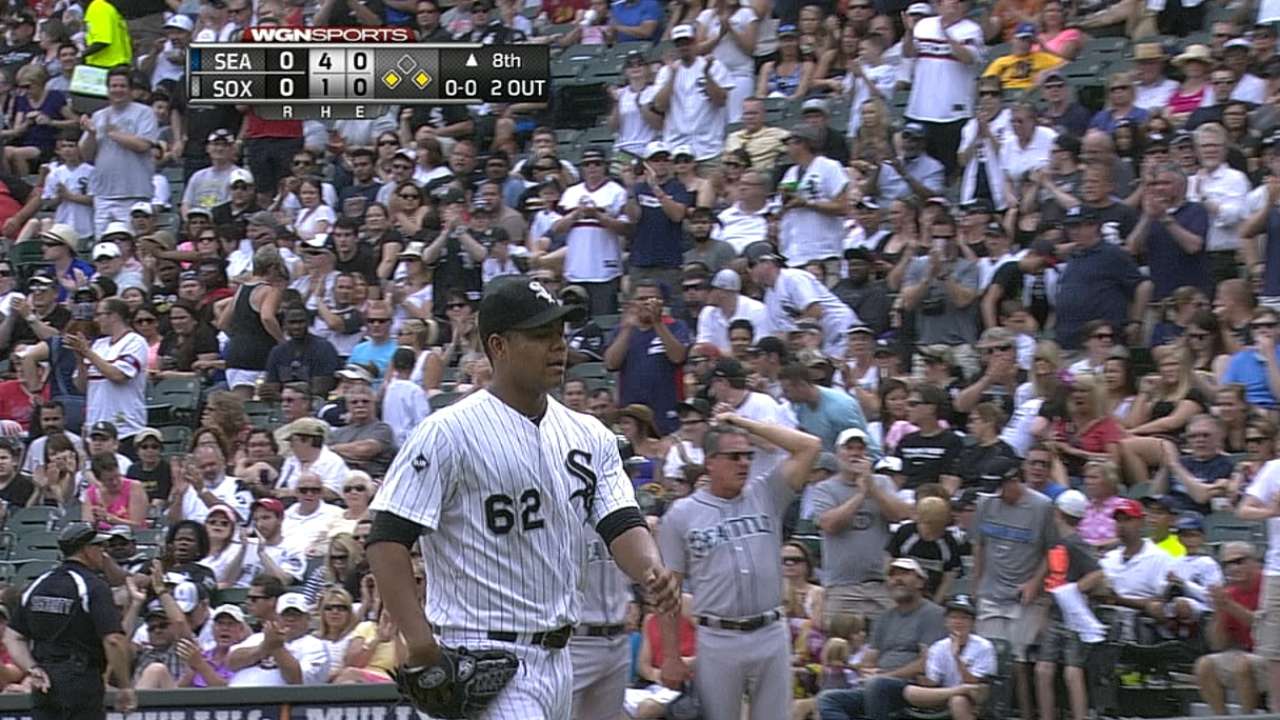 CHICAGO -- Objects in motion tend to stay in motion. Newton's Laws of Motion apparently apply to the revolving door at closer for the White Sox.
Trying to protect a two-run lead, Zach Putnam blew the save Saturday at U.S. Cellular Field as the Mariners went on to drop the Sox, 3-2, in 14 innings.
"I don't think the ninth should be any different for a reliever than any other inning," Putnam said. "You've got to go out there and do your job and get outs. Today I made some pitches, a couple mistakes, but I got a few groundballs and there's days when those groundballs turn into outs and there's days when they're hits and runs are scored. Today was one of those days, so you have to bounce back."
Seattle's winning rally off ex-closer Ronald Belisario started with a one-out single by Michael Saunders, who stole second on a failed pitchout attempt by Belisario (the ball sailed to the backstop) and scored on Brad Miller's ground-rule double.
In the ninth, lefty Eric Surkamp walked Robinson Cano on five pitches to start the inning and was pulled for Putnam, who picked up his first career save last Saturday at Toronto despite allowing a run on three hits in 1 1/3 innings. Corey Hart followed with a single, and two batters later Cano scored on Mike Zunino's one-out sac fly.
Logan Morrison then deflected a ball off the glove of a diving Jose Abreu at first that redirected to Gordon Beckham, who nearly made a highlight-reel play to end the game.
"I tried to barehand it but my momentum was going to where I thought the ball was going to be and then when it deflected, yeah, I nicked it with my hand," Beckham said. "I think I probably get it if it's not deflected, but it would've been a relatively difficult play I guess. But who knows."
Instead, Saunders followed with a run-scoring single that tied the game at two to set up extra innings.
The Mariners' late rally took away a win from Jose Quintana, who outdueled former Cy Young Award-winner Felix Hernandez. Quintana matched a season-high with 10 strikeouts in his 7 2/3 scoreless innings, and allowed just four hits and one walk.
He exited after 109 pitches (75 strikes) after striking out James Jones with runners on the corners and two outs in the eighth. Jake Petricka came in and got the final out of the inning by inducing a groundout from pinch-hitter Endy Chavez.
Since allowing six earned runs in six innings to the Royals on June 13, Quintana has allowed three earned runs in 28 2/3 innings over his last four starts -- a 0.94 ERA. He extended his scoreless-innings streak to 15 2/3 innings with Saturday's strong outing.
Fittingly, Quintana is just 2-0 in that span -- Saturday's no-decision gave him 33 since 2012, tops in the Majors.
"You know, it was a really hard game," Quintana said. "Felix was throwing pretty good, too. They have a pretty good lineup, too. The game is close and we lost in the last inning. We wanted to keep going."
Hernandez smothered Chicago's offense until the eighth. Conor Gillaspie led off with a triple to right and scored on Dayan Viciedo's RBI double. Pinch-runner Moises Sierra advanced to third on a chopper by Alejandro De Aza -- Sierra made a creative slide to avoid the tag on a play that was overturned after White Sox manager Robin Ventura challenged -- and scored on Tyler Flowers' sac fly.
Then came Seattle's ninth-inning rally, and Ventura was left further pondering who he should try in the ninth inning next. Belisario flamed out and Matt Lindstrom isn't expected back from injury until August. Overall, Chicago's bullpen is just 18-for-29 in save situations.
"We just didn't get it done," Ventura said. "Right now we're at the point where we're using different people in that spot and every once in a while, those guys are going to give up runs. And when it does, it's going to look like a blown save, but we're rotating around guys until somebody really emerges."
Joe Popely is an associate reporter for MLB.com. This story was not subject to the approval of Major League Baseball or its clubs.