Mariners rally to tie in ninth, win in 14th
Felix, bullpen hold Chicago to four hits as Saunders keys two rallies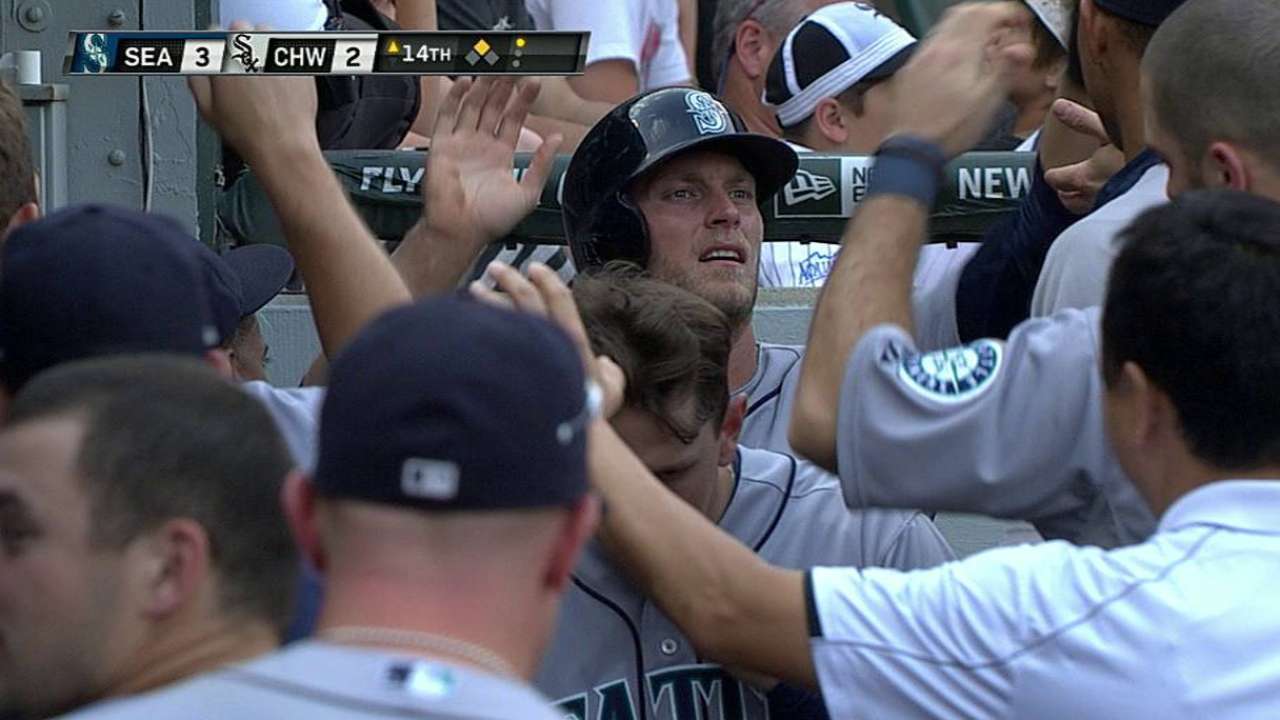 CHICAGO -- Wins for the Mariners have been hard to come by at U.S. Cellular Field. And extra-innings wins of the 14-inning variety? Those are special anywhere, any time, which is why Seattle's clubhouse was jumping after Saturday's 3-2 victory over the White Sox.
"This is a big win for us," said Felix Hernandez, who pitched the first eight frames of an outstanding pitchers' duel. "We needed this. I'm happy for the whole team. They always fight. I believe in these guys."
Six Seattle pitchers combined to hold the White Sox to four hits as the Mariners improved to 48-39 with their 11th win in the past 14 games. The Mariners are just 5-22 at U.S. Cellular since 2008, and this was Seattle's first road win of 14 innings or more since 1992.
"It's nice to come away with an extra-inning win," said Michael Saunders, who scored the game-winning run on Brad Miller's double in the top of the 14th. "The last couple years have been tough for us and this was definitely a huge morale boost for this club. We've been playing great baseball as of late and this just goes to show it. There was a lot of character and a lot of grind today. That's the kind of club we have. This was definitely a team win for us."
After Hernandez allowed three hits and two runs in eight innings, Seattle's bullpen threw six scoreless frames and the Mariners pushed across the go-ahead run in the 14th on Miller's line-drive double off hard-throwing reliever Ronald Belisario.
Saunders singled, stole second and scored on Miller's shot to make a winner out of Tom Wilhelmsen, with Fernando Rodney shutting the door for his American League-leading 25th save to end the four-hour, 38-minute marathon.
"It was a battle of the bullpens," said Miller, who was 0-for-5 prior to his go-ahead RBI double. "Some good arms were getting run out there and we just kept fighting. We had some good at-bats, Saunders was able to get to second and I was just trying to scratch and claw. It was a good game, exhausting, but a lot of fun."
Hernandez hasn't given up many runs lately, but the two he did on Saturday left him with a no-decision as the White Sox scored twice in the eighth before Seattle tied the game in the ninth.
Hernandez had the highest run support of any Mariners pitcher this season at 5.35 runs per start, but that wasn't the case Saturday as Seattle was shut out for eight innings, mostly by southpaw Jose Quintana, before tying the game off the White Sox bullpen on a sacrifice fly by Mike Zunino and an RBI single by Saunders.
Those would have stood as the go-ahead runs for Hernandez but for the eighth-inning rally by the White Sox, who had managed only a leadoff single by Adam Eaton in the first until that point. But Conor Gillaspie opened the eighth with a triple and scored on Dayan Viciedo's double.
"If I could take back that one pitch, I would love to have it back," Hernandez said of Gillaspie's rip on his 3-2 fastball. "I was not running out of steam. It was just location. I missed right in the middle of the plate. [Zunino] asked for a changeup, but I was not going to walk that guy. I just wanted to go after him, but he put a good swing on it."
The White Sox then got a break from instant replay when Alejandro De Aza grounded to Robinson Cano, who threw to third and got the lead runner -- pinch-runner Moises Sierra -- in a rundown. Sierra was initially ruled out, but Chicago challenged and replay showed he avoided the tag of Kyle Seager. That put runners on second and third, and Sierra scored moments later on a sacrifice fly by Tyler Flowers.
Including his previous outing against the Indians, Hernandez has allowed just four hits and two runs over his last 16 innings with 17 strikeouts. Hernandez remained 10-2 with the no-decision, with his American League-leading ERA at 2.11.
The Mariners' ace will make one more start before the All-Star break, and the club has decided to give him an extra day's rest and pitch him on Friday at Safeco Field against the division-leading A's instead of Thursday against the Twins.
The White Sox saw plenty of the four-time All-Star on Saturday, as well as Seattle's bullpen, which lowered its American League-leading ERA to 2.51 with the six scoreless frames.
"The guy's good for a reason," White Sox second baseman Gordon Beckham said of Hernandez. "Q pitched a great game for us and Hernandez is really good. We've seen him before. He had his 'A' stuff today. When you play 14 innings and only get four hits, obviously they're doing something right. Long day."
The Mariners have struggled mightily at U.S. Cellular over recent years, and Hernandez had been part of that struggle as he was 1-5 with a 4.88 ERA in eight prior starts on the South Side.
But the 28-year-old has been on a tremendous roll this season, particularly over his past 10 starts as he's now 6-1 with a 1.40 ERA over that stretch with 11 walks and 85 strikeouts.
Hernandez has recorded 10 straight starts in which he's pitched at least seven innings while allowing two or fewer runs. That's the longest such run in franchise history -- breaking a seven-start streak by Randy Johnson in 1984 -- and is the longest in the Majors since Mike Scott of the Astros did it 10 times in a row in 1986.
Quintana is 5-7 with a 3.20 ERA for the White Sox, including 2-0 with a 0.94 ERA over his last four starts, as the 25-year-old struck out 10 with one walk.
But after falling to Chris Sale the night before, this time the Mariners pulled out a tough victory and head into Sunday with a chance to win their fifth straight series.
"Good teams find a way to win games like that," said manager Lloyd McClendon. "Say what you want about us, but our guys are gritty and they battled and we won a game like that."
Greg Johns is a reporter for MLB.com. Follow him on Twitter @GregJohnsMLB as well as his Mariners Musings blog. This story was not subject to the approval of Major League Baseball or its clubs.