McGehee, Marlins can't complete rally in ninth
Blanked for eight, Miami plates two, but clutch hitter grounds into DP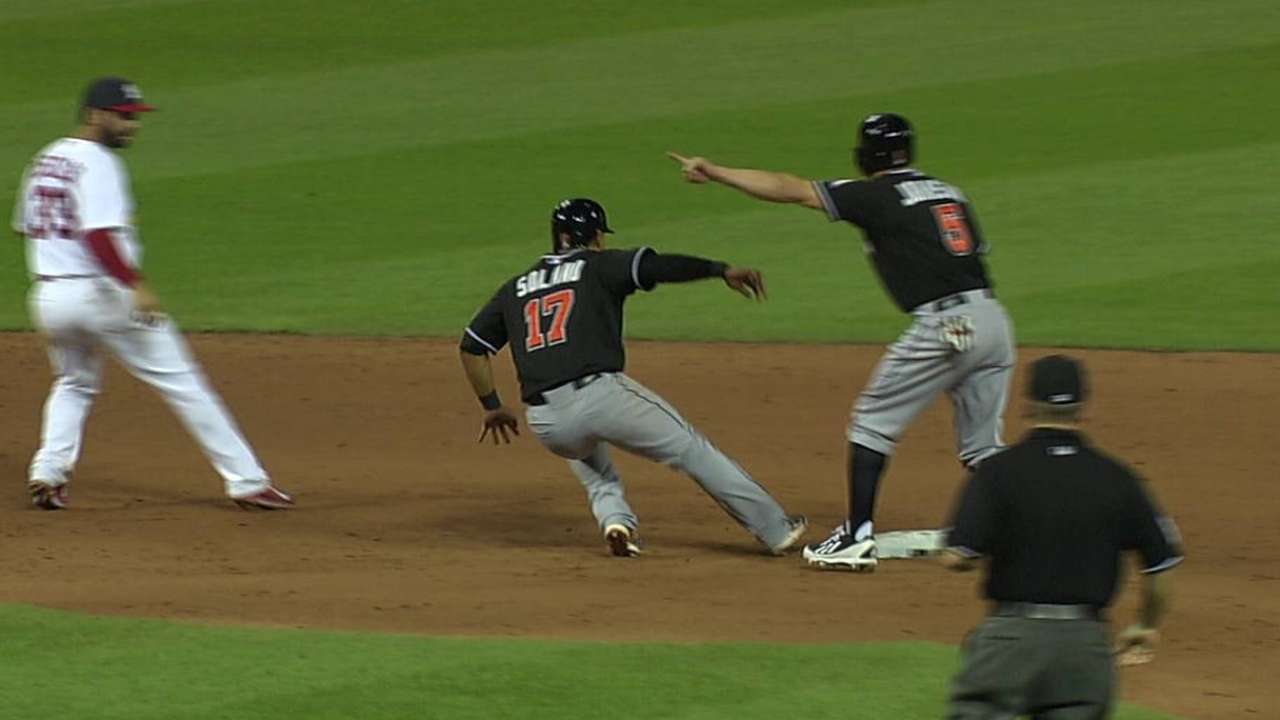 ST. LOUIS -- With the game on the line, the Marlins had their most opportunistic player at the plate. But instead of a fantastic finish, the club endured yet another frustrating loss.
Cardinals closer Trevor Rosenthal got Casey McGehee to tap into a game-ending double play with the bases loaded, securing a 3-2 St. Louis win on Friday night at Busch Stadium.
McGehee entered the night sporting the highest batting average with runners in scoring position in the Majors. Not only does the Miami third baseman boast a .393 batting average in those situations, his on-base percentage with runners in scoring position is .473.
But Rosenthal threw a changeup that resulted in a 5-4-3 game-ending double play. Miami scored twice in the ninth, but was unable to complete the comeback.
"It's a tough one," McGehee said. "I'd like to have that at-bat over, I guess."
McGehee, who had two hits on the night, extended his hitting streak to 11 games, matching a career best. He has hit safely in 18 straight road games, and reached base safely in 27 consecutive games overall.
So much was stacked in Miami's favor, which only compounds the fact the club has dropped eight of 10. For the second straight game, the Marlins had a chance to win in the ninth inning, only to come up short.
"You've got to give him credit," McGehee said of Rosenthal. "He threw a pretty good changeup on that last pitch. Like I said, I wish I had that at-bat over again. I felt like I had a pitch to do the job with and I spoiled it, instead of getting the job done with one strike. But he's got good stuff and made a great pitch."
The Marlins staged a furious rally when all seemed lost entering the ninth. They trailed by three runs with three outs to go. But Marcell Ozuna singled and Donovan Solano collected his third single of the game. Pinch-hitter Reed Johnson was hit by a pitch to load the bases, and Christian Yelich delivered a long drive to left-center. Unsure if the ball would be caught, Solano went back to tag at second base.
Matt Holliday was unable to hold on, and Solano nearly was passed on the bases by Johnson, who did a good job holding back while pointing Solano to third. If Solano went halfway and saw the ball drop, Yelich would have had a two-run double and runners would have been on second and third. But it became a long single, and the bases again were loaded.
Cardinals manager Mike Matheny challenged, but it was confirmed Johnson didn't advance ahead of Solano.
"In that situation, your read is to stay halfway," Miami manager Mike Redmond said. "Once he drops it, he would have obviously scored. We would have had second and third, and they would have walked [Giancarlo] Stanton anyway. We would have ended up with the exact same situation. You never know. But it probably would have been the same scenario, with Casey McGehee with the bases loaded."
Ed Lucas struck out and Stanton walked, plating the second run and bringing up McGehee.
Before the ninth inning, the Marlins were shut down by Lance Lynn, who scattered five hits and struck out six in 6 2/3 innings.
"He did a nice job of limiting the damage," Matheny said of his starter. "He got into a little bit of trouble. The bullpen got some work today, but they did enough to get it done."
Miami's Nathan Eovaldi worked six innings, and four of the six hits he allowed came in a three-run sixth.
Matt Carpenter opened the inning by doubling high off the padding of the wall in center. Carpenter felt the ball was a home run, and Matheny was able to get a crew-chief review. But after 53 seconds, the ruling on the field was confirmed. Holliday singled to put runners on the corners.
Matt Adams lifted a fly ball out to short left field, and Miami was almost able to get a double play. Yelich threw to McGehee, who tried to get Holliday sliding back into first base. But first baseman Garrett Jones was unable to get the tag down.
Carpenter scored on Eovaldi's wild pitch.
"I was trying to throw it down and away to him, trying to get him to roll the ball over, hit it on the ground," Eovaldi said. "I didn't want to leave it up in the zone. It just got away."
The inning became a big one when Yadier Molina and Oscar Taveras each delivered two-out RBI doubles to right. Both two-base hits were just out of Stanton's reach.
Stanton showed his frustration on the Taveras ground-rule double, punching the padded wall after the ball bounced into the seats. When the inning ended, the slugger slammed his glove down in the dugout.
"He ran a long way for both of those balls," Redmond said. "At the end of the day, we gave up a couple of big hits, and that was it. That's happened to us a few times."
Joe Frisaro is a reporter for MLB.com. He writes a blog, called The Fish Pond. Follow him on Twitter @JoeFrisaro. This story was not subject to the approval of Major League Baseball or its clubs.