Giants shut down to give Cain hard-luck loss
Righty allows two runs in 6 1/3 innings, but offense shut out again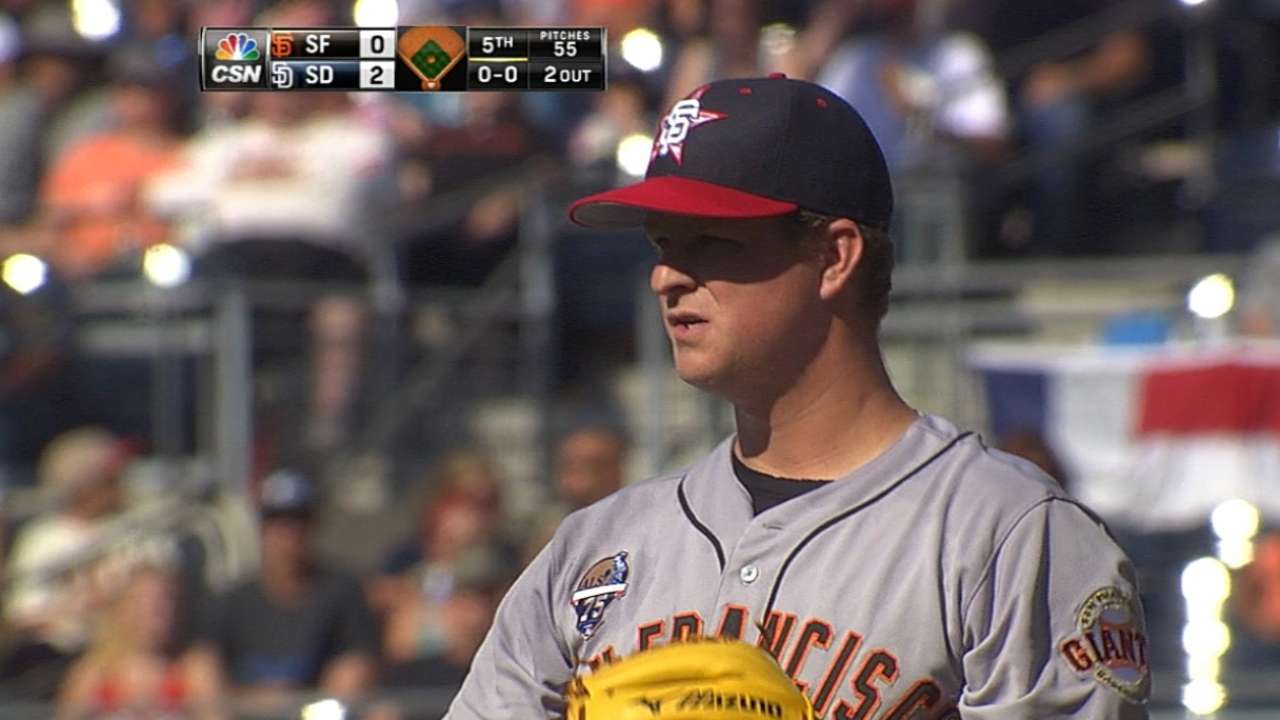 SAN DIEGO -- Friday began with the Giants rallying around each other. That turned to soul-searching by the afternoon.
In between, the Giants continued floundering. They tumbled to their 18th loss in 23 games as the San Diego Padres nicked them at Petco Park, 2-0.
Combined with the Dodgers' victory at Colorado, the second-place Giants fell 1 1/2 games behind Los Angeles in the National League West race. That's San Francisco's largest deficit of the season.
Since a little less than half of the regular season remains, the Giants' clubhouse remained devoid of stress, though they were concerned enough to conduct a players-only meeting before batting practice.
Giants manager Bruce Bochy's glowing remarks about the abundant energy in the dugout before the game suggested that players devoted their 10-minute session to bolstering each other's confidence and reminding themselves that the game's supposed to be fun. Right-hander Matt Cain essentially confirmed this.
"There's nothing we can do off the field or [with] effort level," Cain said. "It's just got to happen. Guys are working their tails off. ... They might have to back off. Let's play it that way and act like a bunch of little kids out there and not put too much pressure on ourselves. We've just got to get the right chemistry again and mojo we had earlier in the year, and all this won't matter."
"All this" includes being shut out in three of their last five games and four times in the past 11. Catcher Buster Posey, among the few offensively productive Giants recently, acknkowledged that some teammates might be trying too hard to turn around the club's fortunes.
"I don't think that's necessarily a bad thing all the time. Sometimes that heightens your focus," Posey said.
Asked what makes him believe that the Giants can regroup, Posey replied, "We've done it before. The hardest thing when you're going through a stretch like this is to remember that feeling you had when things were going well. ... You don't have to think as much. And I think there's a little bit of overthinking now. But again, at the same time, that's because we care."
Having shuffled the lineup and changed bullpen roles, Bochy has exhausted virtually all of his options.
"We need a spark. Right now we have to clean the sparkplugs," he said.
Bochy dropped no hints about obtaining a useful performer or two by the July 31 Non-Waiver Trade Deadline. For the most part, the current group of Giants must find their own answers.
"That's a pretty good club we're throwing out there," Bochy maintained.
Citing first baseman Brandon Belt's return, Bochy added, "You look at this lineup. It's a lineup that did a lot of damage. We're not looking for help. I don't think we need help. We have the talent here. We just have to keep believing that it's going to happen. I got a feeling that once we get on a roll, we'll get back to the team we were earlier in the season."
On April 29, for instance, the Giants pounded Padres starter Eric Stults for five runs and seven hits in 2 2/3 innings in a 5-0 triumph. Friday, Stults surrendered four hits in seven innings to halt his eight-decision losing streak.
Bochy tried to frustrate Stults further by employing a batting order featuring six hitters who owned a .300 lifetime average or better against him. Stults neatly sidestepped each obstacle. Two examples included Pablo Sandoval, who entered the game batting .480 (12-for-25) against Stults, and Joaquin Arias (.381, 8-for-21). Sandoval went 0-for-3 off Stults and followed Posey's sixth-inning leadoff single by grounding into a double play. Arias doubled in three at-bats against Stults, but fouled out in the second inning with Michael Morse on second base and one out before delivering his hit with two outs and the bases empty in the fourth inning.
Cain (1-7) lasted 6 1/3 innings and allowed a pair of third-inning runs while losing his fourth consecutive decision, allowing a pair of third-inning runs and seven hits in 6 1/3 innings. Alexi Amarista, who had one home run in 165 at-bats this season, pulled Cain's 1-0 changeup over the right-field wall with one out. Seth Smith's two-out double prolonged the inning for Chase Headley's RBI single.
Rather than lament his win-loss record, Cain repeated the players' pregame call for fun.
"That's the right step you want to take," he said. "Start moping around, it'll make for a long season. That could be miserable. We want to go out there and enjoy it."
Chris Haft is a reporter for MLB.com. Read his blog, Haft-Baked Ideas, and follow him on Twitter at @sfgiantsbeat. This story was not subject to the approval of Major League Baseball or its clubs.