Stults leads Padres to fifth straight victory
Left-hander hurls seven shutout innings; Amarista contributes homer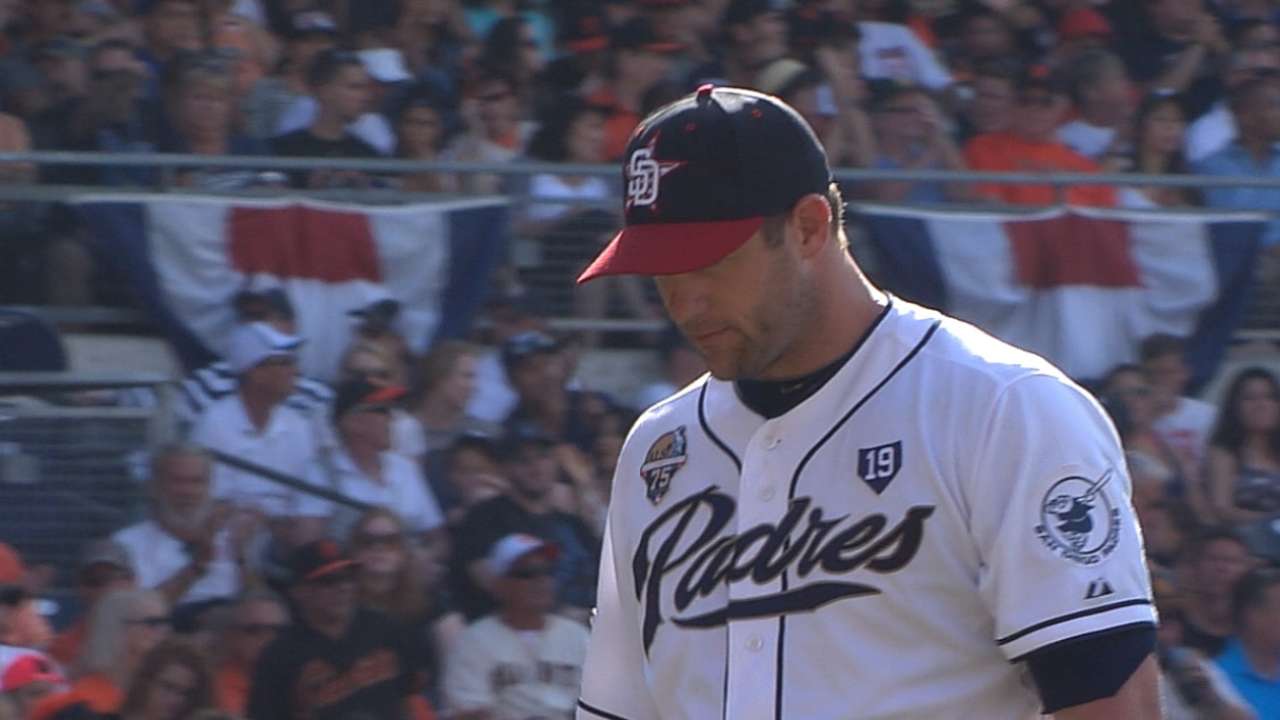 SAN DIEGO -- Eric Stults had his best outing in nearly two years to continue his resurgence and Alexi Amarista homered to help the Padres claim their longest winning streak of 2014 with a 2-0 win over the Giants on Friday at Petco Park.
In throwing seven shutout innings for the first time since August 2012, Stults (3-11) got his first win since May 10 and snapped the longest streak in the Majors for consecutive appearances with a loss (six).
"It's tough to see losses go on your record start after start, but man, he's been great," said Padres manager Bud Black. "He's been great as a teammate, showing up every day and doing his thing. That's worth something, for me."
The Padres (39-47) extended their winning streak to a season-high five games, their longest since June 10-17 last year. Their pitching staff has now hurled three shutouts in the last four games and four in the last 10 contests after recording two in the first 76 games this season.
"I can't say enough about the way our team is playing," Stults said. "We're heading in the right direction as a team."
San Francisco (47-39), meanwhile, continued its downward spiral. Since June 9, the Giants have the worst record in the Majors (5-18) and recently coughed up their division lead in the National League West to the Dodgers.
Stults only added to their misery, allowing just four hits with two walks and six strikeouts, tying his season high. He's now given up just four earned runs across his last three starts spanning 19 1/3 innings (1.86 ERA) after compiling a 5.76 ERA in his first 15 starts this season. That figure has dropped to 4.96 with his recent run of success.
"I've been in this game long enough to know you're going to hit stretches where you're not going to pitch well," Stults said. "You don't dwell on the bad ones. You move forward."
The veteran lefty got all the run support he needed in the third inning, when Amarista's solo shot off Matt Cain (1-7) put the Padres ahead. It initially looked like a towering, but harmless, fly ball -- until it kept carrying just over the right-field fence.
Amarista would later add a double in the fifth to mark his first game with multiple extra-base hits this year -- a surprising feat, considering he had been 0-for-12 against Cain entering Friday.
Cain allowed two runs off seven hits and three walks with six strikeouts in 6 1/3 innings.
The Padres' other run in the third came via Chase Headley's RBI single, which brought in Seth Smith, who had gapped a two-out double.
Headley had four singles, his first game with three or more hits this season, to increase his average 14 points to .216. It was the first time he had four hits since Sept. 2, 2012. He's now 13-for-37 (.351) lifetime against Cain, which is tied for his most hits against any pitcher (Tim Lincecum).
"You saw the line-drive stroke, he was on all pitches," Black said. "I think overall his at-bats over the last two weeks have been much better. Hopefully a game like this, he can carry over and keep getting multiple-hit games."
San Francisco threatened early, loading the bases in the second inning off a Michael Morse double and two walks to the Giants' No. 7 and No. 8 hitters. But Stults stuck out his counterpart on three pitches to escape the jam and mostly cruised from that point.
"He really couldn't locate his fastball, so we kept attacking with the slider and he was hitting the corner with it," said catcher Yasmani Grandal. "That's why he was able to have a good outing."
A tiring Cain let San Diego load the bases in the seventh after allowing a single to Cameron Maybin and walking Amarista and Jake Goebbert, the latter on four pitches.
But Jeremy Affeldt relieved Cain and prevented the Padres from widening the deficit by inducing an inning-ending double play from pinch-hitter Chris Denorfia, who had come on to face the lefty Affeldt for Smith.
In the end, it didn't matter -- Joaquin Benoit worked the eighth and Huston Street made quick work of the heart of the Giants' lineup to pick up his 23rd save in 23 chances, the longest active streak in the Majors.
Will Laws is an associate reporter for MLB.com. You can follow him at @WillLaws. This story was not subject to the approval of Major League Baseball or its clubs.