Four-run first sinks Phillies in opener vs. Bucs
Hernandez recovers to last 5 2/3, but offense quiet in Pittsburgh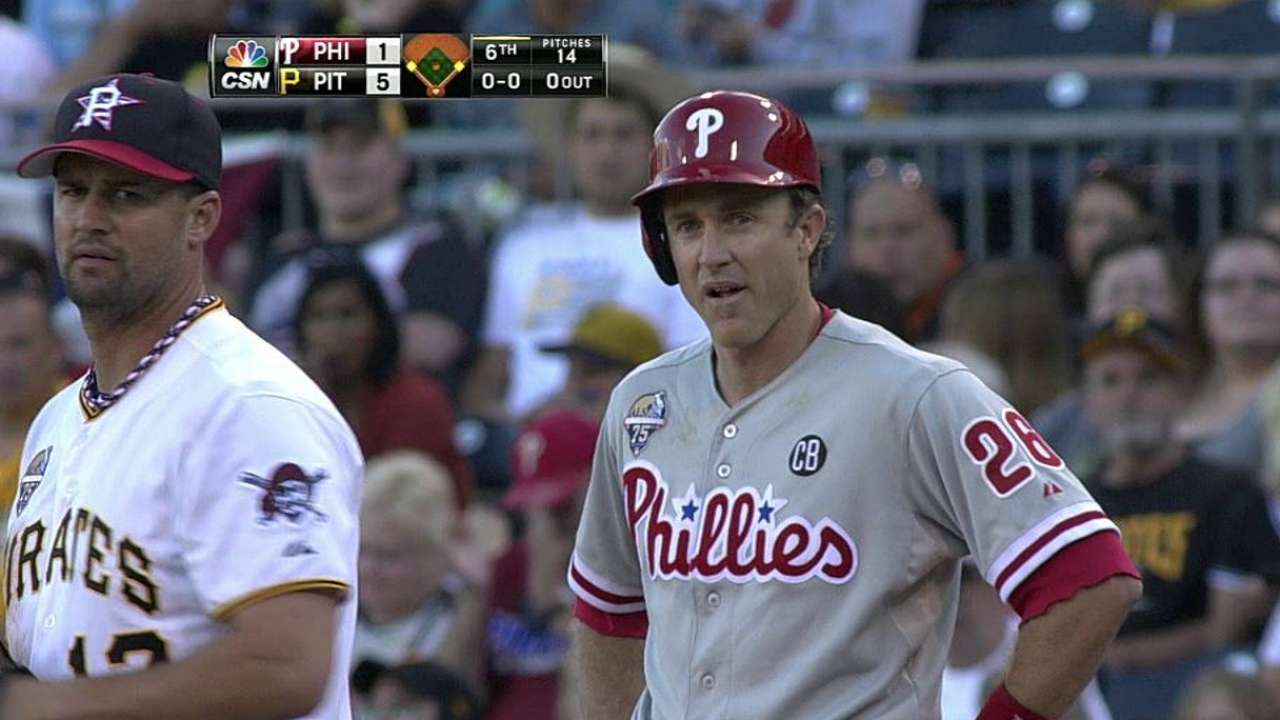 PITTSBURGH -- For the Phillies, Friday might have been the most beautiful evening for baseball this season, considering the setting and the circumstances.
The Phillies opened a three-game series against the Pirates in front of sellout crowd at PNC Park, which is a top-five ballpark for almost anybody who has seen their share of ballparks across the country. It has a spectacular view of the city's skyline, the Allegheny River and the Roberto Clemente Bridge. And the evening included perfect summer weather on the Fourth of July.
But the picture-postcard holiday weather was the highlight for the Phillies in a painful 8-2 loss, their 11th in 14 games to fall to 37-49. The Phillies managed just two hits following a grueling 45-pitch first inning from Roberto Hernandez, which cast a pall over the evening.
"Yeah, it's definitely tough," Phillies first baseman Ryan Howard said. "Obviously you don't want to be down after the first inning. That's the game of baseball. It's going to happen, but … the way things have gone this year, yeah, it's even tougher. It's even tougher. There's no dancing around it or anything like that. It's a tough situation to be in when you're scratching and clawing and trying to find ways to win games, but like I said, it's the game of baseball, and they jumped out early."
Hernandez's 45-pitch first inning handed the Pirates a 4-0 lead. He allowed five hits, four runs, two walks and three stolen bases, with every run coming after Jimmy Rollins made a fantastic throw to the plate to get Starling Marte for the second out.
"It sets a poor tone for the first inning," Phillies manager Ryne Sandberg said. "You have the defense on their heels and the guys who are swinging the bats the rest of the game out there on defense. It sets a tough tone for the rest of the game."
It has been that kind of season for the Phillies, who seem to be waiting for the inevitable moves to come before the July 31 non-waiver Trade Deadline. The struggles were on display again in the second inning. It did not lead to a run, but center fielder Ben Revere and left fielder Tony Gwynn Jr. collided in left-center field as they pursued a fly ball hit by Andrew McCutchen.
Revere got his glove on the ball but could not make the catch as he hit Gwynn. The official scorer ruled it a triple.
"It was one of those deals where the ball is falling in between two fast outfielders," Revere said, adding that the two players heard each other only just before colliding. "There's nothing you can do. It happens a lot in the game of baseball."
It has been that kind of season for the Phillies. Pirates right-hander Gerrit Cole dominated the Phillies through five scoreless innings, allowing one hit with a walk and a hit batter while striking out five. He left the game, however, with soreness in his right lat.
The Phillies scored a couple of runs in the sixth inning to make it 5-2 with major help from Pirates right-hander Stolmy Pimentel, who walked three and allowed a hit to the only four batters he faced. Right-hander Jared Hughes replaced Pimentel with the bases loaded, no outs and a run already in. But he got Marlon Byrd to hit into a double play, and he struck out Cody Asche looking on a pitch that was outside the strike zone but that home-plate umpire CB Bucknor nevertheless deemed a strike.
It has been that kind of season for the Phillies.
"I guess at times, when it rains it pours," Howard said. "Chase was able to get a hit. Ben was able to get a hit. I had a couple balls that would have been hits. Guys made plays. It's been tough. It's been tough. We're missing pitches or just missing pitches that normally we wouldn't miss. I don't know. It's tough. It's tough to explain."
Hernandez threw 117 pitches as he pitched into the sixth inning, trying to save the bullpen as much as he could after the rough start. He has pitched more than six innings just three times in 16 starts this season.
"The first inning there wasn't any pitch working," Hernandez said.
Not much has been working for the Phillies for some time. At least they had the weather.
Todd Zolecki is a reporter for MLB.com. This story was not subject to the approval of Major League Baseball or its clubs.