Pirates ride early dominance on hill, at plate
Cole exits with injury after five one-hit innings, but Bucs hang onto lead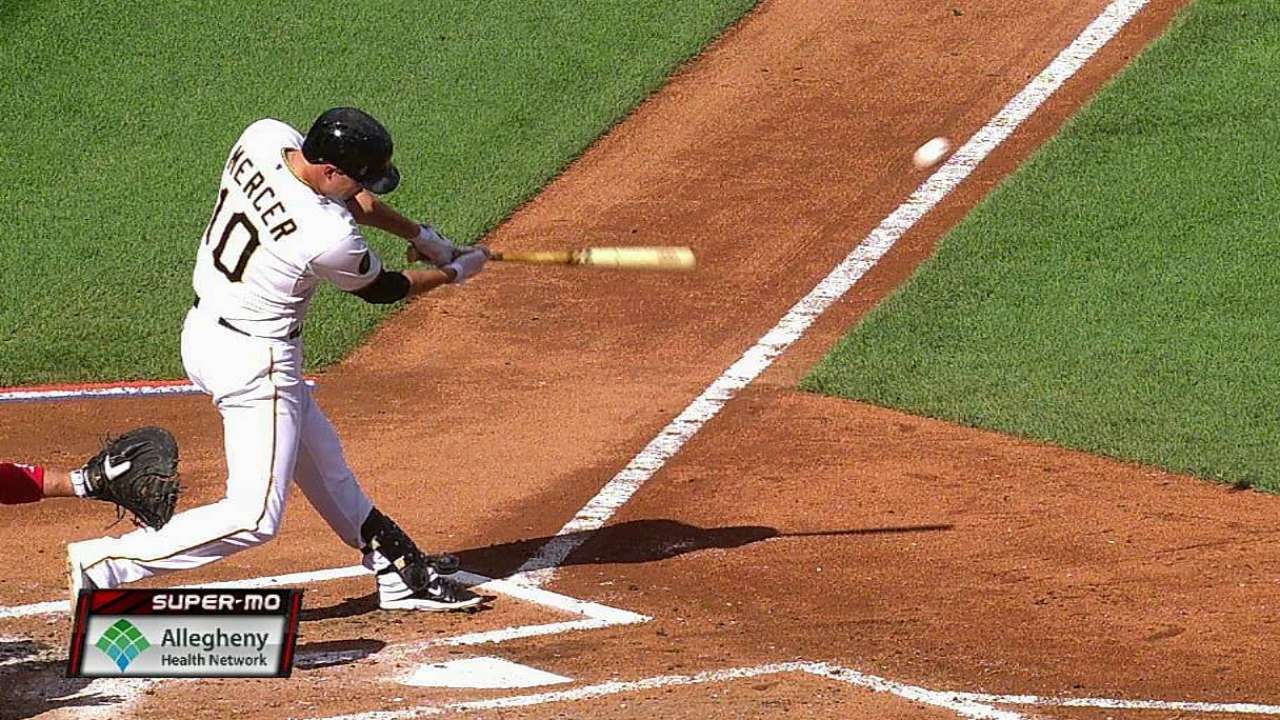 PITTSBURGH -- By the time Jordy Mercer stepped to the plate in the first inning, he had a good idea of what Phillies starter Roberto Hernandez was trying to do.
"He was trying to bust us in and then go soft with something," Mercer said he was told from teammates who had already hit in the inning. "[We had to] stay patient and get something over the plate, and when he makes a mistake, put a good swing on it."
That's precisely what Mercer -- Pittsburgh's eighth hitter -- did. His two-run single rounded out the scoring in a four-run first, and the Pirates ran away with an 8-2 win over the Phillies in front of a Fourth of July crowd of 38,977 at PNC Park.
Mercer set a career high with four RBIs, and reigning National League MVP Andrew McCutchen went 4-for-5 with two RBIs and missed hitting for the cycle by about 10 feet.
McCutchen singled in the first, had a triple in the second on a fly ball that landed in left-center field after Tony Gwynn Jr. and Ben Revere collided, and doubled in the fourth. In his final at-bat of the evening, in the eighth, McCutchen connected on a hard-hit line drive that hit the 21-foot wall in right field.
It was another RBI and another double for McCutchen but still left him asking, "What if?"
"Thought I was going to get it -- I didn't," McCutchen said. "As a baseball player, you start thinking, 'Dang, if I was playing at this ballpark, it might have gone out; if I was at this ballpark, it would've gone out. As a baseball player, you think like that. But I was grateful."
Including McCutchen's first-inning single, the Pirates struck early off Hernandez, a right-hander. And they did so with just one left-handed hitter in the order (Gregory Polanco), as Hernandez entered the game allowing a .264 average to righties compared with a .219 clip for lefties. The Pirates did not have an extra-base hit in the first, but the Phillies starter labored with 45 pitches to get the initial three outs.
In that first inning, Hernandez allowed five hits, two walks and the four runs, which all came with two outs. The Pirates had three stolen bases in the inning as well, sending nine batters to the plate.
"We took good looks, saw a lot of pitches -- I think about 45 by the end of the inning," Pirates manager Clint Hurdle said. "Even with trying to be aggressive and trying to score a run early, we kept going, got some big hits down the road."
Hernandez ended up going 5 2/3 innings, but he dug a hole from which the Phillies could not escape.
"[The first inning] set a poor tone for the game right off the bat," Phillies manager Ryne Sandberg said.
With a big lead behind him, Pirates starter Gerrit Cole rifled through the Phillies' order. The 23-year-old surrendered only one hit in his five innings, and just three Phillies reached base against him. The only thing that slowed down Cole was right lat soreness, which forced him out of the game after 80 pitches.
It was Cole's second start since he came off the DL with a fatigued right shoulder. He said Friday's tightness was unrelated, and he downplayed it after the game.
"It just started getting a little tight; we err on the side of caution," Cole said. "It feels good right now; I should be good to go."
Cole was replaced by Stolmy Pimentel, who struggled to throw strikes. He left the game with the bases loaded and one run across the plate -- all without recording an out. Jared Hughes, on his 29th birthday, bailed out his bullpen mate by inducing a Marlon Byrd double play and striking out Cody Asche to hold the Phillies to two runs.
After Hughes departed, the bullpen combination of Justin Wilson, Tony Watson and Jeanmar Gomez pitched three perfect innings. And as a whole, Pirates pitchers limited the Phillies to only two hits.
Stephen Pianovich is an associate reporter for MLB.com. This story was not subject to the approval of Major League Baseball or its clubs.