Trout launches holiday party with walk-off home run
Hits leadoff shot in ninth; Pujols crushes 510th; Wilson gives up three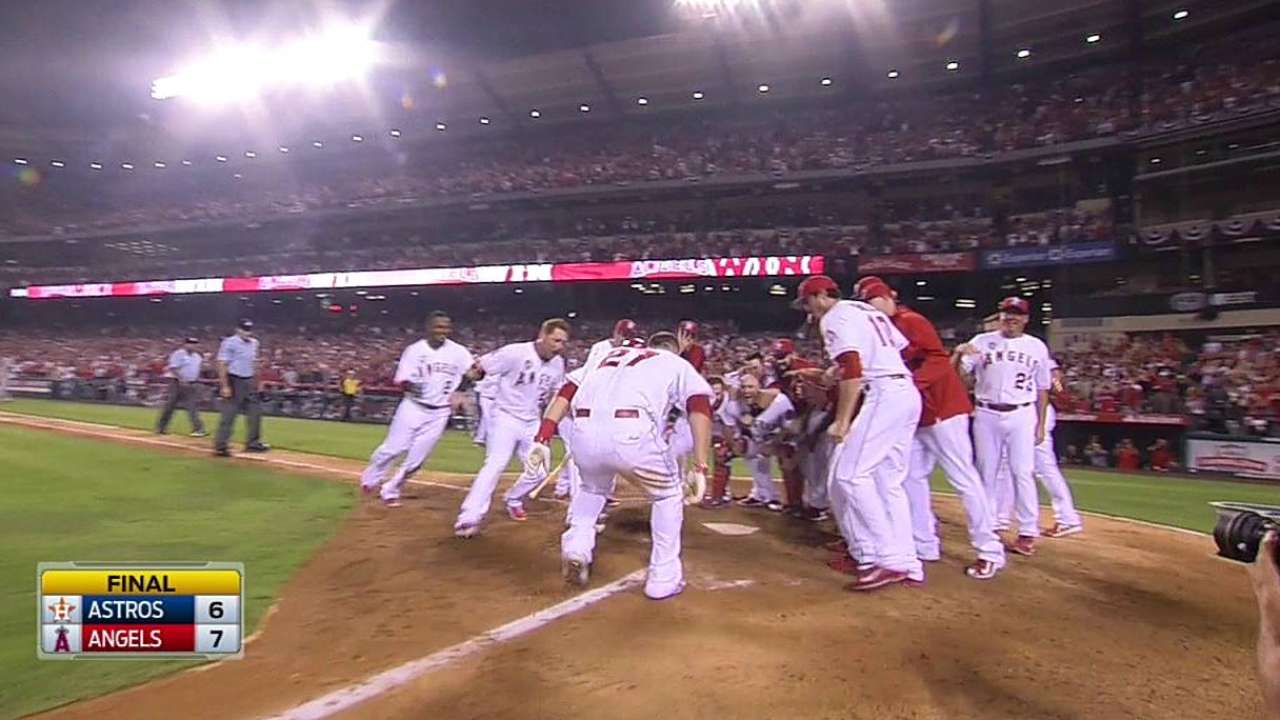 ANAHEIM -- Erick Aybar instructed Hector Santiago to come in from the front, within Mike Trout's eyesight, to create a diversion, and then Aybar whipped from around the other side of the dugout, lugging a three-gallon jug filled about halfway with frigid blue Gatorade, and soaked the Angels' superstar center fielder seconds after Santiago did the same.
Most players get a Gatorade shower after a walk-off hit.
Trout gets two.
"That second one got me pretty good," Trout said. "It was cold."
Not as cold as what Trout did to Astros reliever Tony Sipp.
The veteran left-hander came out for the bottom of the ninth, trying to keep the score tied and force extras, but Trout led off the inning, swung at an 0-2 slider that almost hit the dirt and launched a bullet out to left-center field, giving the Angels a 7-6 walk-off win in front of a sellout crowd of 43,557 on Independence Day.
"The adrenaline rush you get when it goes out, it's something special," Trout said after his second career walk-off homer, with both coming within a span of seven weeks. "Just to help the team win, especially at home, with all the fans tonight -- special night for everybody."
The Angels have had a lot of those around here lately. They've won eight straight games at home, the first time the franchise has done that since September 2005, and 14 of their last 15 at Angel Stadium. Overall, they've come up victorious in 11 of their last 14 games, giving them 49 wins -- second only to the A's for the American League lead.
"It's a different guy every night," Trout said of the way the Angels have played.
Most of the time, though, it's Trout.
He now has 20 home runs, making him the 13th player to amass that total before the All-Star break in his age-22 season or younger. His 1.022 OPS trails only Rockies shortstop Troy Tulowitzki for the Major League lead. And, as teammate Kole Calhoun said, Trout's "clutch factor is getting better."
There was the game-tying homer against the A's on April 15, the walk-off homer against the Rays on May 15, the eighth-inning grand slam against Chris Sale on June 7, and now this.
"I mean, it's getting to the point where we almost expect it," Calhoun said. "It's awesome. He's fun to play with."
David Freese had a couple of hits, giving him a .313 batting average since the start of June. Albert Pujols went 3-for-4 with a two-run homer and a stolen base. Howie Kendrick had four hits, including a clutch RBI double. And the Angels went off against Dallas Keuchel, who gave up two runs in 8 2/3 innings against them on May 19, but only lasted five innings and gave up five runs on 13 hits on Friday.
But the game came down to the ninth, because C.J. Wilson couldn't hold a two-run lead and instead was charged with six earned runs in 4 1/3 innings -- giving the left-hander a 6.75 ERA since the start of June and 16 earned runs in the 13 innings that have spanned his last three starts.
"He's trying to make adjustments, there's no doubt about that," Scioscia said. "C.J.'s on a tough run right now."
Kendrick tied the game at 6 with a liner off the wall in right-center field in the seventh. With two outs in the eighth, Sipp came on to pitch, and Calhoun was up.
"Just hit one out," Trout told him.
"Nah, I'll hit a single," Calhoun replied," and let you go deep."
It went almost as planned.
"So I ground out, inning over," Calhoun said. "Then boom, he hits a bomb."
Trout was 0-for-3, facing an 0-1 count, and Sipp threw a fastball that was a couple inches off the plate and was called a strike by home-plate umpire Angel Hernandez.
"I've got my strike zone, and that's not a strike," Trout said. "I didn't see the replay, but I thought it was way out there."
The next pitch was way down there. Sipp was ahead 0-2, set to throw a waste pitch he hoped Trout would chase. And he did, making contact just before the slider hit the dirt.
"He might've called that one, so I just swung at it and hit it out," Trout said.
"He's one of the best players in the game for a reason," Astros manager Bo Porter added. "He went down and he got it. It's one of those things where you see the pitch and you see the swing and you say to yourself, 'There's not many players in our game that can do what he did to that pitch.'"
Asked if he's ever seen quicker hands, Calhoun said: "Absolutely not. I think that's as good as you're ever going to see."
Asked what it is that makes Trout such a dangerous low-ball hitter, the Angels' right fielder could only shake his head.
"He's just a natural talent," Calhoun replied. "It's not human. He's a superstar, man. There's nothing more to it."
Alden Gonzalez is a reporter for MLB.com. Read his blog, Gonzo and "The Show", and follow him on Twitter @Alden_Gonzalez. This story was not subject to the approval of Major League Baseball or its clubs.