Sale's slider proves too much for Seattle to handle
Lefty fans 12 Mariners; Abreu, Viciedo, Konerko belt homers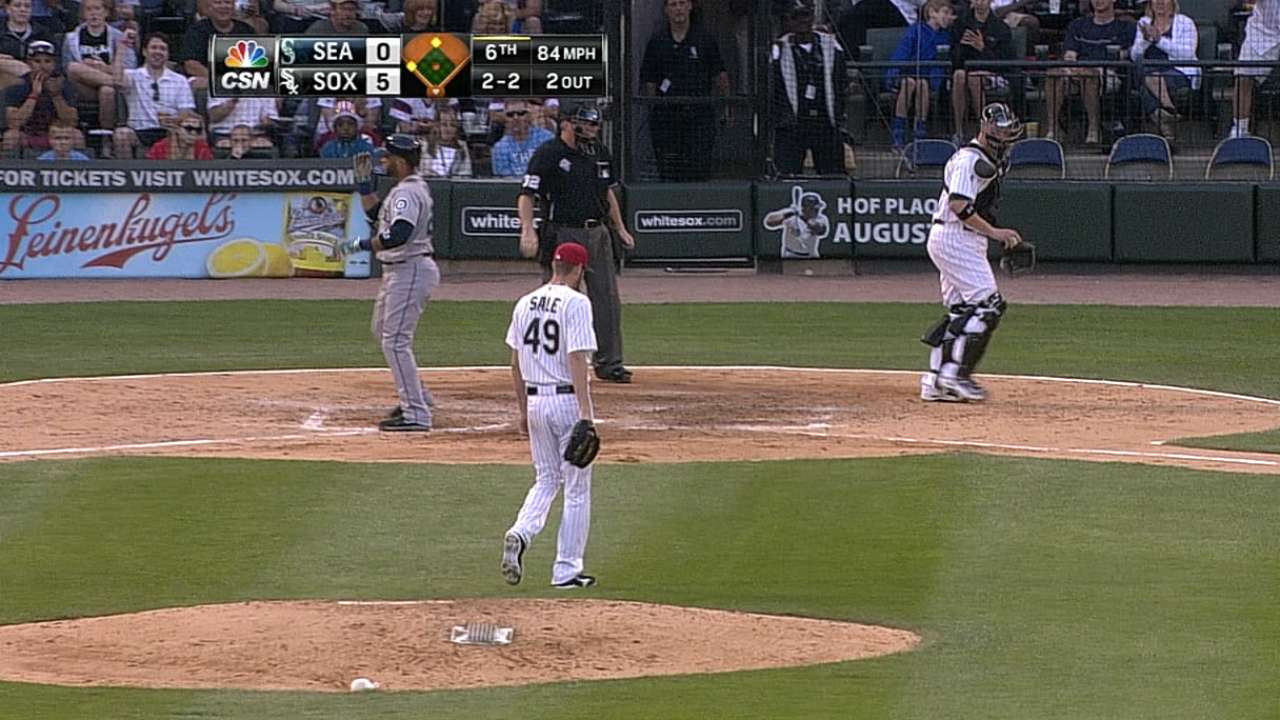 CHICAGO -- Putting six left-handed hitters in a lineup against Chris Sale, arguably one of the best left-handed starters in all of Major League Baseball, doesn't exactly fall under the heading of "Ideal Ways to Win."
Then again, those six lefties were the best choice a very solid Mariners squad had to offer during Friday night's series opener amidst the Fourth of July festivities at U.S. Cellular Field. And while the 7-1 White Sox victory was predictable, with Sale (8-1) tossing his seventh career complete game, the consensus postgame opinion centered on this win belonging to Sale's filthiness and not a rare lineup quirk against him.
"He's as advertised, he's got electric stuff," said Seattle shortstop Willie Bloomquist, who had two of the six hits against Sale. "It doesn't matter if you're left-handed, right-handed or switch. He's got a lot of stuff to get you out with. He's very good."
"Listen, left-handed, right-handed, it really doesn't make a difference," Seattle manager Lloyd McClendon said. "Our lefties for the most part this year have handled lefties pretty good. This guy was special tonight and you tip your hat to him."
Sale entered his 13th start of the season having held right-handed hitters to a .215 batting average, with six doubles and six home runs allowed. Left-handed hitters were just 4-for-45, with the Angels' Josh Hamilton and the Giants' Gregor Blanco having two singles apiece to represent those four hits.
Thoughts of a possible no-hitter, which Sale brings every time he takes the mound, were erased by Kyle Seager's single to left with one out in the second. Seager was promptly thrown out by Dayan Viciedo trying to stretch a single into a double.
These six Seattle left-handers finished 4-for-21 against Sale, with his slider emerging as virtually unhittable.
"I knew warming up in the bullpen it was going to be a pretty good pitch for me tonight," said Sale of the slider. "I was really working on that tonight in the bullpen. I threw a few more in my pregame bullpen than I usually do, just because I knew the amount of lefties. It's good to have that."
"Going into this game, we kind of knew with all those lefties in there that we'd have to use it a lot more, which is fine," White Sox catcher Tyler Flowers said. "We've done a good job using more changeups against most teams that stack right-handed. Even with that, though, we were still throwing a fair bit of changeups, which were pretty effective."
Offensive support came from Jose Abreu, who extended his hitting streak to 18 games with a two-run homer off Roenis Elias (7-7) during a four-run fifth inning. Viciedo started the scoring with his 10th homer leading off the fourth and finished with a 4-for-4 night.
"I'm still going there with a plan and I'm still doing my routine and working on the things I've got to do," said Viciedo through Lino Diaz, after knocking out his fourth homer in the last seven games. "I felt like a few weeks ago I was hitting the ball hard, just right at people. Nothing different. I just continue to do what I've been doing."
Paul Konerko completed the White Sox scoring in the eighth with his fifth home run of the season. It was Konerko's 439th homer of his career, 432nd as a member of the White Sox (41-46) and extended his franchise-record total bases total to 3,991.
About the only outcome left to be decided was whether Sale could close out a shutout. He allowed one run in the ninth inning, but after a mound visit from manager Robin Ventura, he finished off the 12-strikeout, no-walk second complete game of '14. Sale has 14 career games with double-digit strikeouts, leaving him third in franchise history behind Ed Walsh (17) and Juan Pizarro (15).
Seattle (47-39) lost for the 17th time in the last 20 games played on the South Side of Chicago and fell to 7-28 overall against the White Sox since 2010. Even with more right-handers in the Mariners' lineup, the outcome still might have been the same against the dominant White Sox ace.
"Yeah, I wouldn't say I was by any means laughing at it or anything, but that's definitely the first time it's happened this year," said Sale of the lefty-loaded lineup. "I knew I was probably going to throw a few more sliders today than normal, but that's about it."
"That's kind of the way they're built," said Ventura of Seattle. "It's not ideal. But for lefties going up there, those were the toughest lefty at-bats he has had this year. They were staying up there, putting 'em in play."
Scott Merkin is a reporter for MLB.com. Read his blog, Merk's Works, and follow him on Twitter @scottmerkin. This story was not subject to the approval of Major League Baseball or its clubs.