D-backs halted as Collmenter gets chopped by Braves
Righty succumbs to early woes while lineup remains cold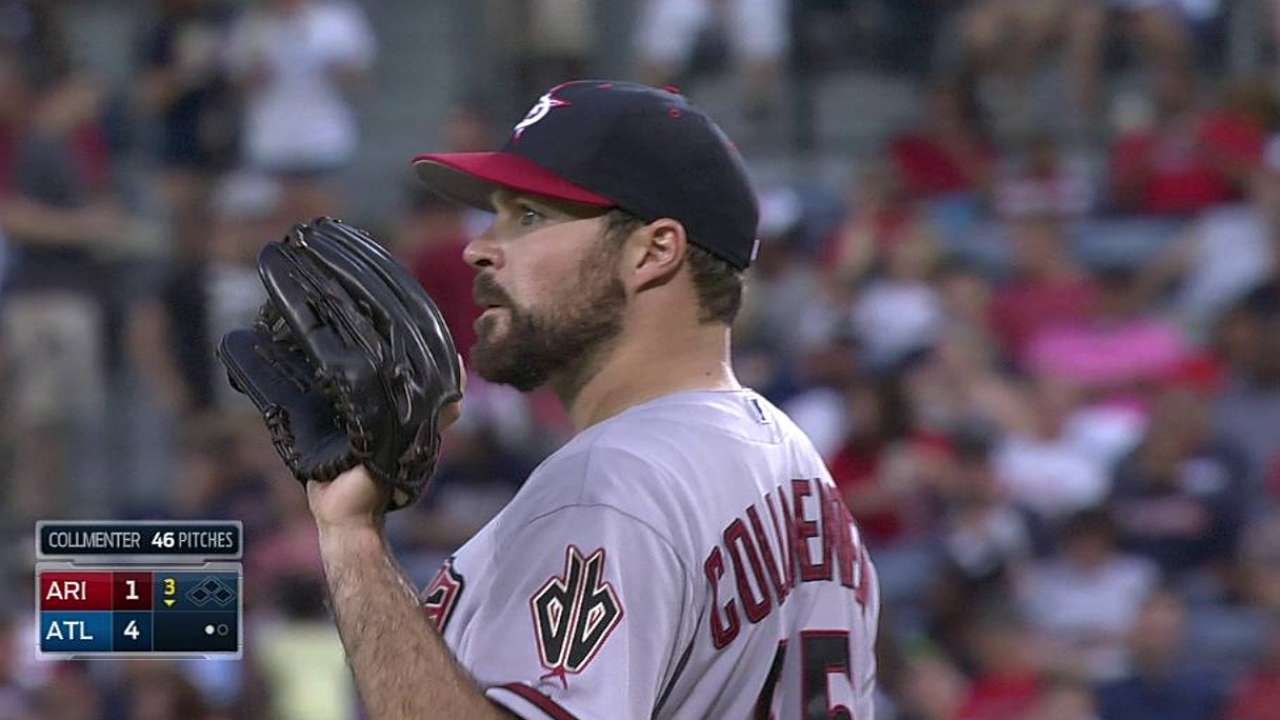 ATLANTA -- After two doses of the D-backs over the last month, it seems Arizona is the cure for Braves right-hander Ervin Santana's mid-season ailments. Following 7 1/3 innings of two-run ball on Friday night, he owns a 1.26 ERA in 14 1/3 innings against the D-backs this season.
Santana's gem was more than enough to overcome a respectable turn from Josh Collmenter as the Braves defeated the D-backs, 5-2, on a windy Independence Day night in front of a sellout crowd of 48,815 at Turner Field.
The defeat dropped the D-backs to a season-worst 16 games under .500.
Arizona is 8-15 since taking two of three from Atlanta in early June, a series that improved its record to 28-37. The D-backs again reached nine games under .500 two days later on June 10, but have failed to come that close to a winning record since.
In 10 outings since beginning the season 4-1 with a 1.99 ERA, Santana has struggled, compiling a 3-5 record with a 5.20 ERA. Take away his two strong showings against the D-backs and those numbers slip to 2-5 with a 6.38 ERA in eight games.
"He has a good slider -- hard to see, hard to pick up. It has a real tight spin on it," D-backs manager Kirk Gibson said. "He throws his changeup effectively as well. And he moves the ball around."
Martin Prado added: "He was commanding his fastball -- he's that kind of guy -- and using his secondary pitches to get you to reach and chase pitches, so I felt like we didn't have a big opportunity to score."
Although Arizona rallied back for a 4-3 victory in 11 innings when Santana turned in a dominant effort against them on June 7 at Chase Field, Friday's score was too much for the D-backs' lineup to overcome.
Collmenter put Arizona in an early hole as his first-inning struggles this season continued. After giving up two quick runs on Friday, he now owns a 6.00 ERA in the game's first frame, surpassing the third inning (5.40) as his most troublesome.
B.J. Upton started the damage by smacking a leadoff single to extend his hitting streak to career-best 10 games. He then stole second, advanced to third on an Andrelton Simmons bunt and scored on a Freddie Freeman single.
Freeman came home next courtesy of a Justin Upton double and a Jason Heyward groundout, but Collmenter got out of the inning with a manageable 2-0 deficit.
Arizona got a run back in the top of second when Prado reached base with a leadoff single before ultimately scoring from third on a wild pitch. Prado's 377 hits at Turner Field are the most by any player at the venue since 2008.
But Collmenter gave that run back and then some in the bottom of the second, letting the first five hitters he faced to reach base in a second straight two-run frame.
"There's been a couple of starts where I've struggled out of the gate for whatever reason, rhythm and everything feels choppy," Collmenter said. "Then everything finally smooths out at a certain point. I kind of slow everything down. I was able to do that about the third into the fourth inning and have some quick innings."
The right-hander was on cusp of getting out of the second inning with only run allowed before he issued a two-out walk to Justin Upton with the bases loaded to bring home another run. Collmenter believed the pitch was strike, but he did not want to show up home-plate umpire Jeff Nelson.
"You can't really blame anything on the umpire," Collmenter said. "You've got to make pitches and at that point, I had already put myself behind the eight ball."
Gibson added: "I said a few things early on, but overall I think [Nelson] was pretty consistent both ways. The umpires are not going to be perfect."
Collmenter allowed another run to cross in the seventh before exiting, but the D-backs did their best to get their starter off the hook for a loss. They plated a second run against Santana and the Braves' bullpen before going down quietly in the ninth.
Aside from Thursday's 10-2 win against the Pirates, Arizona's bats have been quite silent recently. Including their 10-run outburst in Pittsburgh, the D-backs have scored only 22 runs in their past eight games.
"[Collmenter] actually settled down and gave us a chance to win the game," Gibson said. "Other than the last game, we haven't been scoring a lot of runs, so it makes it tough when your offense isn't producing runs either."
Joe Morgan is an associate reporter for MLB.com. This story was not subject to the approval of Major League Baseball or its clubs.