Hamilton provides fireworks in win over Crew
Simon stars on the hill, allowing two runs over 7 1/3 impressive frames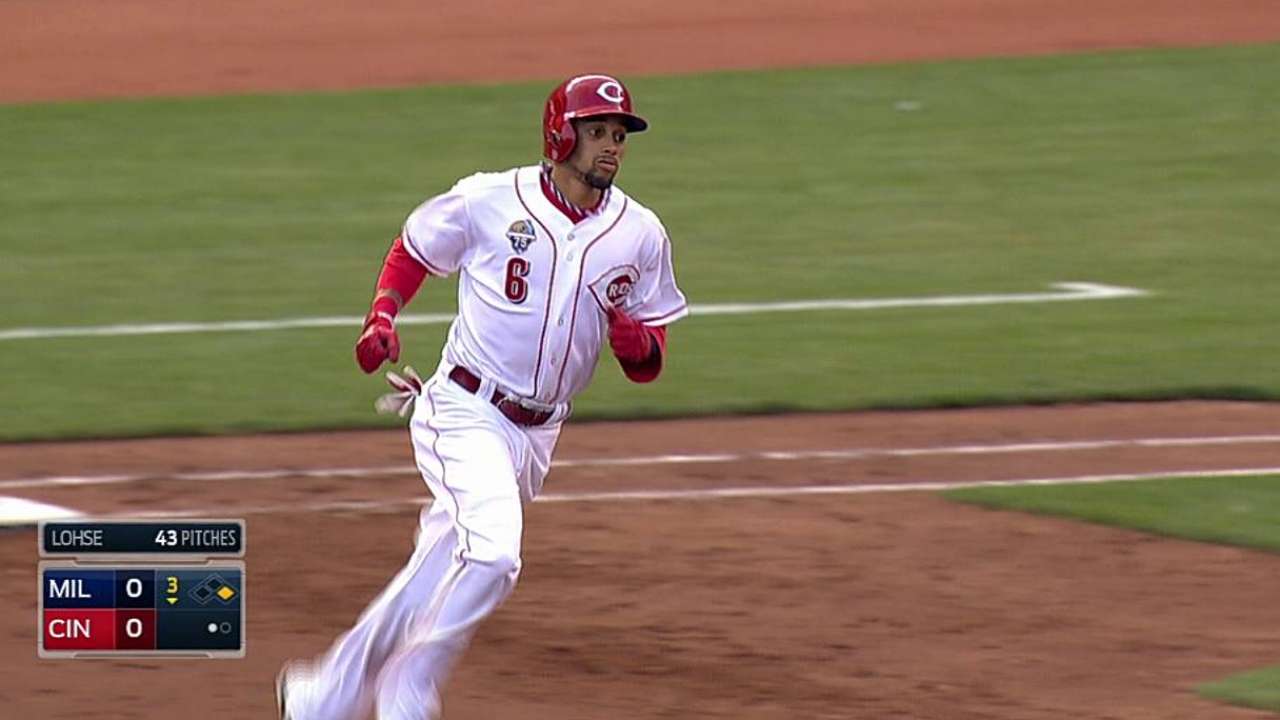 CINCINNATI -- With the Reds going into Friday's series opener against the Brewers trailing Milwaukee by seven games in the NL Central, the importance of the head-to-head matchup was not lost on any of the participants, especially Billy Hamilton.
And it was the reigning National League Rookie of the Month who got the Fourth of July fireworks started early at Great American Ball Park.
Hamilton launched his fifth home run and made a sparkling defensive play in center field, while Alfredo Simon won his 11th game of the season with 7 1/3 strong innings as the Reds beat the Brewers, 4-2, to open their 11-game homestand.
With the game scoreless in the third, Simon singled with one out and Hamilton jumped on a first-pitch changeup by Milwaukee starter Kyle Lohse, depositing it into the right-field seats to give Cincinnati a 2-0 lead.
"I was looking for a changeup," Hamilton said. "[Lohse] threw a bunch of them to me in the first at-bat [when I struck out]; he took me out on a great changeup. And I thought it was great, and I figured he'd have to be coming back with it."
Hamilton's home run continued his relative power surge as of late, one that has given the Reds a huge offensive boost during the club's recent run of 21 wins in their last 33 games. Some notable statistics on Hamilton's homers:
• Hamilton hit 13 Minor League home runs in 2,015 at-bats between rookie ball and Triple-A from 2009-13; he's hit five in 294 at-bats this season for the Reds.
• Hamilton hit one home run through the first 55 games he played in this season, and has four in his last 25 games.
• Four of the switch-hitting Hamilton's homers have come from the left side.
• Three of Hamilton's five home runs have come against the Brewers -- he hit one off Marco Estrada on June 14 in Milwaukee, and one on June 15 off Wil Smith.
• Hamilton is batting .389 (7-for-18) with five RBIs against the Brewers this season.
"We need to keep him off the bases," Brewers manager Ron Roenicke said. "Obviously we don't want him hitting home runs like he's done off us, but he's dangerous when he gets base hits because he can steal and create a lot of problems that way. … We're making bad pitches. We're making bad pitches and he's not missing them."
In the fourth, Devin Mesoraco doubled and scored on another double by Skip Schumaker. In the fifth, after Todd Frazier reached first on an error, Joey Votto doubled Frazier home to make it 4-0.
In the Brewers' sixth, Ryan Braun led off by driving a ball deep to right-center field. Hamilton raced after it, left his feet and caught the ball as he slammed into the wall, robbing Braun of extra bases.
"I'd do anything for these guys," Hamilton said of his teammates. "I'd run into the wall, I'll do stuff like that. That's what I'm here for and the guys trust me out there, they trust where I play at and let me play in, which I love to do; they don't mind me playing in."
Simon ran into some trouble in the seventh after hitting Aramis Ramirez and giving up a single to Lyle Overbay. With runners at the corners, Jean Segura hit an infield single to short that scored Ramirez. Simon then struck out Logan Schafer, got a fielder's choice ground ball to short by pinch-hitter Rickie Weeks, and induced a fly-out by Scooter Gennett.
Simon pitched to contact, allowing his defense to take care of it from there. He allowed six hits, walked two and struck out three, throwing 99 pitches through his 7 1/3 frames.
"I just tried to keep the ball down," said Simon, who tied the Cardinals' Adam Wainwright and the Dodgers' Zack Greinke for the NL lead with 11 wins. "Sometimes when I get the ball up, that's when I get hit, but when my two-seamer works, I get a lot of ground balls. So I think that was the key."
After getting the first out in the eighth, Simon surrendered a solo homer to Jonathan Lucroy that made it 4-2. Jonathan Broxton finished the eighth and gave way to Aroldis Chapman, who notched his 17th save of the season with a 1-2-3 ninth.
With his strikeout of pinch-hitter Mark Reynolds to end the game, Chapman extended his streak of striking out a batter in consecutive appearances to 36 games, which is a franchise record for a reliever. That also tied the mark for the second-longest such streak in the Majors since 1900.
Losing on Friday to the Brewers would have put the Reds in a very tough spot, increasing their deficit in the Central to eight games and extinguishing the possibility of making a move greater than one game in the standings by Sunday afternoon.
But Cincinnati continued its dominance of Milwaukee by winning for the sixth time in eight meetings this season.
"Anything can happen in this thing, we're not that far back," Reds manager Bryan Price said. "But that being said, we don't want to get further back going into the All-Star break … it was a big victory, no doubt about it."
Manny Randhawa is an associate reporter for MLB.com. This story was not subject to the approval of Major League Baseball or its clubs.