Lohse off his game as Crew loses fourth straight
Lucroy goes yard, but not enough to pick up right-hander in Cincinnati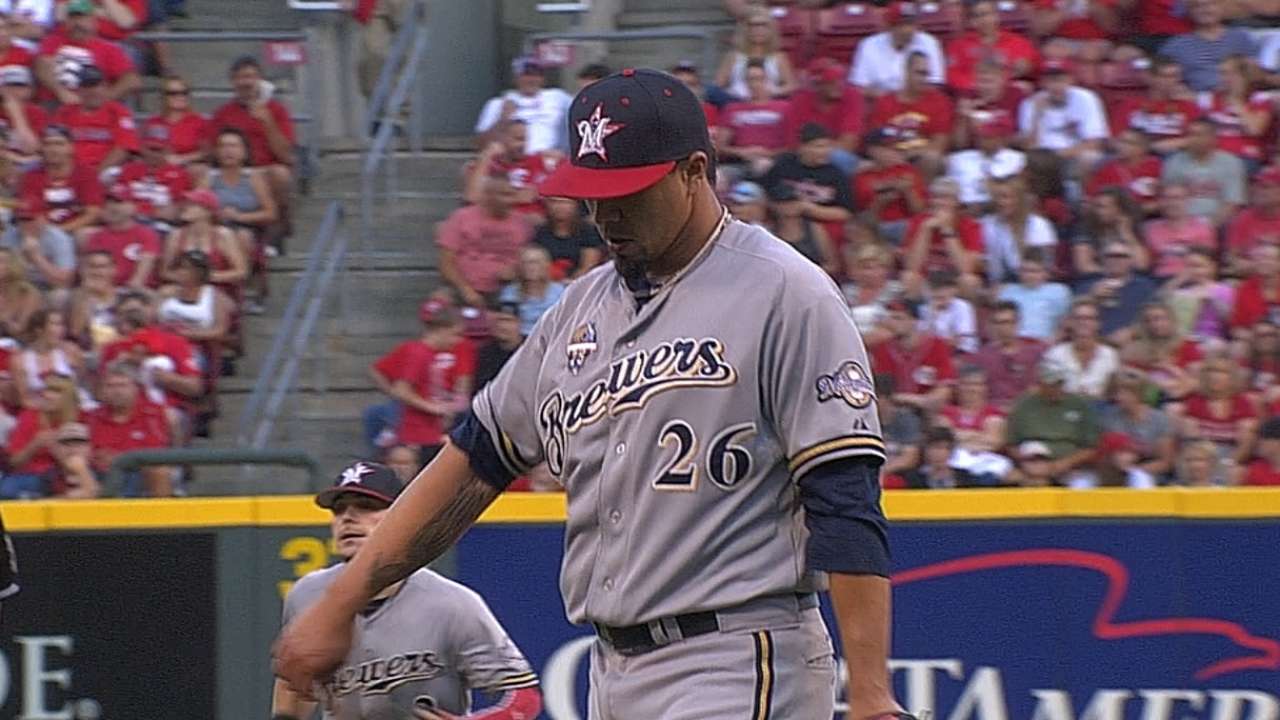 CINCINNATI -- The Brewers' losing streak reached four games Friday, in a place that always seems to give them trouble.
Purportedly light-hitting leadoff man Billy Hamilton hit another homer while Reds starter Alfredo Simon silenced Brewers bats in Milwaukee's 4-2 loss at Great American Ball Park on Friday. The loss perpetuated the Brewers' Queen City quagmire; they are 1-4 here this season and 39-58 since the Reds moved into their new ballpark.
The Reds have also taken two of three games this season at Milwaukee's Miller Park.
"I feel like we always play them well, they just seem to have our number this year as far as beating us," said Brewers catcher Jonathan Lucroy, whose solo home run in the eighth inning helped keep the game close. "We have to figure out a way to come out on top. We have to find a way to get it done tomorrow. They're in our division, we're going to play them all the time, so we've got to be able to get them."
If they are unable to get it done Saturday afternoon, the Brewers will have their first five-game losing streak. Their current four-game skid matches a similar one from May 17-20 in Chicago and Atlanta.
"I just think sometimes there's matchups," Reds manager Bryan Price said. "We've only played them eight times and they have an outstanding team. Right now we're 6-2. We certainly have a great deal of respect for their ballclub and the way they play. They have great starting pitching, a dynamic offense. They do a lot of things, they put a lot of things in motion. So we're 6-2. We're 1-5 against San Diego. It's hard to figure these things out sometimes."
Brewers starter Kyle Lohse recorded five of his first six outs via strikeout in his first two scoreless innings, but Hamilton hit a misplaced changeup for two-run home run in the third inning and Lohse was out of the game after the fifth, matching his shortest start this season.
Lohse was charged with four runs (three earned) on seven hits, with one walk, eight strikeouts and two bad breaks. In the fourth inning, Reds catcher Devin Mesoraco hit a deep drive that hit the heel of leaping center fielder Carlos Gomez's glove and popped out for a double. Skip Schumaker followed with another double to the same spot to make it 3-0. In the fifth inning, Brewers first baseman Lyle Overbay's fielding error preceded Joey Votto's RBI double, making it 4-0.
Lohse lamented throwing Votto a fastball in a 3-1 count, but the errant changeup to Hamilton really stood out. Three of the speedy rookie's five home runs this season are against the Brewers, each on what Lucroy and Brewers manager Ron Roenicke characterized as a mistake.
"We're making bad pitches," Roenicke said. "We're making bad pitches and he's not missing them."
Lohse confirmed as much.
"I'm trying to throw a changeup down, maybe get a ground ball or a weak fly," he said. "I just pulled it and pretty much laid it out there for him."
The Brewers scored on Jean Segura's RBI infield single in the seventh inning and Lucroy's solo home run with one out in the eighth, but Simon was able to deliver his seventh consecutive quality start before Jonathan Broxton and Aroldis Chapman (17th save) finished it. Simon, a right-hander who won a spot in the Reds' Opening Day rotation only because Mat Latos was on the disabled list, became the third National Leaguer to reach 11 wins, holding the Brewers to two runs on six hits in 7 1/3 innings, with two walks and three strikeouts. Hamilton helped by making a leaping catch in center field to rob Ryan Braun of extra bases leading off the sixth inning.
"[Simon] did what he's been doing all year," Lohse said. "He's got a good, lively fastball and he mixes in some other stuff. You know going into it it's going to be a tough one; you just pitch your game. I didn't do very well doing that today. It's on me. We scored a couple of runs, but if I'm on top, maybe I can hold them to one or none. I just didn't do it."
The Brewers fell to 15-30 on Independence Day, including five straight losses.
A more pressing matter is their recent record against the Reds.
"We give them good games," Roenicke said. "They are a good team. It's not surprising they win ballgames -- they are a really good team."
Adam McCalvy is a reporter for MLB.com. Read his blog, Brew Beat, and follow him on Twitter at @AdamMcCalvy. This story was not subject to the approval of Major League Baseball or its clubs.