Yankees win battle of bullpens after early surge
Robertson toes line in ninth after Twins whittle five-run lead to one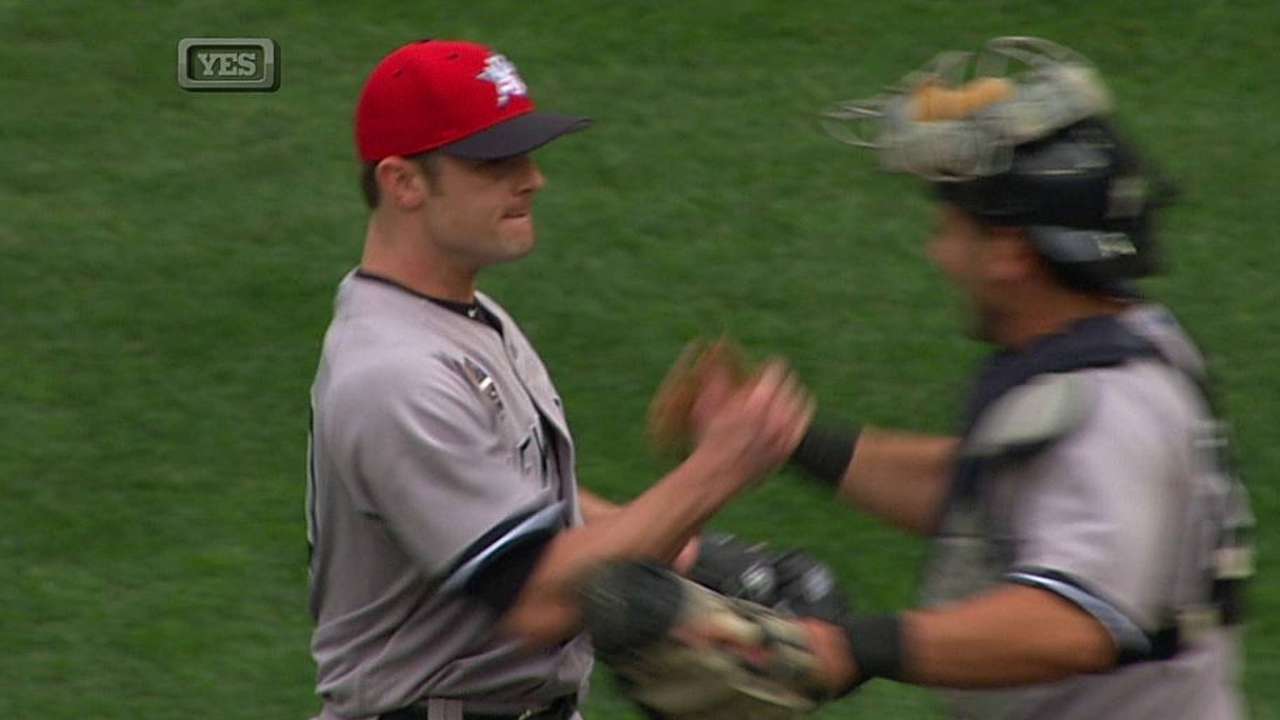 MINNEAPOLIS -- All eyes were on home-plate umpire Joe West in the bottom of the ninth.
Yankees closer David Robertson had just thrown a 92-mph cut fastball on the outside edge of the plate -- if West called it a ball, Twins first baseman Chris Parmelee would walk to put runners on first and second.
But West reared back and punched his fist through the air. The game was over, and the Yankees could rest easy after nearly blowing a five-run lead in a 6-5 victory at Target Field on Independence Day.
Robertson gave up an 0-2, two-out double to Kurt Suzuki to extend the game, but he didn't blow a second chance to put his team above .500, firing the ball exactly where catcher Francisco Cervelli wanted it.
"It felt like it was right on his glove," Robertson said. "I tried to throw it right through him, and I got the call."
Both teams' starters were swamped with offense on Independence Day, but the Yankees' lineup was able to dial up just enough power to make its lead last. The team crushed eight extra-base hits (including four from Brian Roberts) and scored all six of its runs in the first two innings.
"I really think guys are starting to swing the bat a lot better," Roberts said. "We've been able to put up a few more runs lately."
The deluge began instantly for Twins righty Kyle Gibson.
Brett Gardner slapped a triple to the left-center gap to lead off the game, and Roberts followed with a double for a 1-0 Yankees lead. Two batters later, Mark Teixeira hit an RBI double and advanced to third on a passed ball. Then Carlos Beltran hit a sacrifice fly to make it 3-0.
With Gibson on the ropes, New York added three more runs in the second. Cervelli ripped a double down the left-field line, and Brendan Ryan later brought him in with a lineout to center.
Gardner then walked, Roberts doubled again and Jacoby Ellsbury knocked a soft liner into right for a two-run single to make the score 6-1.
"It's nice for everyone involved to get some runs across the board early," manager Joe Girardi said. "The first four hitters did a really good job."
But the Twins showed a good deal of firepower, too.
Brian Dozier hit a solo homer off Chase Whitley to lead off the bottom of the first before Chris Colabello -- playing in his first Major League game since May 23 -- knocked an opposite-field solo shot to right.
Nursing a 6-2 lead in the third inning, Whitley continued to unravel. Kendrys Morales singled and then came home on an Oswaldo Arcia triple -- the third three-bagger of the game combined.
Trevor Plouffe followed that with an RBI single before Whitely finally cut Minnesota down with two straight strikeouts.
"It's very frustrating, but you've got to keep working and give your team a chance to win," Whitley said. "They did a heck of a job today. They spotted me six runs, and I did a poor job to keep that. But the bullpen backed me up and did a heck of a job, so today was a great team effort."
It wasn't the starters' day, as Gibson lasted only two innings and Whitley three. But when long-relief guys Samuel Deduno and David Huff entered the game, things began to settle down.
Neither reliever gave up a run -- Deduno lasted 4 2/3 innings, while Huff went three full to pick up the win.
"Whether [Whitley] goes eight or he goes three, we're always going to be ready for him," Huff said. "We're there to back him up."
Dellin Betances ran into some trouble in the eighth, allowing a single to Morales before plunking Arcia in the leg. Two batters later, Eduardo Nunez (running for Morales) and Arcia pulled a double steal to put runners on second and third.
But after Colabello had an RBI groundout to bring the Twins within one, Teixeira made an excellent diving play to field a grounder by Eduardo Escobar and end the threat.
"They made a couple big-time plays out there, and that was one of them," Twins manager Ron Gardenhire said. "He hit the living fire out of that ball and it would've been a tie game, but he made a great play."
In the ninth, Robertson endured his share of drama before notching his 20th save of the season.
Alex M. Smith is an associate reporter for MLB.com. Follow him on Twitter @asmiff. This story was not subject to the approval of Major League Baseball or its clubs.