d'Arnaud keys the fireworks for Mets on 4th
Catcher plates winning runs; bullpen records 26 outs after Niese hurt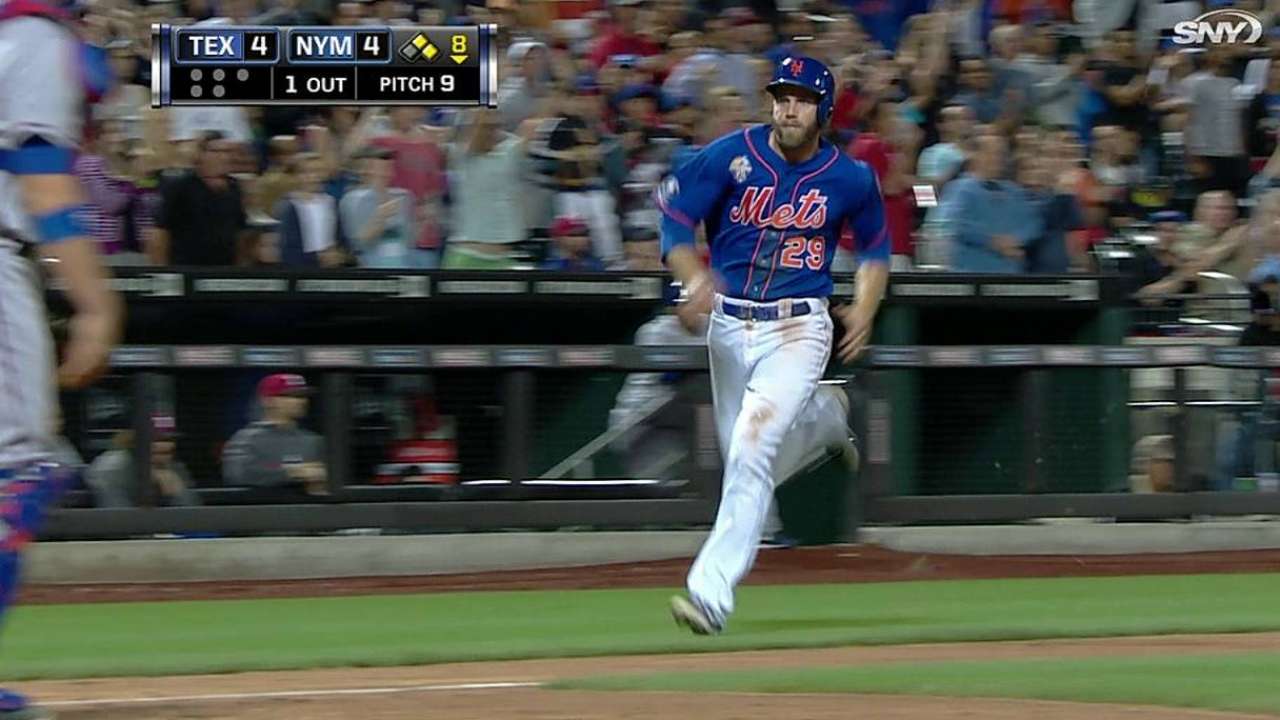 NEW YORK -- Before Friday night's game at Citi Field, both manager Terry Collins and general manager Sandy Alderson pointed to the Mets' 10-20 record in one-run games as a partial culprit for their place in the standings. The coming nine-game homestand, they indicated, would be an important time to buck that trend.
And so, prior to fireworks lighting up the Citi Field faithful, the Mets provided their own kind for Independence Day, edging out the Rangers in a 6-5 victory, a narrow margin they have seen go against them many times.
In the bottom of the eighth inning, catcher Travis d'Arnaud broke a 4-4 tie with a two-run double to right-center off reliever Jason Frasor, plating Bobby Abreu and Eric Campbell for the go-ahead runs.
"He's a very confident kid," said Collins of d'Arnaud. "I know that he's been swinging pretty good. Tonight he had his chance to help us big time, and he did."
"It felt good," said d'Arnaud, who has reached safely in all nine games since being recalled on June 24. "Just keep things simple. Not overthink my mechanics or overthink anything, have one thought in my head at the plate and that's it."
Jenrry Mejia, who surrendered an unearned run in the ninth inning, closed out the game and helped snap the Mets' four-game losing streak, redeeming some early bouts of bad luck and shaky baseball.
Pregame rain prevented David Wright from being cleared to play, and he was out of the lineup for the seventh straight game. Then, after serving up a leadoff homer to Shin-Soo Choo, starter Jon Niese took a line drive from three-hitter Alex Rios to his back, and he was pulled as a precaution.
The Mets' offense responded with three runs in the first off Rangers ace Yu Darvish, and, pressed into early service, long reliever Carlos Torres held down the fort for 4 2/3 innings.
But in the seventh inning, with the score 4-3, the defense made two costly errors behind Jeurys Familia. Daniel Murphy made a spectacular diving stop on a ball hit by Elvis Andrus, but Lucas Duda couldn't squeeze his one-bounce throw. Two batters later, Wright's replacement, Campbell, bobbled a potential inning-ending double-play ball from Chris Gimenez and threw to first as Andrus scored the tying run.
"I don't think you ever say, 'Here we go again,'" said Collins, referencing the team's similar defensive miscues against the Braves earlier in the week.
"We're a pretty good defensive team," Collins added. "That game in Atlanta, we made a bad throw, it started it all off, and tonight we got in a [similar] situation. All you're really thinking about is, 'If they score, what are we going to do to catch back up?' Certainly, for sure, we have got to catch the ball. Tonight, fortunately, we had a guy come in and make some pitches, and it didn't hurt us."
Niese did record his 17th straight game without allowing more than three earned runs, but it was by far his shortest effort in the streak. He exited the game in obvious frustration, and was diagnosed with a lower-back contusion; X-rays were negative.
"Not much to say other than I'm fine," said Niese. "I felt like I was cheated there a little bit. I knew it was just a bruise, and … I wanted to stay in there."
The early call to action wasn't unusual for Torres, who contributed 81 pitches of two-run ball before handing things over to the rest of the bullpen. On June 15, a nearly identical situation occurred against the Padres, when starter Daisuke Matsuzaka had to exit due to illness after the first inning. Torres filled in for four innings and earned the win.
Torres' only hiccups against the Rangers came in the third -- when he allowed three straight baserunners, capped by a Rios RBI single -- and in the fifth, when he surrendered a bullet to Adrian Beltre that bounced off the facade in center field, just to the left of the 408-foot marker, cutting the Mets' lead to one run.
"Going more than one inning is something I've done before in my career," said Torres. "You take pride in doing your job every day, coming out working hard, getting ready for the next day. … Everyone's been doing that and fighting through this."
"They did an outstanding job," Collins said of his bullpen, which was required to record 26 outs. "Carlos Torres, just an outstanding job tonight, to have to get that many outs in that particular situation. They've done a great job, they really have."
Curtis Granderson began the Mets' attack in the first with a double to right-center and scored with two outs when Abreu grounded a Darvish cutter to center. Duda followed by sending a similar pitch to left. The ball ricocheted off the metal railing above the fence. Umpires originally ruled the hit a double, but after a brief conference, home-plate umpire Jim Joyce twirled his finger.
After the fourth, the Mets were silenced by the pitching combination of Neftali Feliz and Aaron Poreda before d'Arnaud got to Frasor.
"It's big for us to start this homestand off with a win," said d'Arnaud. "Let's keep it going."
Jake Kring-Schreifels is an associate reporter for MLB.com. This story was not subject to the approval of Major League Baseball or its clubs.