MLB reconoce el 75 aniversario del discurso de Gehrig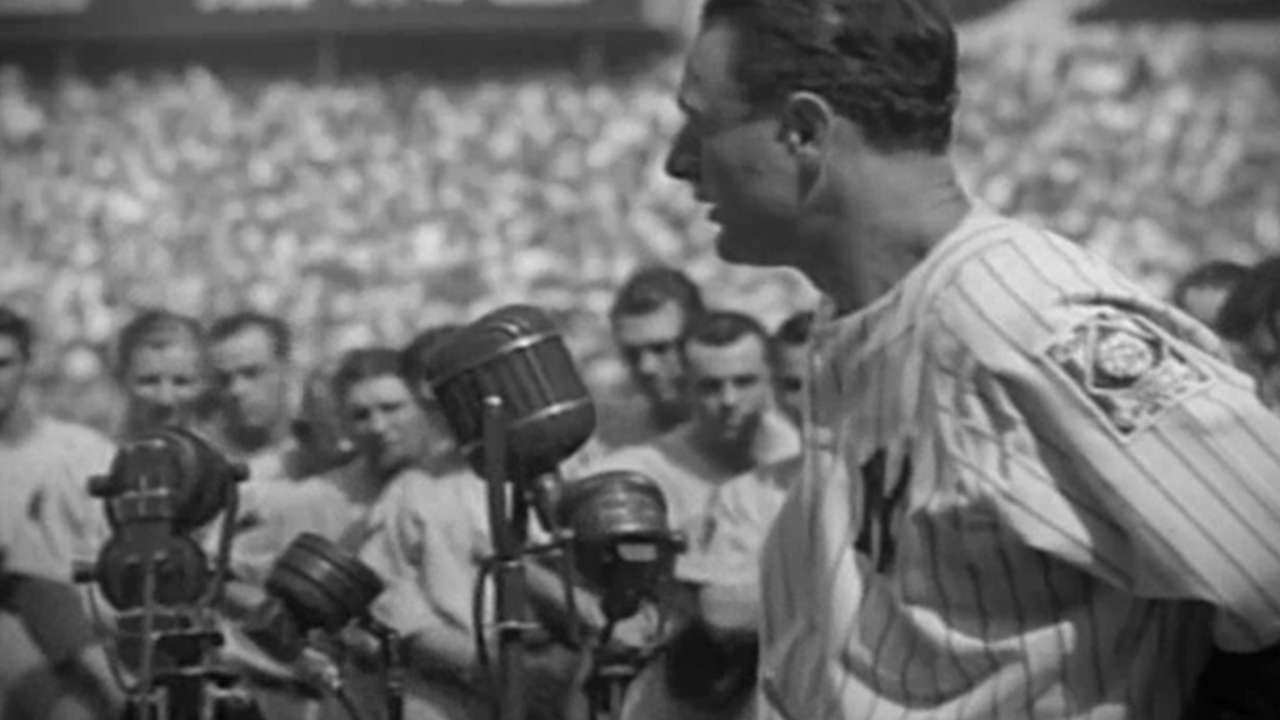 MINNEAPOLIS -- Los Mellizos le rindieron tributo a Lou Gehrig en el 75 aniversario de su discurso en que se describió como "The luckiest man on the face of the earth" (El hombre más dichoso sobre la tierra) al poner un video especial en la pantalla grande del Target Field.
El video, que se vio en diferentes formas en todos los estadios de Grandes Ligas el viernes, contó en Minnesota con la participación de figuras Derek Jeter, Joe Mauer y otras figuras de los Yankees y los Mellizos que recitaron varias partes del discurso.
Gehrig dio su discurso en el viejo Yankee Stadium el 4 de julio de 1939, cuando ya padecía de esclerosis lateral amiotrófica (ALS, por sus siglas en inglés), enfermedad que también ha llegado a ser conocido como el Mal de Lou Gehrig. El primera base de los Yankees llegó a jugar en 2,130 partidos consecutivos, un récord que le ameritó el apodo "El Caballo de Hierro" y que duró hasta que Cal Ripken Jr. lo quebró en septiembre de 1995.
Antes del juego del viernes, el manager de Nueva York, Joe Girardi, reflexionó sobre la importancia de Gehrig en la historia.
"Creo que es un día importante (el Día de la Independencia de EE.UU.) en la historia estadounidense, obviamente", dijo el capataz. "Pero también es un día importante en la historia de los Yankees, por lo que representaba Gehrig y la clase de jugador que fue, la clase de hombre. Además, por lo que significó para esta organización. Entonces, es un día bien especial".
Jugadores, coaches y árbitros de Grandes Ligas vistieron parches especiales para conmemorar el 75 aniversario del discurso para los juegos del viernes. MLB también donó US$300,000 a tres organizaciones para la lucha contra ALS.
"Cuando Lou Gehrig dio su histórico discurso de despedida en el Yankee Stadium hace 75 años, ligó de manera contundente nuestro Pasatiempo Nacional con la lucha contra la enfermedad que llevaría su nombre", dijo el Comisionado de MLB, Allan H. (Bud) Selig. "Mientras continúa la lucha hoy en día, es nuestro privilegio rendirle tributo al legado de valentía y nobleza del Caballo de Hierro. En honor a su recuerdo, y para todos los afectados por ALS, Major League Baseball está honrado de poner de su parte para la causa con la esperanza de hallar una cura".