Indians go quietly in Fourth of July loss to Royals
Brantley's HR provides only run; Tomlin allows five over 5 2/3 frames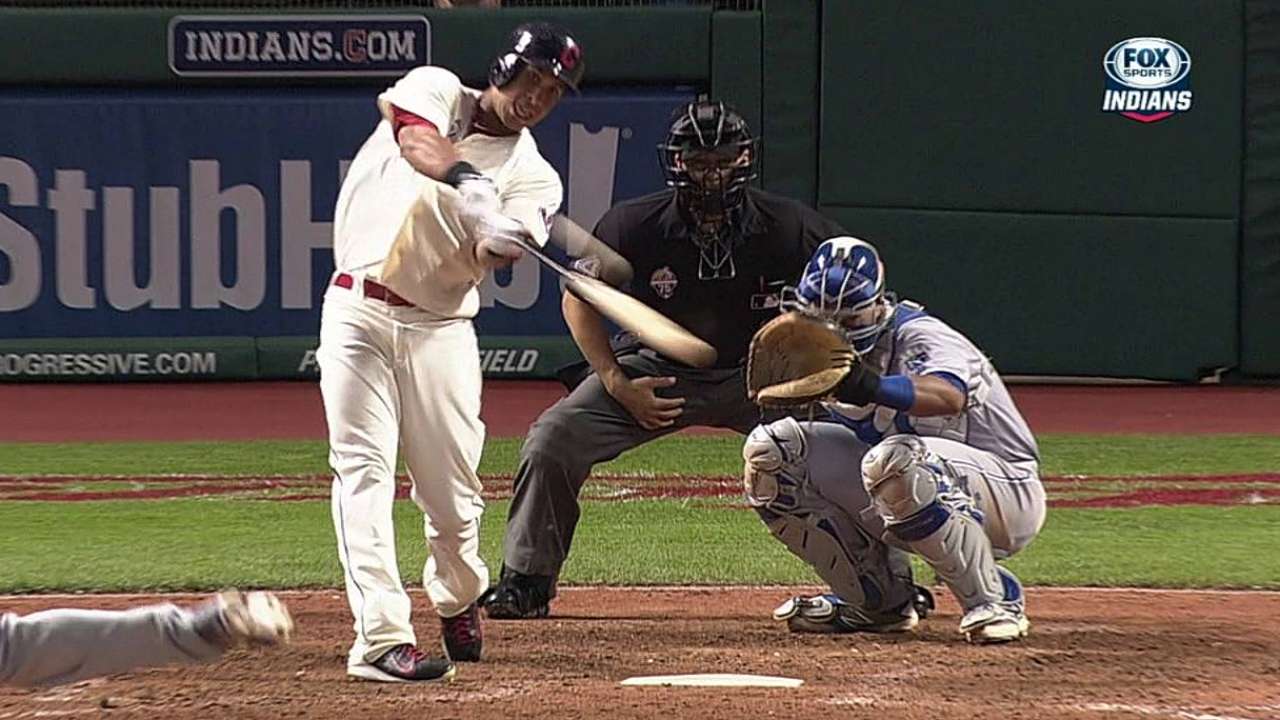 CLEVELAND -- Josh Tomlin's Independence Day outing began plenty strong, but it ended with fireworks courtesy of Mike Moustakas. The only pop on Cleveland's end came after the game, as explosions of red and green filled the darkened sky at Progressive Field.
With two outs in the fifth inning, Tomlin served up a full-count fastball to Moustakas, who sent it back the other way for a three-run homer that all but sealed the Tribe's 7-1 loss on Friday night. The right-hander had kept the Indians within two runs until that point, but he left charged with five earned runs on 10 hits over 5 2/3 innings after the decisive blast -- a more respectable performance than the numbers would indicate.
The start marked the third time over his last four games that Tomlin has surrendered five runs, while Moustakas now has four homers and 20 RBIs at Progressive Field.
"I didn't feel like I was fighting [my command] that much," Tomlin said. "Made a few mistakes throughout those sequences, but I felt like I made the pitches overall for the most part. Then Moustakas, that blow kind of took the wind out of us a little bit."
The Cleveland bats were of little help, falling largely silent in front of a sellout crowd of 39,020. Royals right-hander Yordano Ventura proved nearly untouchable for Indians hitters up and down the lineup, needing only 103 pitches to work through eight scoreless innings before his shutout bid was spoiled on a ninth-inning solo shot by Michael Brantley. He allowed just six hits and a pair of walks over 8 1/3 frames.
"He throws 100 [mph], first of all. He has a good changeup and a good curveball," outfielder Michael Bourn said. "He's a pitcher you want to attack, get to early and not let him settle in. We had a couple chances, but for the most part he was on tonight. He kept us off balance. We hit some balls hard right at people. We've done that a lot the last month."
Ventura spent much of the outing working with a clean set of bases and, excluding the lone homer, faced real trouble only when Brantley and Carlos Santana rapped out consecutive singles in the fourth inning. However, that scoring threat came to a quick end once Jason Kipnis hit into an inning-ending double play, and Ventura would go on to retire 12 of his next 15 batters.
But Tribe manager Terry Francona noted that his lineup was also the victim of some tough luck at the plate.
"I thought we went through a period where I think out of 12 batters, we hit eight balls hard," Francona said. "Didn't have much to show for it. Had first and third with Kip up, [and the] double play."
Second baseman Christian Colon -- a late addition to the starting lineup after Omar Infante was scratched -- sparked the Royals' offense from the No. 9 spot, slapping across a triple for his first Major League hit. He scored on the ensuing Lorenzo Cain single to put the Royals up, 1-0, in the third inning. The Colon-Cain tag team struck again in their next at-bats, hitting back-to-back doubles that tacked on another run for the visiting club.
"You're trying to feel [Colon] out a little bit," Tomlin said of the Royals rookie. "He put some good swings on some fastballs in that I thought were decently located."
By the sixth inning, the traffic had finally caught up with Tomlin, who gave up singles to Salvador Perez -- one of three from him on the night -- and Alcides Escobar, who floated a two-out bloop just beyond the reach of Kipnis' waiting glove. The inning would live on and give the Royals what they needed to pull ahead 5-0 and never look back.
With the defeat, the Tribe (41-44) falls to 3-4 against Kansas City this season, slips to eight games back in the division and extends its losing streak against the American League Central to nine games.
"[We need] to just try to close this first half up before the All-Star Break strong and see where we end up," Bourn said.
Alec Shirkey is an associate reporter for MLB.com. This story was not subject to the approval of Major League Baseball or its clubs.