Punto delivers the game-winner in 12th inning
Starter Milone and six relievers combine to shut out Jays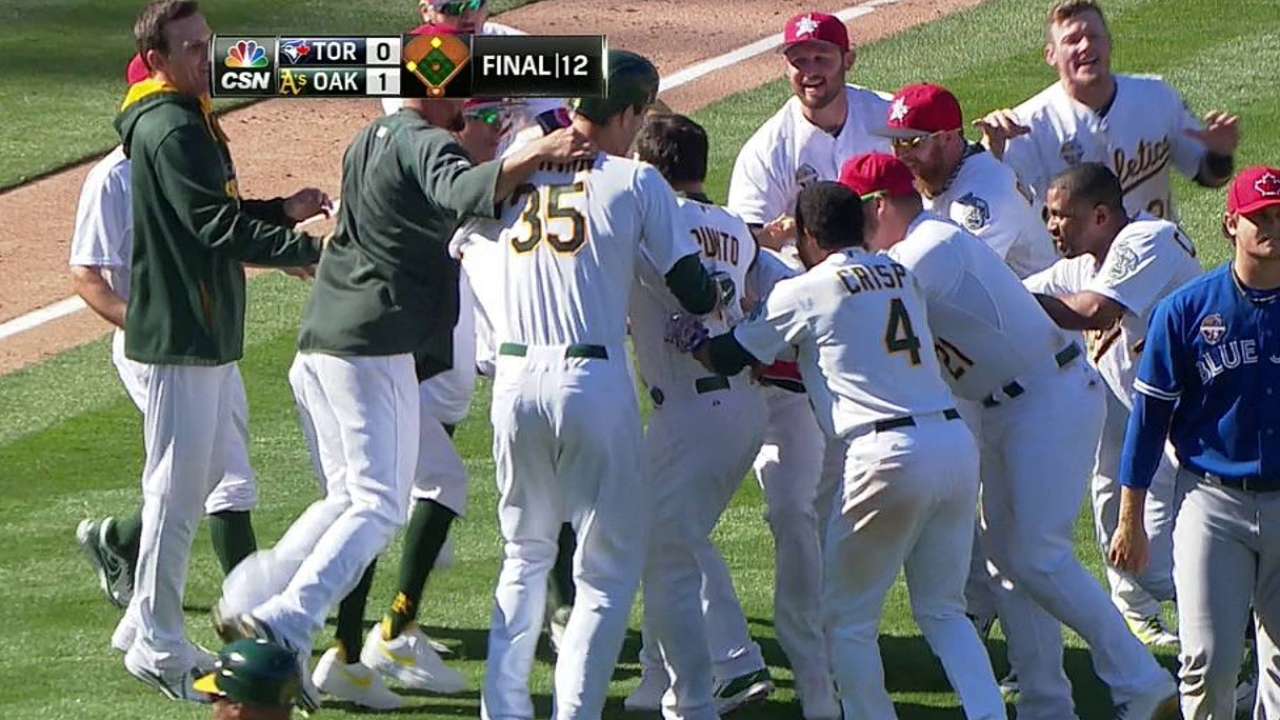 OAKLAND -- For 11 scoreless innings at the Coliseum on Friday, neither team blinked. The A's and Blue Jays went tit for tat, trading zeroes, both bullpens pitching their hearts out. And yet, somehow, it felt almost inevitable that the A's would make Toronto pay for failing to push a run across.
That's exactly what happened in the 12th. Oakland won, 1-0, on a double by Nick Punto, with help from an error by Melky Cabrera.
After Derek Norris walked to lead off the inning against Chad Jenkins, Punto poked a one-out hit down the left field line. It slipped under Cabrera's glove, allowing Norris to dash home and score without a throw.
"Just hoping that D-No could get to third base there," said Punto, who was 0-for-4 prior to that at-bat. "Second and third with one out would have put us in a good position to win that game. Fortunately for us, it got by him."
The A's earned their sixth walk-off win of 2014 and their first 1-0 shutout, improving to 10-5 in extra-inning contests. They returned to 20 games over .500 at 53-33, a record that speaks volumes about their ability to perform in tight ballgames.
"I don't know one guy that thinks we're going to lose a game when we're going to extra innings," said Tommy Milone, who tossed six shutout innings. "We have that confidence, we have the track record, we've been able to get it done in the past, and I think that's what helps us when we do get into extras."
Oakland took a 2-0 lead in the four-game series, in which the A's have held Toronto to one run in 21 innings.
Twelve pitchers toed the rubber Friday, including six A's relievers who put forth a heroic effort. Eric O'Flaherty, Luke Gregerson, Sean Doolittle, Fernando Abad, Ryan Cook and Dan Otero each threw a scoreless inning.
Milone was steady as ever, giving up four hits and striking out six in six innings of shutout work. It was the third time this season that he has held an opponent scoreless, and he has now gone 11 starts without taking a loss.
The left-hander had pinpoint control, fanning four batters on called third strikes, and he did especially well to keep the heart of Toronto's order in check. The Jays' 2-3-4 hitters -- Cabrera, Jose Bautista and Edwin Encarnacion -- went 1-for-8 with three strikeouts against him.
"I felt really good," Milone said. "Really from the beginning I was able to work the counts, go in and out, up and down when I needed to."
"All of the pitching today was fantastic," said Oakland manager Bob Melvin. "Once the starter comes out of the game, it's a 0-0 game, you know you have to shut them down. They came in and did their job for the inning, passed the baton to the next guy."
First in line was lefty O'Flaherty, who made his A's debut in the seventh. O'Flaherty recovered from Tommy John surgery and had not pitched in the Majors since May 17, 2013, with the Braves, but he needed just 11 pitches to get through a scoreless frame.
"He had no reservations coming into that game, looked like he had been pitching a while, was very comfortable out on the mound," Melvin said.
Jays rookie right-hander Marcus Stroman was just as sharp as Milone, keeping the A's off balance all afternoon as he tossed seven innings and allowed just three hits. Oakland put a runner at second or third base in the first, third, fourth and sixth, but went hitless in seven at-bats with runners in scoring position.
The Jays' bullpen was stellar in its own right, combining for 3 1/3 solid innings before Jenkins gave up the game's lone run in the 12th.
"With two offensive clubs, you don't expect a game like that, but once it gets to about the eighth or ninth inning, it's just a feeling like you're trying to do too much," said Melvin. "Somebody wants to be the guy. It just kind of becomes part of what the game's all about -- everybody's got some anxiety about scoring a run -- and we finally did."
Punto was not credited with an RBI for his walk-off double, since Norris scored on Cabrera's error, but the second baseman was simply happy to send everyone home with a July 4th victory.
"The crowd was outstanding today," Punto said. "I'm sure they were ready to go home and get the barbecues started."
Aaron Leibowitz is an associate reporter for MLB.com. This story was not subject to the approval of Major League Baseball or its clubs.