Stroman pitches a gem, but Jays can't generate runs
Cabrera misplays double in 12th allowing A's to walk off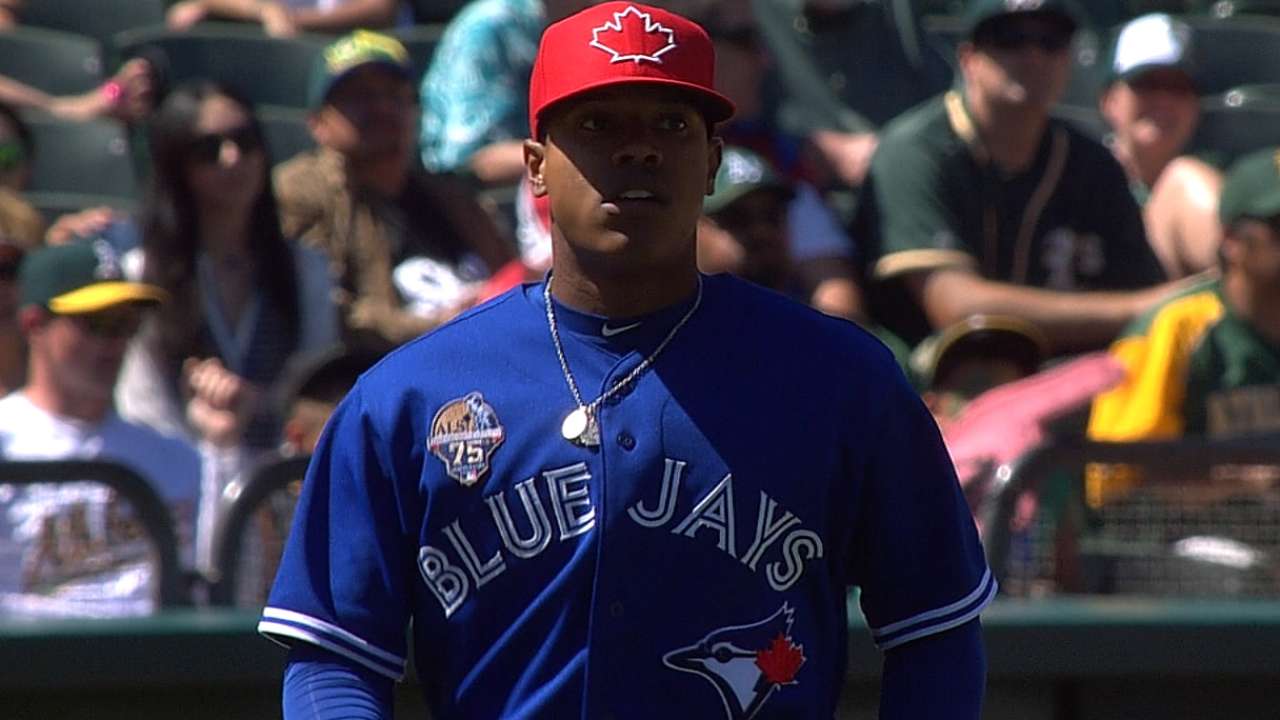 OAKLAND -- The Blue Jays' pitching staff has more than done its job over the past several weeks but the offense appears to have gone missing in action.
Toronto's lineup was one of the best in baseball through the first two months of the season but it has since started to dry up. The home runs haven't been as frequent and the club has struggled to find other ways to score.
The lack of timely hits was prevalent again Friday afternoon and the Blue Jays saw their scoreless inning streak extended to 19 as they were unable to generate any runs in a 1-0 loss vs the A's at O.co Coliseum.
"We just haven't been able to score any runs," Blue Jays manager John Gibbons said after the 12-inning loss. "We got that one yesterday but it was a gifted run too. The pitching is definitely stepping up but we haven't been able to do anything offensively the last two games."
Toronto's struggles at the plate go back quite a bit further than just that. The Blue Jays began the season with the No. 6 ranked offense in April with 120 runs. That production climbed to the best in baseball with 165 runs in May. The problems have come in the past five weeks.
The Blue Jays dropped all the way to 17th in baseball with 105 runs in June. One of the biggest issues has been hitting with men in scoring position. Over its past 27 games, Toronto is batting .197 with runners in scoring position, which includes an 0-for-8 mark vs Oakland on Friday.
Toronto's offense has been even worse against left-handed pitching. The Blue Jays entered play on Friday with a league-worst .235 average vs lefties and a .135 average over their last 11 games. With infielder Brett Lawrie on the disabled list and the lack of an appropriate platoon partner for Adam Lind the bottom of the order has been devoid of any positive results against southpaws.
Outfielders Brad Glenn and Darin Mastroianni have combined to hit 3-for-28 since joining the Blue Jays. Infielders Munenori Kawasaki and Steve Tolleson are both hitting under .260 and the resulting stress on the heart of Toronto's batting order has become rather evident.
"No excuses," Gibbons said. "This is our team, you deal with it, you go out and compete every day and hope it turns around."
The lack of run support meant that promising right-hander Marcus Stroman was stuck with a no-decision despite a rather dominating performance on the mound. He tossed seven scoreless innings while allowing three hits and three walks. Stroman struck out seven and set a career high with 115 pitches.
Stroman has recorded a quality start in all but one of his seven career starts. He's been even better over his past three, with a total of three earned runs over the course of 21 2/3 innings, which includes 20 strikeouts and six walks. With the exception of possibly left-hander Mark Buehrle, no one's had a greater impact on the Blue Jays starting rotation over the past five weeks.
"I feel comfortable, I feel like I've gotten into a pretty good groove," Stroman said. "Just trying to help the team win each and every start up here."
Toronto's bullpen also did its part in relief of Stroman. Aaron Loup, Dustin McGowan, Brett Cecil and Chad Jenkins pitched four scoreless innings to get the game into the 12th but something had to give and eventually it did.
Jenkins began the 12th with a leadoff walk and two batters later Nick Punto hit a first-pitch fastball into the left field corner.
Melky Cabrera attempted to make a play in the corner but the ball got under his glove and rolled all the way to the wall. That allowed A's catcher Derek Norris to score from first base as the Blue Jays record in extra-innings games this season dropped to 1-3.
"With two offensive clubs, you don't expect a game like that, but once it gets to about the eighth or ninth inning, it's just a feeling like you're trying to do too much," A's manager Bob Melvin said. "Somebody wants to be the guy. It just kind of becomes part of what the game's all about, everybody's got some anxiety about scoring a run, and we finally did."
Gregor Chisholm is a reporter for MLB.com. Read his blog, North of the Border, and follow him on Twitter @gregorMLB. This story was not subject to the approval of Major League Baseball or its clubs.