Hammel, hot bats power Cubs past Nats
Ruggiano drives home a pair, as Chicago wins its fourth straight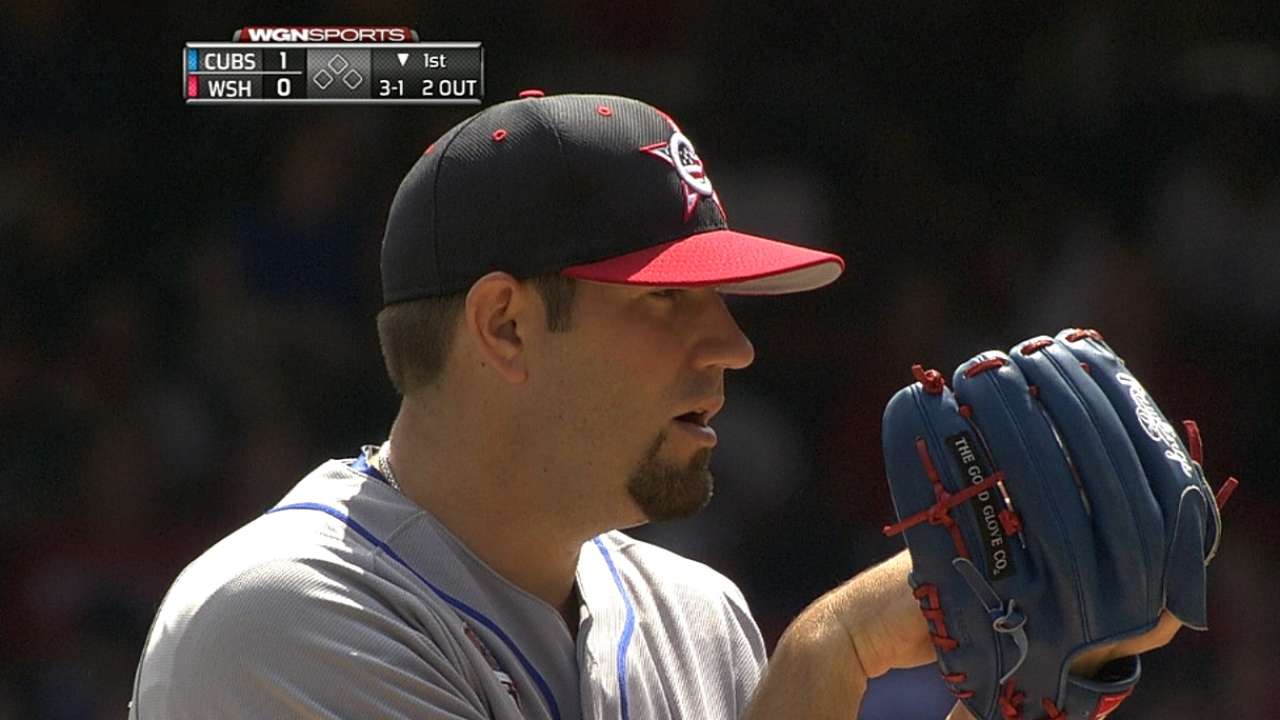 WASHINGTON -- The Cubs crushed the Red Sox's pitching staff for 16 runs to complete a three-game sweep in Boston on Wednesday, and the team's offense stayed hot in the series opener against the Nationals on Friday.
Chicago knocked starter Tanner Roark around for nine hits and four runs in the first five innings and cruised to a 7-2 Independence Day victory over Washington at Nationals Park behind a strong outing by right-hander Jason Hammel. The win was the Cubs' fourth in a row.
"The guys were just trying to make sure they were getting [Roark] up in the zone, get him out over the plate," manager Rick Renteria said. "They were patient. I thought they ground out a lot of our at-bats -- and they got some good pitches to hit. And fortunately for us, a lot of them fell."
The Cubs pounced on Roark in the first inning, when left fielder Chris Coghlan smacked the second pitch of the game into right field for a leadoff single. Justin Ruggiano followed with a single of his own, advancing Coghlan to third. Coghlan then came home on Anthony Rizzo's double-play groundout.
Jayson Werth tied the game in Washington's half of the first with a long solo home run into the left-field seats. But Chicago regained the lead for good in the second on an RBI single by Hammel, whose line drive up the middle deflected off Roark and trickled into left field.
The Cubs scored their third run in the third inning, as Ruggiano deposited his fourth home run of the season in the Nationals' bullpen in right field to lead off the frame. Chicago extended the lead to 4-1 in the fifth inning on Rizzo's RBI groundout.
"Hitters go through this every now and then," said Ruggiano, who went 3-for-5 with two RBIs after a 3-for-6, five-RBI performance in the series finale against the Red Sox on Wednesday. "You get hot, [see] the ball well -- and I've been doing some things mechanically to stay on top of what I want to do at the plate. It's good, though. I don't want to lose it."
Hammel settled in after Werth's homer, throwing five straight scoreless innings through the sixth to keep the Cubs ahead. However, the right-hander was forced to escape a number of jams -- including during the fifth inning, when he fell behind 3-0 against Roark with runners on first and second and no outs.
"He is a guy that throws three or four pitches at any given time," Nationals center fielder Denard Span said. "It seems like he was able to wiggle out of trouble whenever we did get guys in scoring position. That was difference in the game right there."
Hammel took a three-run lead into the seventh, but Renteria opted to pull his starter after 92 pitches, following Anthony Rendon's leadoff double down the left-field line.
"I have no idea why I came out of the game," said Hammel, who surrendered five hits and struck out seven batters over six-plus innings. "I honestly believe you learn how to pitch when you get to 100 pitches. If you're not allowed to reach that, I think that's hurting you more than helping you. So I guess it is what it is right now. But for a guy that's established and continues to work hard and prepares himself to throw late in games, deep in the games, 100 pitches shouldn't even come into question."
Neil Ramirez replaced Hammel and struck out Desmond for the first out of the inning. Wilson Ramos followed that with an RBI single to right, scoring Rendon. But Ramirez retired the final two batters of the inning to preserve a two-run advantage.
Pedro Strop pitched a scoreless eighth before the Cubs added three insurance runs in the ninth on RBI singles by Ruggiano and Starlin Castro.
"What's encouraging is it doesn't matter if we put up five runs in the second or third inning, we still want more as the game goes," Ruggiano said. "We're never satisfied."
Brian Schlitter recorded the final three outs to clinch the victory for Chicago.
As the All-Star break approaches, Ruggiano said the Cubs are starting to prove some doubters wrong with consistent pitching and cohesive offense, as exemplified in a convincing win over a Nationals team that entered Friday on a five-game winning streak.
"Our team is probably better than what everybody might have thought," Ruggiano said. "We have pretty good pieces here."
Daniel Popper is an associate reporter for MLB.com. This story was not subject to the approval of Major League Baseball or its clubs.