Roark roughed up as Nats' streak ends at five
Werth, Ramos drive in Washington's only runs against Chicago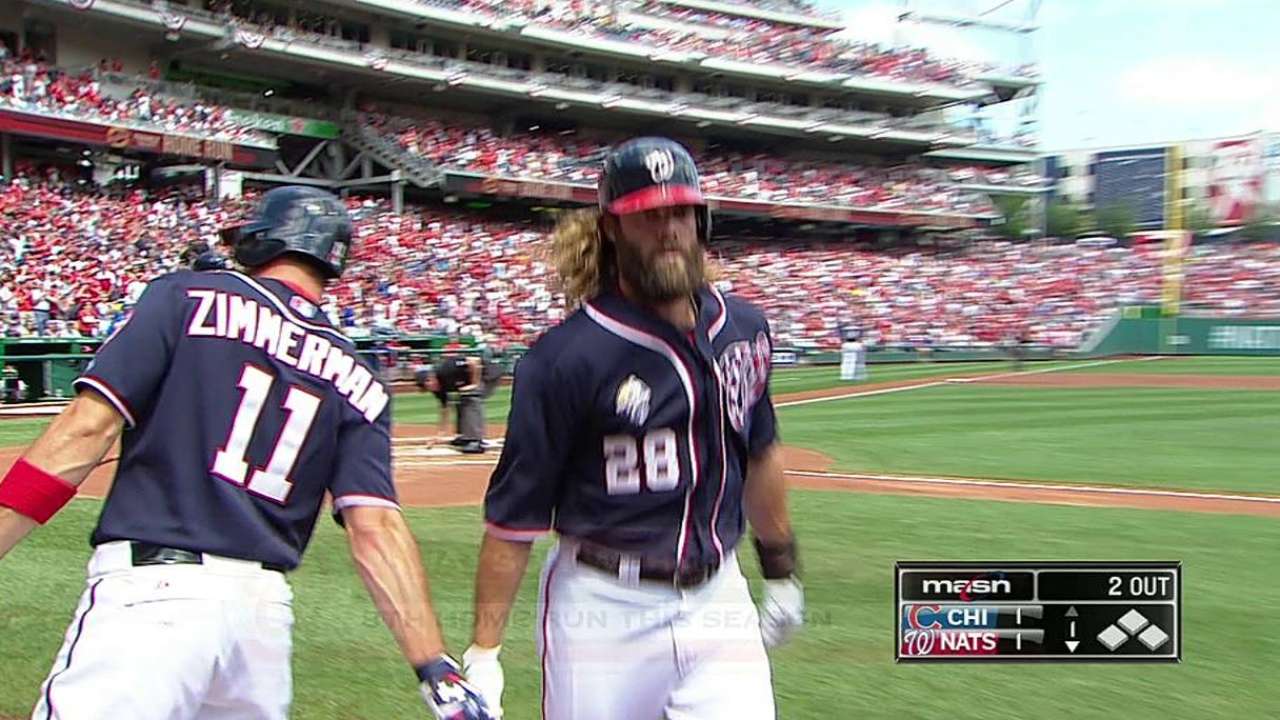 WASHINGTON -- Nationals manager Matt Williams decided to tinker with his lineup and drop Anthony Rendon down in the order while placing Bryce Harper second behind leadoff hitter Denard Span. It didn't work out, as the Cubs defeated the Nationals, 7-2, on Friday afternoon at Nationals Park.
The Nats' winning streak was snapped at five and their record dropped to 46-39. They are now 1 1/2 games behind the Braves -- who beat the D-backs, 5-2 -- in the National League East.
Right-hander Tanner Roark started for Washington and lasted seven innings, but he allowed four runs on nine hits. The Cubs went to work on Roark in the first inning. With runners on first and third, Anthony Rizzo hit into a double play, but Chris Coghlan was able to score.
The Nationals were able to tie the score on Jayson Werth's home run in their half of the first inning, but right-hander Jason Hammel stymied Washington most of the way. He lasted six-plus innings, allowed two runs on five hits and struck out seven hitters.
Washington had its biggest chance to score off Hammel in the fifth inning, trailing 4-1. The team had runners on first and second and no outs when Roark came to the plate. Williams never thought about pinch-hitting for his starting pitcher.
Nevertheless, Roark was ahead in the count, 3-0. He was ordered to take the next pitch, which he did for a strike. But two pitches later, Roark struck out.
"It sets up perfectly for us," Williams said. "Getting the bunt down and moving the guys to second and third with the top of the lineup coming up, we have a lot of game left. So it's a little bit early [for a pinch-hitter]. We wanted to get one -- and hopefully two -- there."
That brought up Span, who hit into a force play. Harper then struck out to end the threat.
"[Hammel] is a guy that throws three or four pitches at any given time," Span said. "It seems like he was able to wiggle out of trouble whenever we did get guys in scoring position. That was the difference in the game right there."
Hammel was upset that he was taken out of the game in the seventh in favor of Neil Ramirez, who allowed an RBI single to Wilson Ramos. Hammel threw 92 pitches in the game, but wanted to throw more than that.
"I have no idea why I came out of the game," Hammel said. "I honestly believe you learn how to pitch when you get to 100 pitches. If you're not allowed to reach that, I think that's hurting you more than helping you. So I guess it is what it is right now. But for a guy that's established and continues to work hard and prepares himself to throw late in games, deep in the games, 100 pitches shouldn't even come into question."
Meanwhile, the Cubs gave Hammel enough run support to win his eighth game of the season. Hammel drove in the go-ahead run in the second inning, when he lined a ball off the back of Roark that ricocheted into left field for a single. It sent Nate Schierholtz home and gave Chicago a 2-1 lead. After the game, Roark said he was OK and is not expected to miss his next start.
Justin Ruggiano hit a home run over the right-field wall in the third inning to give Chicago a 3-1 lead. Two innings later, Rizzo grounded out, but Coghlan scored on the play.
"[An] extra days' rest and [Roark] was a little bit up, not quite as crisp," Williams said. "They got a lot of base hits on him. He kept it to four [runs], just kind of up and middle today. Breaking ball wasn't quite as good. Changeup wasn't quite as good."
In his last two starts, both against the Cubs, Roark has allowed eight runs over 13 innings. He believes he needs to get better when it comes to pitch selection.
"I have to execute the pitches that I want and shake off whenever I want," Roark said. "Not just throw whatever the catcher is putting down. That has been the biggest thing for me."
Chicago pulled away with three insurance runs in the ninth to seal the victory against three relievers -- Ross Detwiler, Aaron Barrett and Jerry Blevins.
"It's just one game. We want to try to win every single game. But we'll come back tomorrow ready to go," Span said. "They are a hot team. They have played us well this last week. They just swept the Red Sox. We have to find a way to cool them off tomorrow."
Bill Ladson is a reporter for MLB.com and writes an MLBlog, All Nats All the time He can also be found on Twitter @WashingNats. This story was not subject to the approval of Major League Baseball or its clubs.