Bucs falter late after end of Worley's no-hit bid
Series sweep again eludes Pittsburgh after rally by Arizona's bats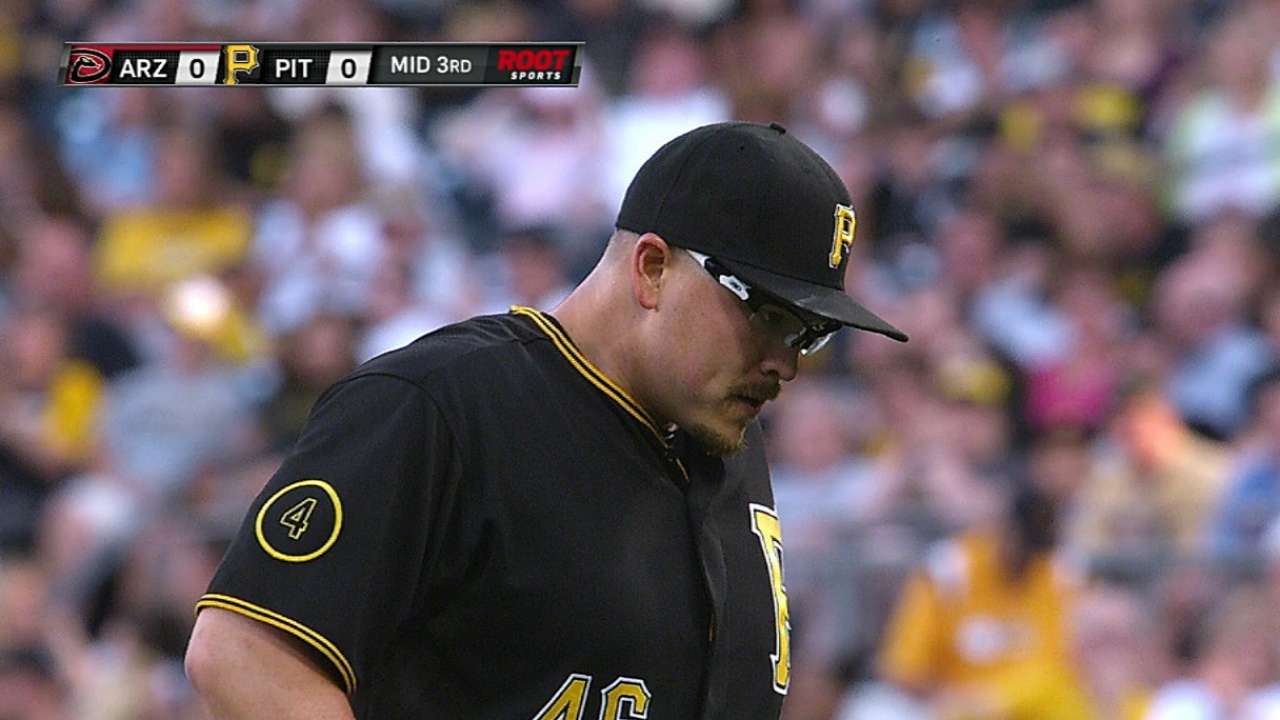 PITTSBURGH -- Thursday night began in the Pirates' favor. It did not take long for that to change.
Vance Worley's no-hit bid got away from him in the sixth, a one-run deficit got away from the Bucs' bullpen in the ninth and the D-backs got away from PNC Park as yet another team to avoid being swept by Pittsburgh.
A promising five innings for the Pirates were followed by a forgettable four, and the D-backs' 10-2 victory appears much more lopsided than it actually was. The loss pushes the Pirates to 0-8 when they have had a chance to sweep an opponent, and they remain the only team in the Majors that has yet to break out the brooms in 2014.
Worley, a resurgent righty who was making his fourth start, coasted through his first five frames on just 52 pitches. He was perfect through four innings and carried a no-hitter into the sixth, but that was when he came unraveled. The sixth inning started with Worley's second walk of the night, and, two batters later, his no-hit bid and shutout were dissolved with one swing of the bat from Ender Inciarte, who singled to score Didi Gregorius.
Three pitches after Gregorius' knock, the Pirates' 2-0 lead also vanished when David Peralta sneaked a homer into the right-field seats just above PNC Park's 21-foot fence.
"[Worley]'s human, and he just missed some spots," Pirates manager Clint Hurdle said. "Elevated one ball, really one big swing of the bat, the big difference in turning around his outing. Five-and-a-third, no-hit, the volume of work still solid."
Worley, who was saddled with his first loss of the 2014 campaign, tossed a scoreless seventh inning, his third time reaching that length since his June callup. He allowed four hits with two walks and six strikeouts, doing so on 89 pitches.
"Early on, I was able to get ahead in the count, throw strikes," Worley said. "And then, as the game went on, I lost command of my two-seam fastball, was getting behind."
The game completely got away from the Pirates in the top of the ninth when a carousel of Arizona hitters turned one-run lead into an eight-run laugher. Reliever Ernesto Frieri was charged with five runs and surrendered five hits while getting only one out. Jeanmar Gomez finished the inning but not before giving up two more runs on three hits.
The eight hits were the most the Pirates had allowed in an inning this season, and the seven runs matched the worst inning pitched by the Bucs' pitching staff in 2014.
Frieri was acquired in a trade for Jason Grilli last week, and he was making his third appearance with the Pirates. The runs Thursday night were his first allowed as a Buc, but he also gave up three hits on Tuesday night and had help when right fielder Josh Harrison threw out a runner at home plate.
"He was behind the count at times, the ball elevated, wasn't able to get his secondary pitches into play with any consistency," Hurdle said of Frieri.
Long before the bullpen meltdown, Pittsburgh's offense seemed threatening, but it was feeble by game's end. The Pirates scored a run in both the third and fourth innings, on a Gregory Polanco groundout and an Ike Davis single. But after the fourth, the Bucs were limited to just three hits. Their greatest opportunity to add to the lead came in that fourth inning, as Davis' hit was the third straight with no outs. But Pedro Alvarez grounded into a rally-halting double play against Arizona starter Brandon McCarthy. A right-hander, McCarthy lasted 5 2/3 innings, giving up eight hits with six strikeouts.
"We pushed his pitch count to a very good place," Hurdle said of McCarthy, who finished with 100 pitches. "The double play in the fourth cut down some momentum we were building. … He threw strikes, he always does, kept the ball down with some angle. We threw what we had at him, and it wasn't enough."
Stephen Pianovich is an associate reporter for MLB.com. This story was not subject to the approval of Major League Baseball or its clubs.