After blowing late lead, Phillies respond to end skid
After Diekman can't hold it in eighth, Philly manufactures runs in ninth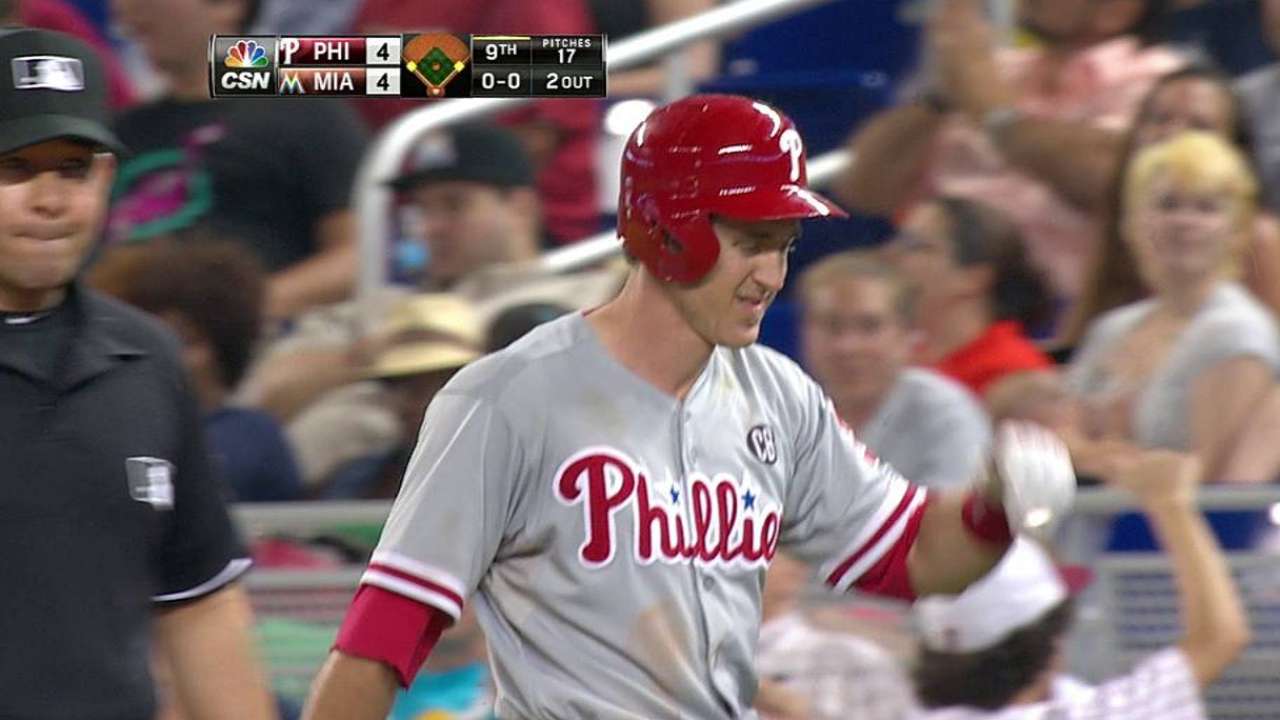 MIAMI -- It has been a rough couple of weeks for Phillies manager Ryne Sandberg.
It has been rough for everybody, really.
But Thursday night, the Phillies enjoyed their postgame meals in something other than silence. They beat the Marlins at Marlins Park, 5-4, to snap a six-game losing streak, despite blowing a lead in the eighth. The Phillies have lost 10 of 13 and are 11 games under .500, so victories at this point are probably too late to change the front office's minds about the July 31 non-waiver Trade Deadline, but at least it broke up the monotony.
"The good thing is we didn't get swept," Phillies outfielder Tony Gwynn Jr. said as music blared in the clubhouse. "We were able to get a win. Hopefully it'll propel us into some more. Getting swept is a bad feeling. Then having to get on a plane after that is even worse. We have to just keep grinding away."
Kyle Kendrick and Cameron Rupp came up big early in the victory. The beleaguered Phillies offense came up bigger in the ninth after Jake Diekman could not hold a one-run lead in the eighth.
"I guess the biggest thing is the guys fought back, fought back in the end," Sandberg said.
Sandberg looked to be in better spirits Thursday, although it is difficult to read the emotions of the mild-mannered manager. But he seemed at a loss following Wednesday's 5-0 loss, sighing loudly as reporters entered his office afterward.
The Phillies needed a win, even if it doesn't help their cause much.
"We are where we're at," Kendrick said. "We made our bed. We just have to keep playing baseball and see what happens."
Diekman started the eighth with a 3-2 lead, despite the fact he had to face right-handed hitters Ed Lucas, Giancarlo Stanton and Casey McGehee. Diekman has great stuff, but right-handed hitters had posted a .750 OPS against him, compared to left-handed hitters, who posted a .468 OPS.
Sandberg said he did not want right-hander Ken Giles to face Stanton and McGehee for a third consecutive day. He also said right-hander Justin De Fratus was unavailable because of "tenderness." De Fratus said he is fine, although he noted he struggled trying to get through two innings in Tuesday's 5-4 loss in 11 innings.
Lucas and Stanton started the eighth with singles to put runners on first and second. Diekman uncorked a wild pitch to put the runners in scoring position when McGehee bounced a ground ball to Chase Utley, who threw to first base for the first out. It scored Lucas to tie the game.
Jeff Baker, pinch-hitting for left-handed-hitting Garrett Jones, followed with a triple to right-center field to score Stanton and give the Marlins a one-run lead.
The Phillies had lost the lead.
But they came right back. Gwynn worked a leadoff walk in the ninth against Marlins closer Steve Cishek. Ben Revere followed two batters later with a single to put runners at the corners with one out.
Revere stole second and Gwynn scored the tying run when Jimmy Rollins hit a ball to Marlins second baseman Donovan Solano, who inexplicably threw home despite no real shot to get Gwynn. The throw home proved costly, putting Revere at third with only one out.
Utley's groundout to Solano allowed Revere to score to give the Phillies the lead.
"Anytime it's a one-run game, you feel like you're in it," Gwynn said. "I don't think you're coming off the field feeling better because you had a lead going into the inning and you're down a run when you come off ... but we're professionals. A one-run lead in this game is not an insurmountable amount of runs. We did a good job of sticking with it."
The late-inning drama overshadowed nice efforts from Kendrick and Rupp.
Kendrick allowed six hits, two runs, one walk and struck out four in seven innings. Rupp hit a two-out double to right field to score two runs in the sixth to give the Phillies a 3-2 lead.
"I've got that in me," Kendrick said of his successful night. "I was happy with the way I threw. I went deep into the game and gave us a chance to win."
Todd Zolecki is a reporter for MLB.com. This story was not subject to the approval of Major League Baseball or its clubs.