Rox tie it in 8th, but Dodgers prevail in 9th
Morneau hits RBI triple off Greinke, but remains stranded at third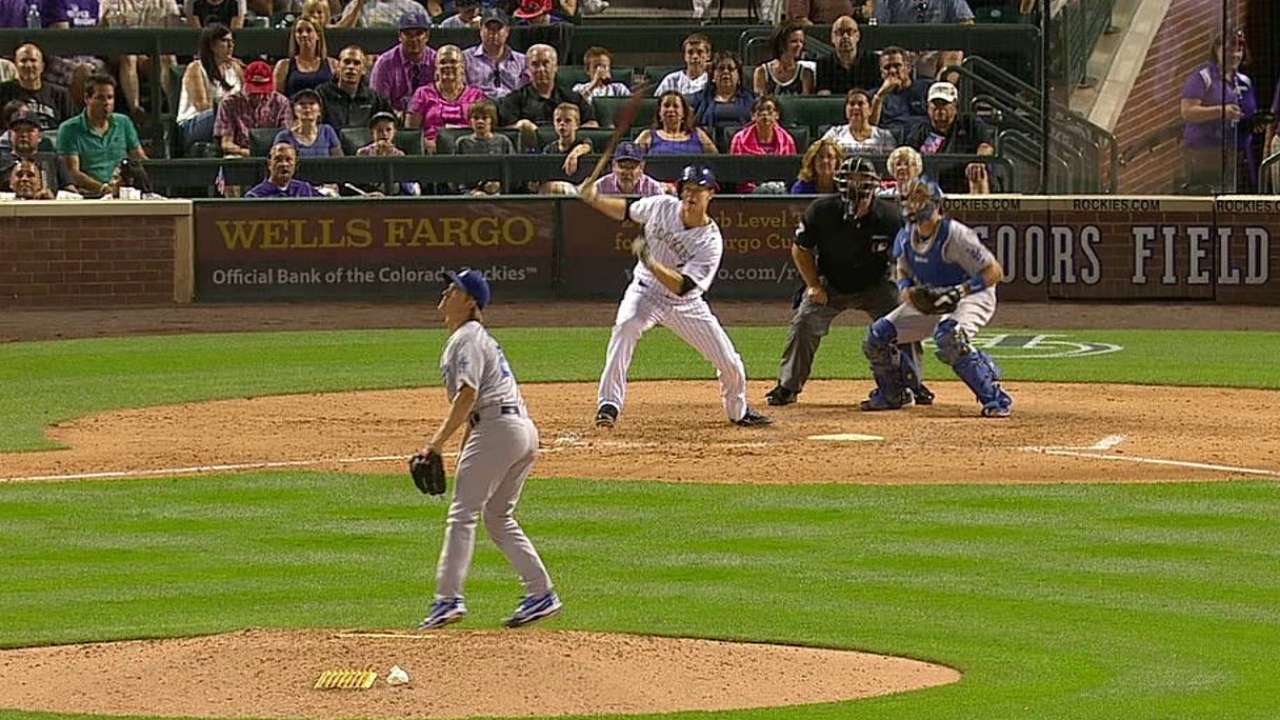 DENVER -- It seemed almost too perfect as Nolan Arenado stepped to the plate in the eighth inning on Thursday night with the potential go-ahead run on third and the sold-out Coors Field crowd on its feet.
But in the final at-bat of his first game back since May 23, Arenado struck out and an inning later, his Dodgers counterpart Juan Uribe did what he couldn't, sealing a series-opening, 3-2 loss with a go-ahead single.
"[Zack] Greinke beared down at the end there and got through it, but we had a couple of opportunities and didn't get it done," manager Walt Weiss said.
The Rockies hardly threatened Greinke (11-4) through seven innings before the Dodgers decided to push their luck by sending him out for the eighth at 84 pitches.
Following Charlie Blackmon's leadoff single, Justin Morneau made the Dodgers pay with a one-out, RBI triple to deep center to tie the game at 2. Yet as the Rockies would prove, it's never easy for a team that has lost 15 of their last 17 to get over the hump, even with their best player taking their most important at-bat of the night.
Greinke played coy with Troy Tulowitzki following Morneau's 59th RBI of the year, not giving the Home Run Derby captain much to work with until he harmlessly popped a 2-1 offering into shallow left field.
"I think a lot of times a hitter knows you're pitching around him and I kind of wanted to throw a strike the first pitch and let him know I'm not pitching around you in that case," Greinke said.
The Dodgers then intentionally walked Corey Dickerson to get to Arenado in his first game after six weeks on the disabled list with a broken finger. But for the fourth time on the night, Arenado failed to register a hit as Greinke blew a 94-mph fastball by him for his eighth strikeout of the night.
"It was a total ball," Arenado admitted. "I got a little overly anxious and I know he was coming around middle-in and I just over-swung. Bad pitch to swing at."
In the ninth, Uribe's single off right-hander LaTroy Hawkins (2-2) brought Matt Kemp around to score the game-winning run. Hawkins led off the inning with a four-pitch walk to Kemp as the bullpen couldn't keep a key run off the board for the second straight night.
"LaTroy has commanded the ball really well," Weiss said. "We haven't seen that much but Kemp is a dangerous hitter and you got to make sure you don't lay one in there for him and put up a leadoff walk."
For the rest of the evening, Rockies pitchers had no problem taking care of business. In his first start since being reinserted into the Rockies' rotation, Franklin Morales gave the team just about all they could hope for, tossing five innings of two-run ball (one earned), allowing four hits, two walks and four strikeouts.
"Franky did his part," Weiss said. "We were hoping he could give us five and have us in a position to win and that's exactly what he did."
Matt Kahnle and Nick Massett combined to pitch three innings of one-hit ball before Hawkins surrendered his first earned run since May 20. Kenley Jansen then came on to close things out with a perfect inning for his 26th save of the season.
Dee Gordon got the small-ball battle going with a bunt single in the third inning. As fans fled for shelter from a sudden drizzle, Adrian Gonzalez singled in the Dodgers shortstop with two outs to give Los Angeles a 1-0 lead.
The Dodgers added another run in the fourth after a passed ball during A.J. Ellis' at-bat allowed Uribe to move to third following his double. Ellis then floated a 3-2 offering from Morales far enough to center to score Uribe for a 2-0 lead.
The Rockies fight back began with two outs in the fifth. D.J. LeMahieu was able to advance to second on his single when Yasiel Puig couldn't corral the ball. With Morales already at 89 pitches, Weiss didn't hesitate to hit Josh Rutledge in his place and was rewarded for the decision with a pinch-hit RBI double to deep right to make it 2-1.
Cody Ulm is an associate reporter for MLB.com. This story was not subject to the approval of Major League Baseball or its clubs.