Hughes, Twins flattened in rematch with Bombers
Righty is tagged for seven runs after beating his former club in June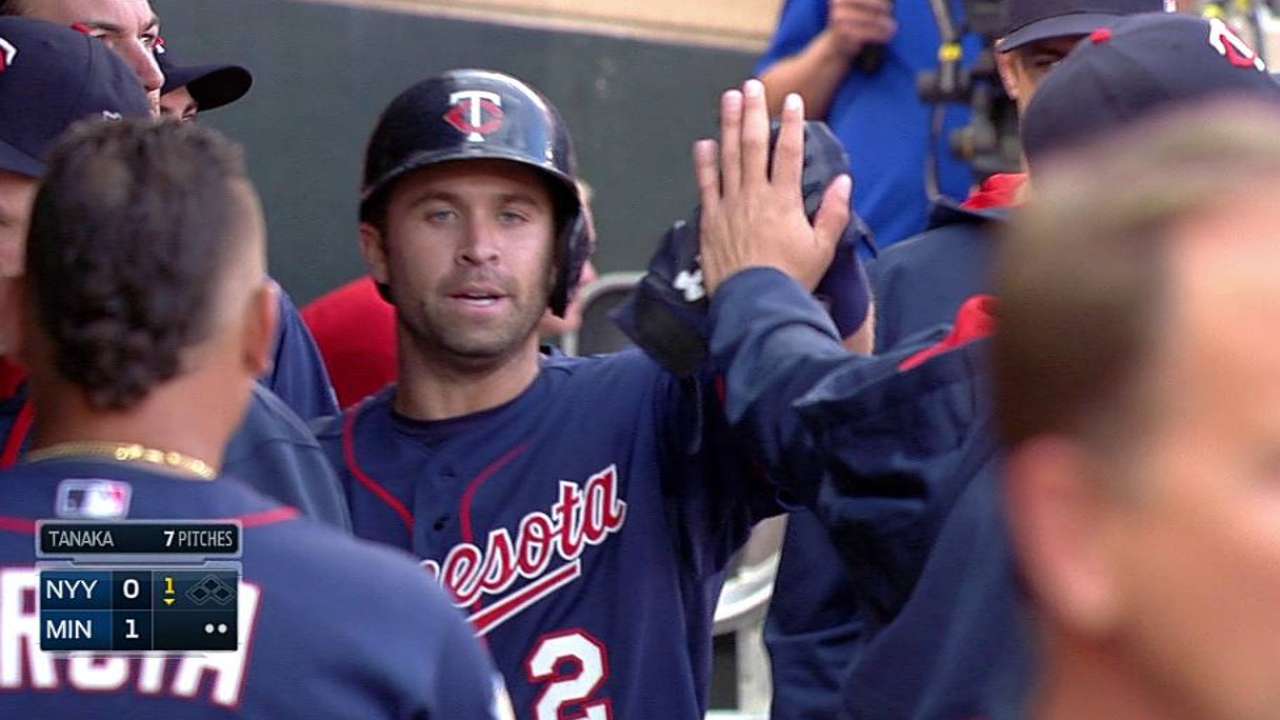 MINNEAPOLIS -- With the way the offense has been struggling recently, if someone would've told the Twins that Yankees ace Masahiro Tanaka was going to set season-highs in both hits and runs allowed on Thursday night, the Twins certainly would've taken it.
Tanaka did just that, as he failed to register a quality start for the first time in 17 outings, but he still outpitched Phil Hughes, who was hurt by a pair of homers in the fifth inning and gave up a season-high seven runs against his former team in a 7-4 loss at Target Field.
"It would've been nice to take advantage of that," Hughes said. "But he probably pitches to the score after he got that lead. But he gave up a couple early and got a big lead, and that was it. So yeah, on a night in which he probably didn't have his best stuff, it would've been nice to able to get a win out of it."
Hughes, who pitched for the Yanks from 2007-13, simply couldn't replicate his solid effort in New York in early June, when he tossed eight strong innings to get the win at Yankee Stadium. Instead, the right-hander was roughed up for seven runs on eight hits and a walk with six strikeouts to get pegged with his fifth loss. It marked the third straight start that he's allowed at least five runs, raising his ERA to 3.95.
Hughes cruised through the first four innings with the Twins taking an early two-run lead. But it unraveled in the fifth, as Hughes served up a three-run homer to Carlos Beltran to give the Yankees the lead. Just two batters later, Zelous Wheeler connected on a solo shot for his first Major League hit.
Hughes was notoriously plagued by home runs during his seven seasons with the Yankees, but has fared better this season. He hadn't given up a homer since June 6 and entered with just seven homers allowed in 16 starts.
"The one big mistake of the game was the pitch to Beltran," Hughes said. "The other at-bats, I went hard-in, but I thought I'd try to get a ground-ball double play and threw a two-seamer away, but it caught too much of the plate."
The Yankees broke the game open with three runs in the seventh off Hughes. Ichiro Suzuki started the rally with a walk before Wheeler singled and Brendan Ryan brought home the first run with an RBI double with one out that knocked Hughes from the game. Left-hander Brian Duensing came in and gave up an RBI single to Brett Gardner and an RBI groundout to Derek Jeter with both runs charged to Hughes.
"He struck the first guy out, walked Suzuki, a base hit and a double and it was just like that," Twins manager Ron Gardenhire said. "The innings happened really quick to him. It just wasn't his best night. He didn't have his best stuff."
The offensive outburst by the Yankees helped bail out Tanaka, but he still picked up his Major League-leading 12th win. The rookie set season-highs by giving up four runs on nine hits, while also setting a season-low with three strikeouts.
"This outing was one of my worst ones this season as far as hitting the spots and making pitches," Tanaka said through a translator.
Minnesota got on the board in a hurry with Chris Parmelee extending his hit streak to 13 games with an RBI double in the first inning. They tacked on another run in the third on an RBI groundout from Kurt Suzuki.
After the Yankees took the lead with their four-run fifth, the Twins cut it to a one-run deficit with Kendrys Morales' RBI groundout in the sixth. Minnesota scored again in the seventh on an RBI single from Eduardo Escobar after Trevor Plouffe doubled with one out.
But Minnestoa was held scoreless over the final two innings by right-handers Dellin Betances and closer David Robertson with the two combining for five strikeouts. It snapped a season-high five-game losing streak for the Yankees and handed the Twins their eighth loss over their last 10 games.
"We put some good at-bats against [Tanaka] but he's tough," Gardenhire said. "But their bullpen was pretty tough, too."
Rhett Bollinger is a reporter for MLB.com. Read his blog, Bollinger Beat, and follow him on Twitter @RhettBollinger. This story was not subject to the approval of Major League Baseball or its clubs.