No Darvish, no problem for Orioles
Baltimore completes four-game sweep, topping Texas, spot starter Baker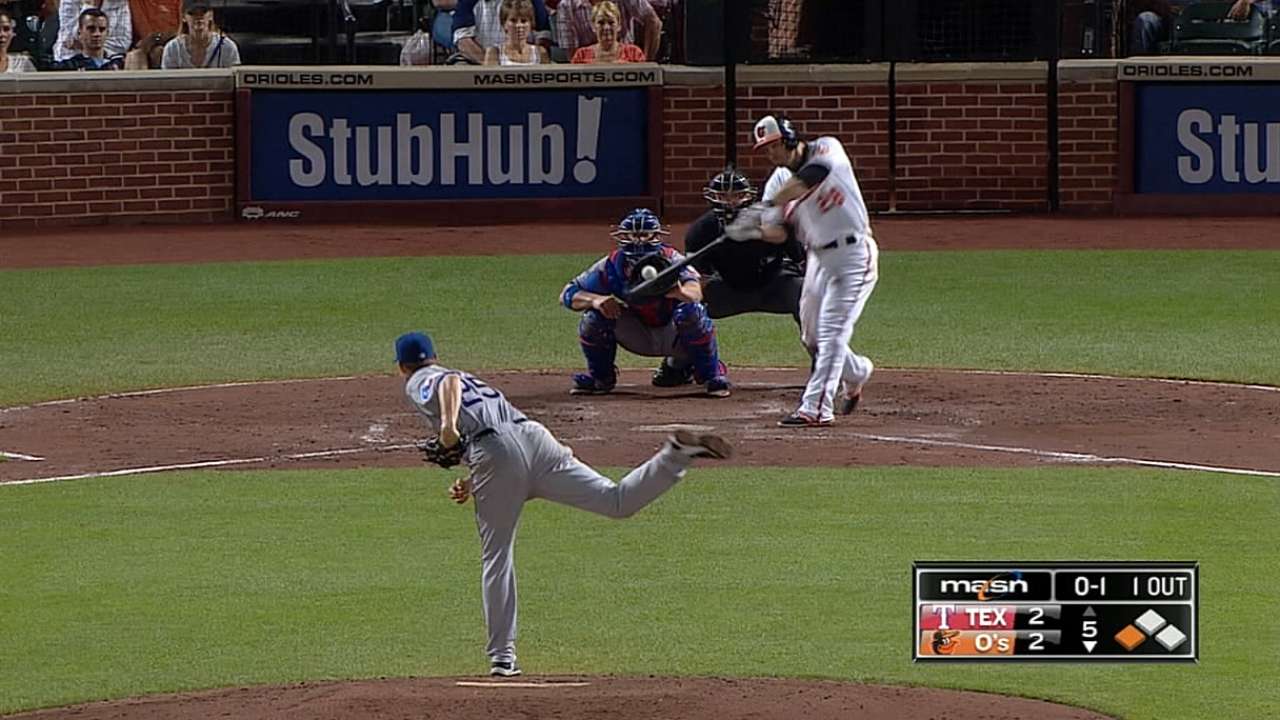 BALTIMORE -- On the night that the Orioles took over first place in the American League East, Adam Jones' ceremonial celebratory pie to the face was reserved for Steve Pearce.
His face has stood out. The slugger has been a whirlwind of power, speed and consistency for the O's and one of the biggest surprises in all of baseball. The Orioles have been without some of their best players and have needed help from the previously unknowns to catch the Blue Jays for the top spot in the division. It's never been a more fun time for Pearce.
"Especially being where we are in the division," he said. "We're fighting and winning."
Baltimore moved into first place in the division on Thursday night and it got there on the back of Pearce. He collected a career-high four hits and drove in a pair of runs to help the O's finish off a four-game sweep of the Rangers with a 5-2 win in front of 24,535 at Oriole Park at Camden Yards.
Pearce added a pair of steals, two doubles and a run scored. Coming off a June where his on-base-plus-slugging percentage of 1.099 ranked second in the entire American League, Pearce has started his July even better.
"Running out of things to describe him," Baltimore manager Buck Showalter said. "Let you guys do it."
Except that there is no way to properly describe the tear that Pearce is on. In the third inning, he gave the O's (46-39) an early lead with an RBI single. Two innings later, he got the lead back with one of Orioles' season-high six doubles.
In the seventh inning, Pearce notched his fourth hit, stole his second base and scored a run on a single by Chris Davis.
"Their bats came alive over there," Texas manager Ron Washington said. "We didn't score enough runs. They played better than us."
Wei-Yin Chen once again vexed the Rangers (37-48). The starting pitcher surrendered just two runs in six innings to pick up the win and improve to 4-0 with a 1.67 ERA in his career against Texas.
"I think I did OK out there," the lefty said through a translator. "Tonight we got a win because our offense did a pretty good job and our defense played really well behind me."
After Chen's (8-3) solid outing, Baltimore turned to its bullpen anchored by Zach Britton for the third straight night. Britton, who began his first season as a reliever as a middle-innings guy, notched his 12th save of the season by holding on in the ninth to hand Texas a ninth straight road loss for the first time since 2005.
Like Pearce, Britton was once a well-regarded prospect who has reinvented himself in 2014 and helped lift the O's to the top of the division.
They were fortunate on this particular day that Yu Darvish, the Cy Young candidate who was originally scheduled to start, was scratched when the game was delayed for 56 minutes due to rain and his replacement Scott Baker (0-2) lasted just 4 2/3 innings, but the recent days have been a struggle.
The Orioles have played with a 24-man roster since Monday as third baseman Manny Machado serves a five-game suspension. During that same stretch, Davis has been mired in his biggest slump of the season and his batting average has dipped to .207. Still, they've rallied around the adversity and emerged with four victories in four tries.
"Looks like we are," Pearce said. "We're relying in some people and people are stepping up. We're pitching, we're hitting, we're having timely hitting. We're finding ways to get it done."
After the game ended, Baltimore was hit with the latest bit of adversity -- travel issues. The O's are playing in Boston at 1:35 p.m. on Friday and their plane was running late because of the weather. They wouldn't have one until 2 a.m. at the earliest, Showalter said.
Eventually, though, they'll scrape together a way to get to Fenway Park and take the field against the Red Sox as the top team in the AL East -- even if it is just by percentage points.
"It's a relentless journey," Showalter said. "You walk up in your office and the travel secretary tells you you don't have a plane, and how are we going to get to Boston? So you move on to the next challenge, and there'll be another one at Fenway in some form or fashion tomorrow."
David Wilson is an associate reporter for MLB.com. This story was not subject to the approval of Major League Baseball or its clubs.