Options available to improve fantasy teams
Lind, Betts, Jones among players to give your team a lift as the Trade Deadline nears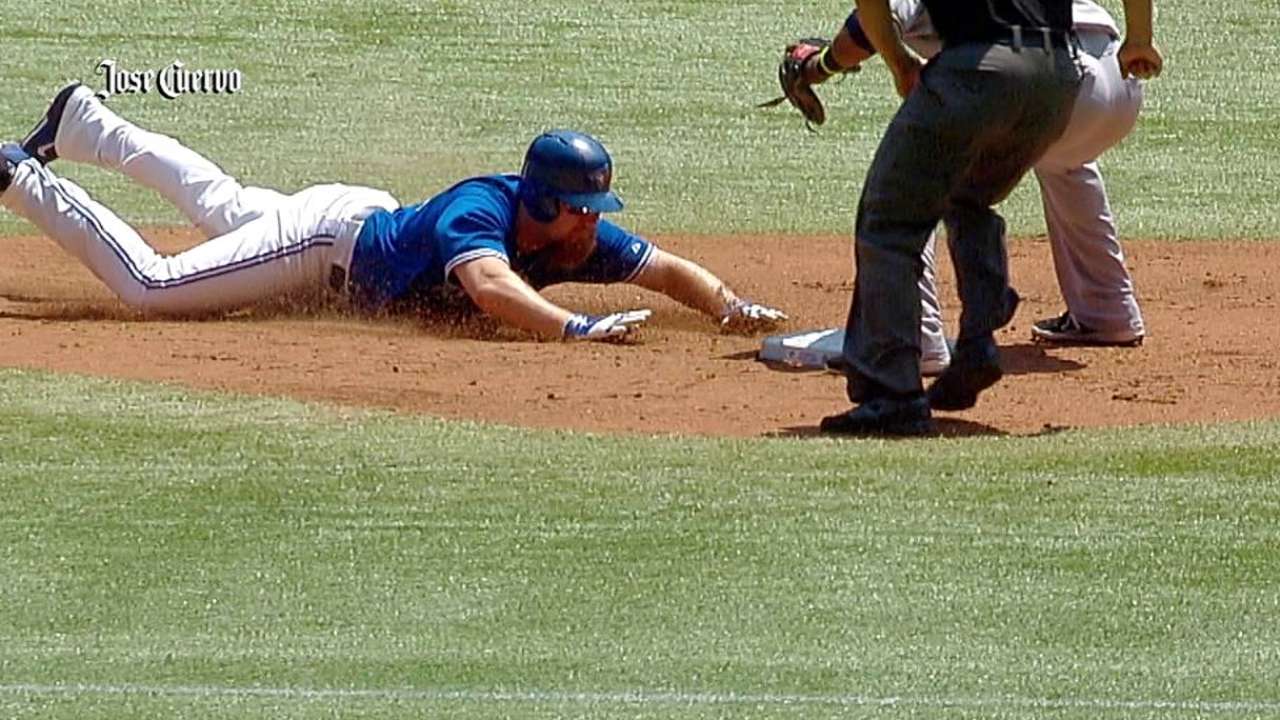 July is a key month for fantasy owners. The Major League non-waiver Trade Deadline is less than a month away, and important deals will shuffle the value of many key players over the next four weeks. For now, smart owners will look to maximize production in the coming weeks, while watching the waiver wire for future assets. Here are some of the best options to consider for the seven-day stretch that leads to the All-Star break.
Catcher, Wilson Ramos (Nationals): Ramos has collected 10 hits in his past seven games, which has boosted his batting average to .273. He hit 12 homers and tallied 42 RBIs after the All-Star break last season, so fantasy owners already know that he can be a difference-maker when he heats up.
First baseman, Adam Lind (Blue Jays): The Blue Jays went through a rough patch when Lind and Jose Bautista took turns dealing with minor injuries, but they are both back in action. The 30-year-old Lind occupies one of the best lineup spots in baseball, as he hits between Bautista and Edwin Encarnacion.
Second baseman, Logan Forsythe (Rays): Forsythe has become a key part of of the Rays' versatile lineup, as manager Joe Maddon looks for hot bats to replace multiple injured players. Fantasy owners who are looking for a short-term option can use Forsythe until he cools off.
Shortstop, Jed Lowrie (A's): Lowrie is normally a productive part of a talented A's offense, but he fell out of favor with fantasy owners after hitting under .200 in May and June. The 30-year-old has three multi-hit efforts in his past five contests, so this could be the perfect time to pick him up.
Third baseman, Nick Castellanos (Tigers): Castellanos got off to an unimpressive start, but it's not unusual to see a player take some time to adjust to his first full-time job in the Majors. He hit .337 with a pair of homers in June, so the 22-year-old may be settling in to a long career as a productive hitter.
Outfielder, Mookie Betts (Red Sox): The 21-year-old created quite a stir when he arrived in the Red Sox clubhouse last weekend. It took him a few games to make his mark, but he flashed plenty of potential when he went deep in a multi-hit effort on Wednesday. Fantasy owners should expect a solid batting average and plenty of speed from Betts in the second half.
Outfielder, Steve Pearce (Orioles): Despite some letdowns earlier in his career, the 31-year-old Pearce cannot be ignored. Now is the time to add Pearce in all formats. It is hard to find players on waivers who can hit for average and power, and Pearce has hit over .300 with 10 homers since the beginning of May.
Outfielder, James Jones (Mariners): The 25-year-old is one of the few options on waivers who can make a big difference in a single category during the second half. Jones hit .294 and swiped 12 bases in June and because he bats second for the Mariners, he should score plenty of runs the rest of the way.
Starter, Mike Leake (Reds): Leake has been fairly inconsistent this season, but his 3.47 ERA and 1.18 WHIP show that his overall production is solid. He is scheduled to start twice at home next week, and he should be able to handle the matchups against the Cubs and Pirates.
Starter, Jake Odorizzi (Rays): The 24-year-old faltered in the Bronx last week but prior to that start, he looked like he had turned a corner. His elite strikeout rate means that he could notch more than a dozen K's in a two-start week. Odorizzi will have a great chance for success with two outings in his pitcher-friendly home park.
Starter, Chris Young (Mariners): Because Young generates so many fly balls, his venue is an important aspect of his success or failure. Safeco Field plays to Young's strengths, as he is 5-1 with a 2.19 ERA at home this season. The 35-year-old, who is scheduled for a pair of home starts in the coming week, has allowed just four runs in his past four appearances.
Starter, Vance Worley (Pirates): The Bucs have done a great job with starters in recent seasons, and Worley could be their next success story. The right-hander has allowed four runs in three starts with the Pirates, and it looks like he has put his past injury woes behind him. Worley will work on the road against the Cardinals and Reds next week, but the Pirates have been heating up, and he could be good for a pair of quality outings.
Starter, Charlie Morton (Pirates): Speaking of effective Pittsburgh pitchers, Morton has quietly emerged as a shallow-league option. The 30-year-old has allowed more than two earned runs just once in his past eight starts, and he has picked up five wins over that stretch. Like Worley, Morton will make two road starts next week, and he should be good for roughly 12 K's and at least one win.
Reliever, Joe Smith (Angels): It's hard for a closer to not get noticed by fantasy owners when he picks up two saves in one day, which is what Smith did against the White Sox on Tuesday. The Angels are one of the top teams in the American League, and they could generate plenty of save chances for a stable stopper. Perhaps, they have found one in Smith.
Reliever, Joaquin Benoit (Padres): July is the perfect month for fantasy owners to look for future save sources. With the Trade Deadline fast approaching, multiple clubs could have new closers by the beginning of August. Benoit might be traded to a playoff contender that needs a closer, or he could inherit the ninth-inning gig in San Diego if the Padres trade away Huston Street. Based on his success with the Tigers last season, the veteran should be more than capable of finishing games.
Fred Zinkie is a fantasy writer for MLB.com. This story was not subject to the approval of Major League Baseball or its clubs.