Giants can't break trend as Bumgarner struggles
Ace picks up RBI single, allows five runs over five innings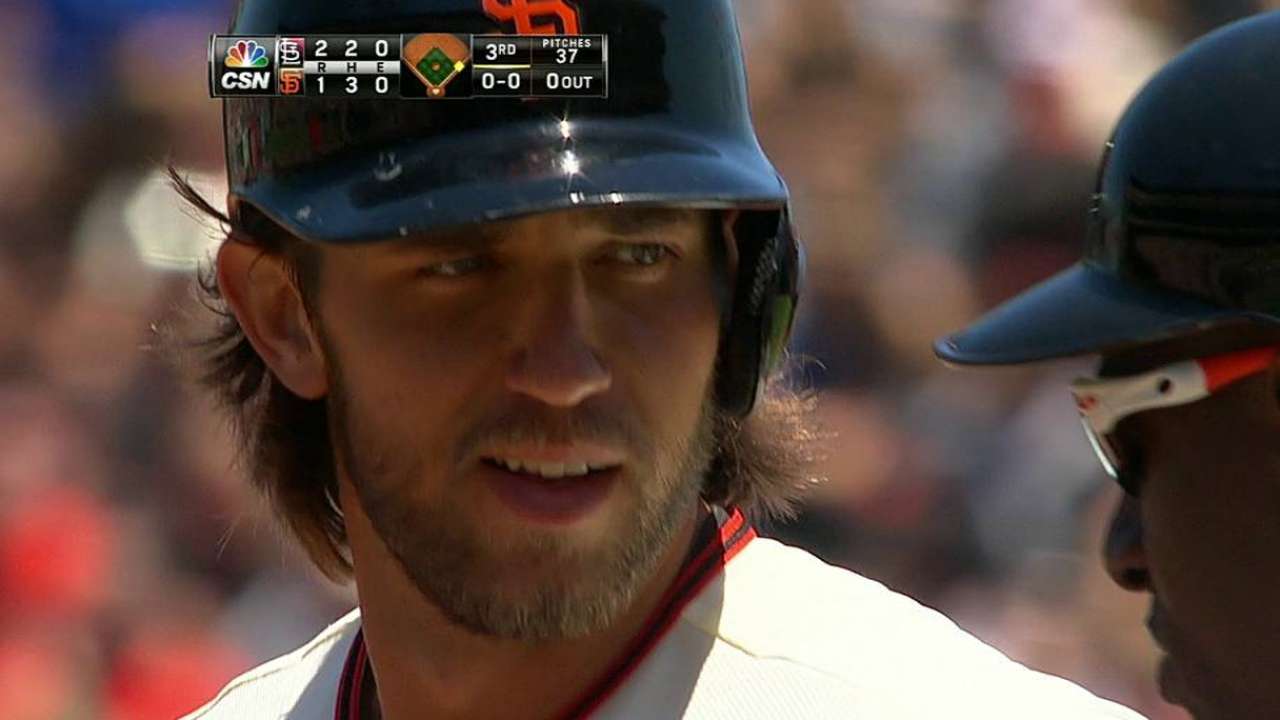 SAN FRANCISCO -- After the Giants' latest shortcoming, Madison Bumgarner was asked what's going on with his once-dominant team. His answer -- or, more accurately, lack thereof -- put into words what's been evident on the field.
"That's a good question," said Bumgarner after the Giants concluded a 10-game homestand a disappointing 2-8 after losing, 7-2, to the Cardinals on Thursday afternoon at AT&T Park. "I wish I had an answer.
"We'd like to see things turned around from the way they are. We've shown signs of it -- it just hasn't happened where we've been able to get back to playing the kind of baseball we played the first two months or whatever."
The Giants can't find an answer to their problem, and it's cost them their 108-win pace of June 8, when they sat atop the Major League standings and held a 9 1/2-game lead on the Dodgers in the National League West. Manager Bruce Bochy had "nothing to complain about" then. He hasn't had much to celebrate since. Fatalism isn't settling in, but frustration is mounting.
The Giants lost all three of the homestand's series, scored five or more runs just once, were outscored 42-19 and batted .140 (8-for-57) with runners in scoring position. Their lone wins came in Tim Lincecum's two starts, and both were shutouts.
"This is frustrating. We're too good to have a homestand like this and they're all frustrated," Bochy said. "The effort's there, but to come home and struggle the way we did, I don't think that's something anybody saw coming. We know it's not acceptable.
"Things aren't going our way at times, and at other times we're making too many mistakes. It's hard for everybody. I know we'll come out of it -- it's just taking a lot longer than we thought."
It didn't take long for the Giants to fall behind on Thursday, thanks to a Jhonny Peralta two-run home run in the first.
San Francisco entered the top of the fourth inning with a 2-1 deficit and appeared set to exit with the same score, but first baseman Adam Duvall threw a tailor-made, inning-ending double-play ball into left field. One batter later, Jon Jay pounced on the mistake, hitting an RBI double. With the infield in, pitcher Carlos Martinez drilled a grounder past shortstop Brandon Crawford in the ensuing at-bat to drive in a pair, besting his counterpart Bumgarner's RBI single in the third and extending the visitors' lead to 5-1.
The Cardinals tacked on another run in the sixth on a pinch-hit triple by Shane Robinson and another in the seventh, when Yusmeiro Petit tossed another would-be double play ball over second baseman Joe Panik and into the outfield.
The Giants' runs came via singles from Bumgarner (third inning) and Crawford (sixth inning). They had other threats, but as was commonplace throughout the homestand, they failed to capitalize. Buster Posey struck out on a curveball in the dirt with the bases loaded to end the fifth. They threatened for more damage in the sixth after Crawford's RBI single (runners on the corners and one out), but Gregor Blanco struck out and pinch-hitter Hector Sanchez grounded out.
In hopes of sparking his dormant offense, Bochy moved Hunter Pence from the two-hole to the leadoff spot, relegating Blanco to eighth in the order. Blanco finished the day 2-for-4, but he was the lone bright spot.
First baseman Brandon Belt will be activated from the disabled list before Friday's game, and the team remains hopeful catalyst Angel Pagan will return soon, but aside from those two, help isn't on the way.
"This is our group. They know that. We've told them that. This is a good group, a talented group," Bochy said. "Every day, we think we're going to come out of it, and that's why today was so disappointing for us."
Really, it was a fittingly unspectacular end to a tough slew of home games. The loss resulted in an 8-17 record for the Giants in a 20-out-of-25-games-at-home stretch.
"We know how critical these series are now, because we put ourselves in this situation we're in," Bochy said. "That margin of error's not there any more, so we've got to play good baseball.
"The only thing we can do is wash this off. At the same time, there's a time where we have to say, 'Enough is enough'. That's where we're at."
Ryan Hood is an associate reporter for MLB.com. Follow him on Twitter @ryanhood19. This story was not subject to the approval of Major League Baseball or its clubs.