Koehler zeros in on Phillies over six innings
Right-hander placed on paternity list shortly after sharp outing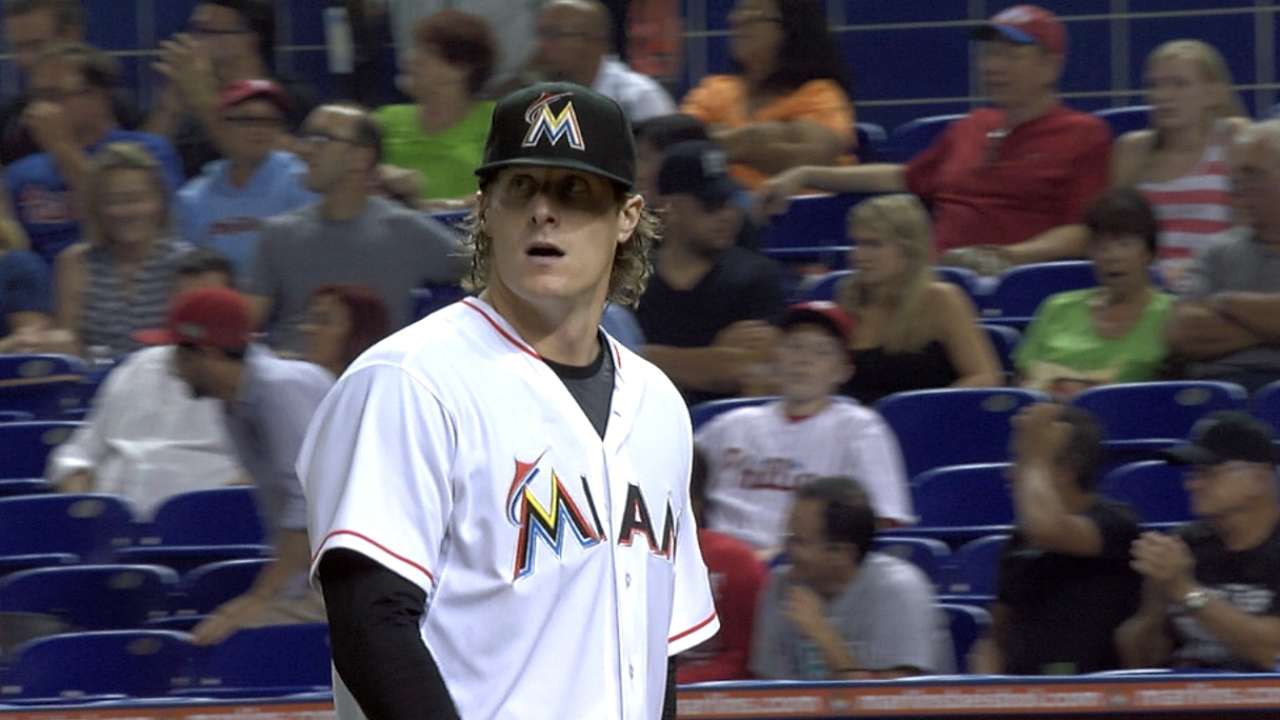 MIAMI -- If Tom Koehler pitched like he was on a mission, there was a good reason.
The Marlins right-hander took the mound on Wednesday night aware that his wife, Ashley, was expecting their first child any moment.
With more than just baseball on his mind, Koehler stepped up to throw six shutout innings, striking out seven and setting the tone in Miami's 5-0 victory over the Phillies at Marlins Park.
Ed Lucas and Casey McGehee provided RBI doubles off left-hander Cole Hamels in the fifth inning to provide Koehler with some run support.
Jarrod Saltalamacchia's two-run homer off Mario Hollands in the eighth inning broke the game open.
Immediately after the game, Koehler was placed by the Marlins on the paternity list, with his wife expected to deliver at any time.
"He was warming up and pitching like she was getting ready to give birth any second," Saltalamacchia said. "He threw the ball well, really just attacked the hitters, went after them."
By the time the clubhouse was open to the media, Koehler was already long gone in anticipation of the birth of his first child.
"Not easy for all of us in sports that have gone through this before and had stuff going on outside baseball," Miami manager Mike Redmond said. "He's concerned about his wife and how she's feeling, and this has been something that's kind of been coming. We've known this over the last two or three days.
"He and I talked over the off-day and this was sort of prepared. ... It's hard to concentrate with such a huge event coming, but he did a great job. He did exactly what he needed to do and gave us a chance to win that ballgame, and now he gets to go home and enjoy the birth of his daughter. Pretty cool."
The Marlins have won two straight for the first time since June 8-9.
In the dugout after he was replaced, Koehler attempted to rehash his start with Saltalamacchia.
"The first thing he said to me was about the pitching aspect of it," the Marlins catcher said. "I just told him, 'Go have a baby. Don't worry about tonight. You have another start in five days. Go have a baby.'"
As a team, the Marlins were able to take care of business in their 10th shutout of the season.
By taking the first two, they guaranteed themselves of their first home, three-game series victory since taking two of three from Philadelphia on May 20-22. Miami did sweep a two-game set from the Rays on June 4-5.
Koehler worked out of jams in the first and sixth innings, and breezed in between.
Hamels, now 9-13 lifetime against the Marlins, worked five innings, allowing three runs on five hits.
"He was missing off the plate and threw a lot of pitches," Phillies manager Ryne Sandberg said. "He wasn't the sharpest he's been."
Donovan Solano's RBI single with the bases loaded in the fourth inning gave the Marlins a 1-0 lead.
Miami padded its advantage to 3-0 with a two-run fifth inning. Christian Yelich walked and scored on Lucas' double to left-center. McGehee chipped in with an RBI double to deep left.
The double was McGehee's 100th hit of the season, which ties him for second in the National League.
Missed chances plagued both teams in the first inning.
The first frame lasted 32 minutes, and neither side could capitalize on golden chances. The Phillies stranded a second-and-third situation with one out, and the Marlins couldn't push across a run after loading the bases with one out.
In the first, Koehler threw 21 pitches and Hamels tallied 34.
"You don't want to give up runs in the first inning, it really puts the offense in a jam, and then you've got to do a lot, especially against a quality pitcher like Cole out there," Koehler told Fox Sports Florida shortly after he exited the game.
The Marlins were eventually able to wear Hamels down. The lefty had his shortest outing in 11 starts, since he threw 4 2/3 innings in a loss to the Mets on April 29.
The Marlins look to complete a sweep on Thursday before they head to St. Louis to face the Cardinals on Friday.
"It's big for us to stay within striking distance and hopefully go into the All-Star break on a high note," McGehee said.
Joe Frisaro is a reporter for MLB.com. He writes a blog, called The Fish Pond. Follow him on Twitter @JoeFrisaro. This story was not subject to the approval of Major League Baseball or its clubs.