Hamels labors as Marlins keep bats at bay
Lefty's 10-start streak of working at least seven innings ends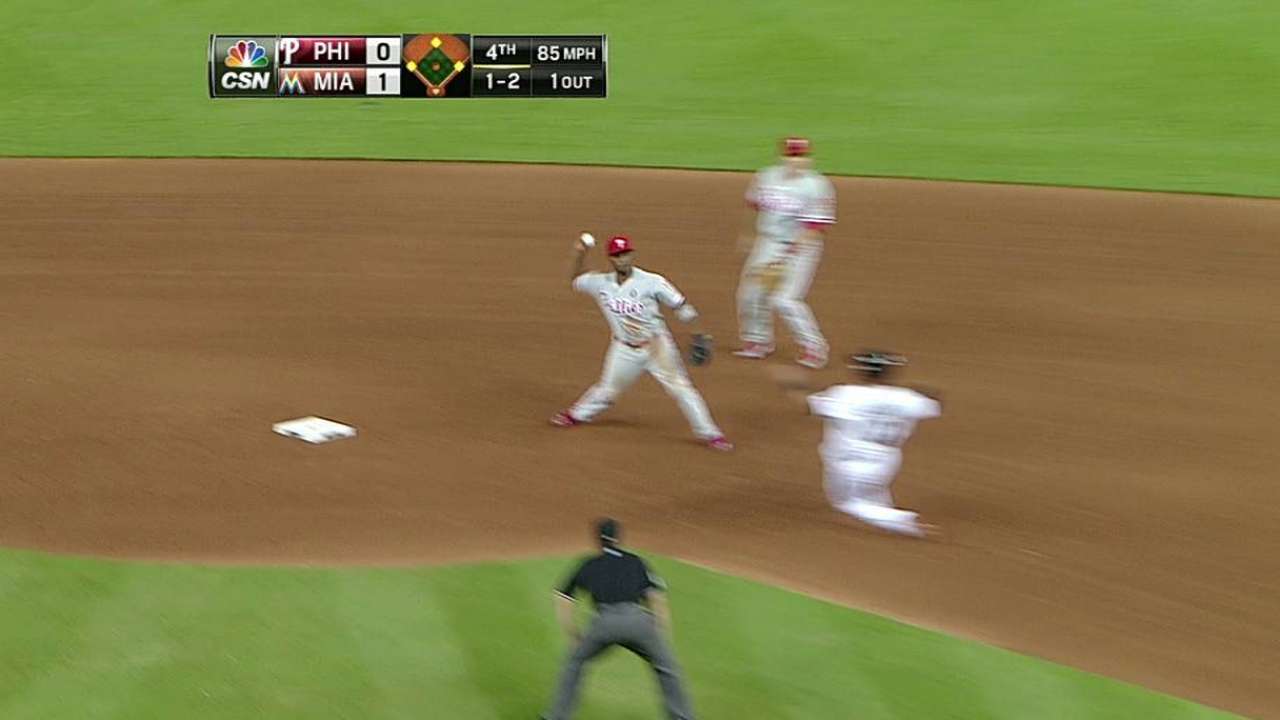 MIAMI -- It seems like time for another talk, but at this point another talk is probably too little, too late.
The Phillies suffered their 11th shutout in 84 games in Wednesday's 5-0 loss to the Marlins at Marlins Park. No Phillies team has been shut out more through 84 games since the 1941 Phillies, who had 12 on their way to a 43-111 season.
"It is hard to believe," Phillies manager Ryne Sandberg said.
There is frustration in the Phillies clubhouse. The Phillies have lost six consecutive games and 10 of 12 to fall to 36-48. They are in last place in the National League East, 10 1/2 games out of first place. They are a season-worst 12 games under .500 with the July 31 Trade Deadline approaching.
It seems too late to save the season, although Sandberg said he might speak to his players before Thursday's series finale.
But what can be said at this point?
"I'll coming up with something," he said.
Phillies left-hander Cole Hamels has seen and heard plenty over the past couple of seasons. He had a 1.88 ERA in his previous 10 starts, pitching seven or more innings in each one. But he stumbled Wednesday as he struggled with his command, allowing five hits, three runs and four walks in five innings.
He needed 34 pitches to escape the first inning after he loaded the bases with a single and a pair of walks. He loaded the bases with one out in the fourth with a single, hit batter and walk before Donovan Solano singled to right field to score Casey McGehee to make it 1-0. Hamels allowed two more runs in the fifth to hand the Marlins a three-run lead.
It would be plenty for the Marlins.
Hamels probably knew that. He entered the night 120th out of 132 pitchers in baseball with a 3.59 run support average over the past two seasons.
It is why the Phillies are just 5-6 in his last 11 starts, and Hamels is just 2-3 during that span.
Hamels has said the right things recently, when asked about the upcoming Trade Deadline. He certainly would have value if the Phillies tried to trade him, although he has $96 million remaining on his contract following the season and a limited no-trade clause, which could be obstacles.
Because of that, he could be one of the last veterans standing at the end of the month.
"It's kind of a tough situation," said Hamels, when asked if he can picture himself in a losing situation the next couple of years. "I think it's more in their hands and the decisions they make. All I can do is be accountable for what I do on the field and prepare. ... It definitely wears on you.
"You just have to try to battle through. It just hasn't shown in the last year and a half. And you don't know when it will show. Everyone just has to take care of business the best they know how and try to be accountable."
Asked if the Trade Deadline is on his mind, Hamels said, "I think I understand where I stand. I do, I want to be here. ... I try to stay out of that as much as possible and just do what I do."
The Phillies have actually pitched pretty well this season. The offense is an entirely different matter. The Phillies had runners on second and third with no outs in the first, but did not score. Marlins right-hander Tom Koehler retired 15 consecutive batters following Jimmy Rollins' first-inning single, when he walked Tony Gwynn Jr. and allowed a single to Ben Revere to start the sixth.
But once again the Phillies could not score.
"Man, going all the way back to the first inning as far as setting the tone on the offensive side of things, second and third with no outs," Sandberg said. "I mean, who knows? Maybe there is an effect there on Cole's first inning. You never know. Make two outs and get two runs. Maybe it's a different tone."
"I don't think that's the case," Hamels said. "I've dealt with that for a while."
And it is hard to see the struggles turning around anytime soon.
"I think you sense it," Hamels said. "Anyone who wants to compete at the highest level wants to win. You know what category of players it takes. The style of baseball it takes to win. You can't keep trying to scratch by. Especially the reason why we won -- we pitched, but at the same time, we put up tons of runs. And so, we're not blind to it. It's not happening. In the ballpark that we play at, it's not for a bunt-and-base-hit type of team, it's home runs. You've got to hit the home runs."
Home runs are in short supply. So are wins, as the Deadline gets closer.
Todd Zolecki is a reporter for MLB.com. This story was not subject to the approval of Major League Baseball or its clubs.