Offense erupts, but Workman, bullpen falter in loss
Betts belts first career HR; righty gives up six runs over four innings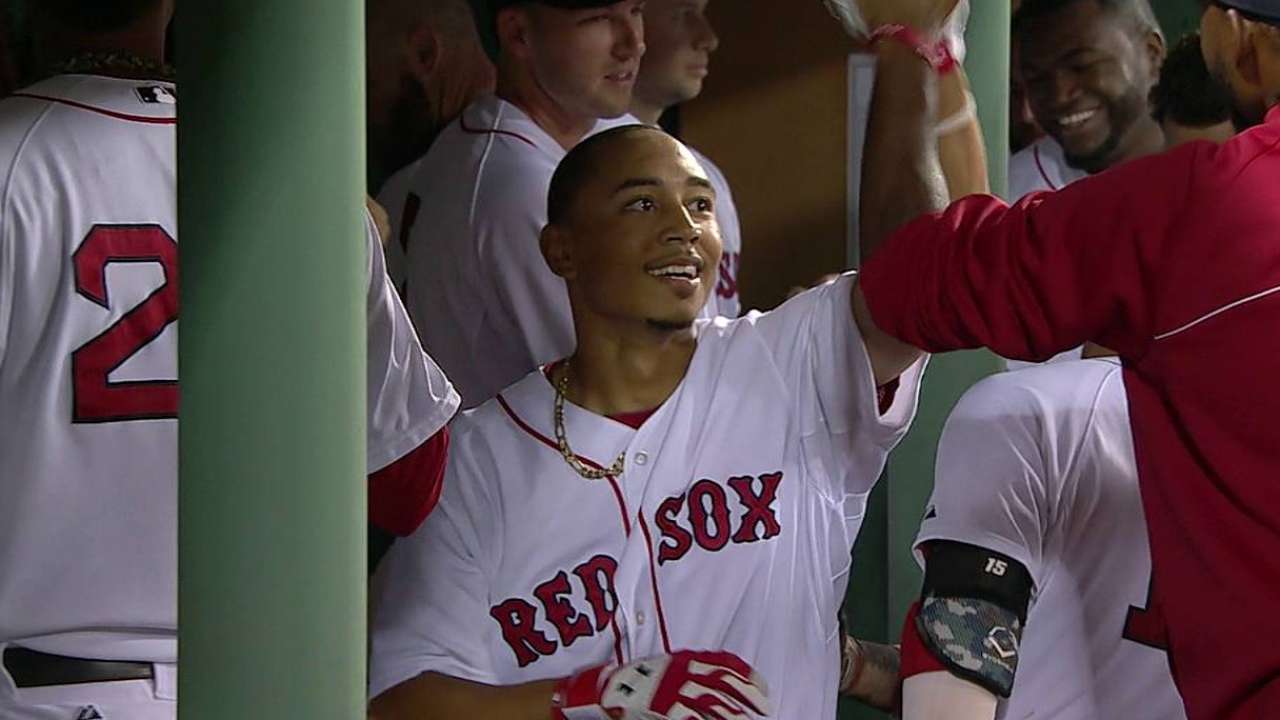 BOSTON -- It was a sticky summer night, one suited for the type of offensive outburst that has been sorely lacking for the Red Sox this season.
So it just figures that when the bats put it into high gear, the pitching staff had a rare off-night in a 16-9 loss to the Cubs on Wednesday night at Fenway Park.
This was not the way the Red Sox were looking to start a 10-game homestand, getting swept by the Cubs.
As a team, the 38-47 Red Sox are struggling, and they are nine games under .500 for the first time since May 25.
Perhaps Thursday's off-day will come at a good time, giving the club a chance to regroup heading into a July 4 matinee against the Orioles.
"Bigger picture is, we're still confident in our guys," said Red Sox manager John Farrell. "This is a one-game situation where from the mound, it got away from us. Yet at the same time, we still have confidence in the guys in our clubhouse. We feel like we do, and have done, a very good job overall from the mound.
"So from a bigger picture aspect, I think there's very good pitching and defense inside our building right now. And yet we've got to continue to look to lengthen out our lineup."
Brandon Workman helped the Cubs lengthen out their lineup, producing his first subpar start of the season. The righty was tagged for five hits and six runs over four innings, and the offense never could quite battle all the way back.
"I just wasn't locating the fastball very well at all tonight," said Workman. "My pitches were up high. I walked a couple guys in the first inning. I left some balls up over the plate they hit well. I just wasn't sharp tonight."
The highlight of the night for the Red Sox was Mookie Betts hitting his first career homer, a three-run shot into the Monster Seats in the fifth. It was the second hit in the young career of Betts, and first at Fenway.
There was no home-run trot for Betts. Instead, it was a sprint.
"I don't think I'm a home run hitter, so anytime I hit it, I'm going to take off sprinting," said Betts. "When I touched home plate, I think I startled A.J. [Pierzynski] because as soon as I turned around, he was right there. He started laughing about that."
And in the strangest coincidence of the night, the fan who caught the home run by Betts is someone he played against during their high school days in Tennessee.
"He said as soon as he got it, he wanted to find a way to get it to me," Betts said. "I really appreciated that. It was really weird."
David Ortiz added two doubles, the first of which was the 1,000th extra-base hit of his career. Big Papi is the 36th player in MLB history to reach that mark, and the only active left-handed hitter to have a four-digit total in that column.
The night was bad for Workman from the start. He opened the game by walking Chris Coghlan , then gave up a two-run homer to left by Justin Ruggiano. Anthony Rizzo walked, stole second and scored on a single up the middle by Starlin Castro. Just like that, the Red Sox were down 3-0 before even taking a swing.
Boston made some noise in the third. Dustin Pedroia led off with a double and Ortiz ripped a ground-rule double to right to set up runners on second and third with nobody out. Jonny Gomes got a run home on a sacrifice fly to center.
Again, Workman faltered in the fourth. A leadoff walk to Welington Castillo got the inning off to an inauspicious start. Mike Olt hammered a two-run homer to center. Darwin Barney came up next and smashed a triple to center. Coglan's sacrifice fly made it a 6-1 game.
"Yeah, breaking ball that stayed up to Olt for the two-run homer, and it was just inconsistency with locating in the bottom of the zone. On an unforgiving night, things got away from us," said Farrell.
Once Workman departed, the bullpen took a pretty sound beating. Felix Doubront was tagged for four hits and three runs over 1 1/3 innings. The slumping Craig Breslow gave up four hits and four runs over two-thirds of an inning.
And trusted setup man Junichi Tazawa, whom Farrell really didn't want to have to use in a mopup role, gave up three hits and two runs while recording just one out.
"I mean, I didn't really set a good tone coming out," said Workman. "Three runs in the first gets them in a swinging mindset. They start feeling good about themselves. I got their bats warmed up for the bullpen and put some guys in bad spots."
The Red Sox will try to start the quest of getting back on track Friday.
"It comes at a good time," Farrell said of Thursday's off-day. "The quicker we can put this one tonight behind us, the better."
Ian Browne is a reporter for MLB.com. Read his blog, Brownie Points, and follow him on Twitter @IanMBrowne. This story was not subject to the approval of Major League Baseball or its clubs.