Bucs keep D-backs at bay, continue steady ascent
Morton, Polanco propel Pittsburgh, which jumps Reds in NL Central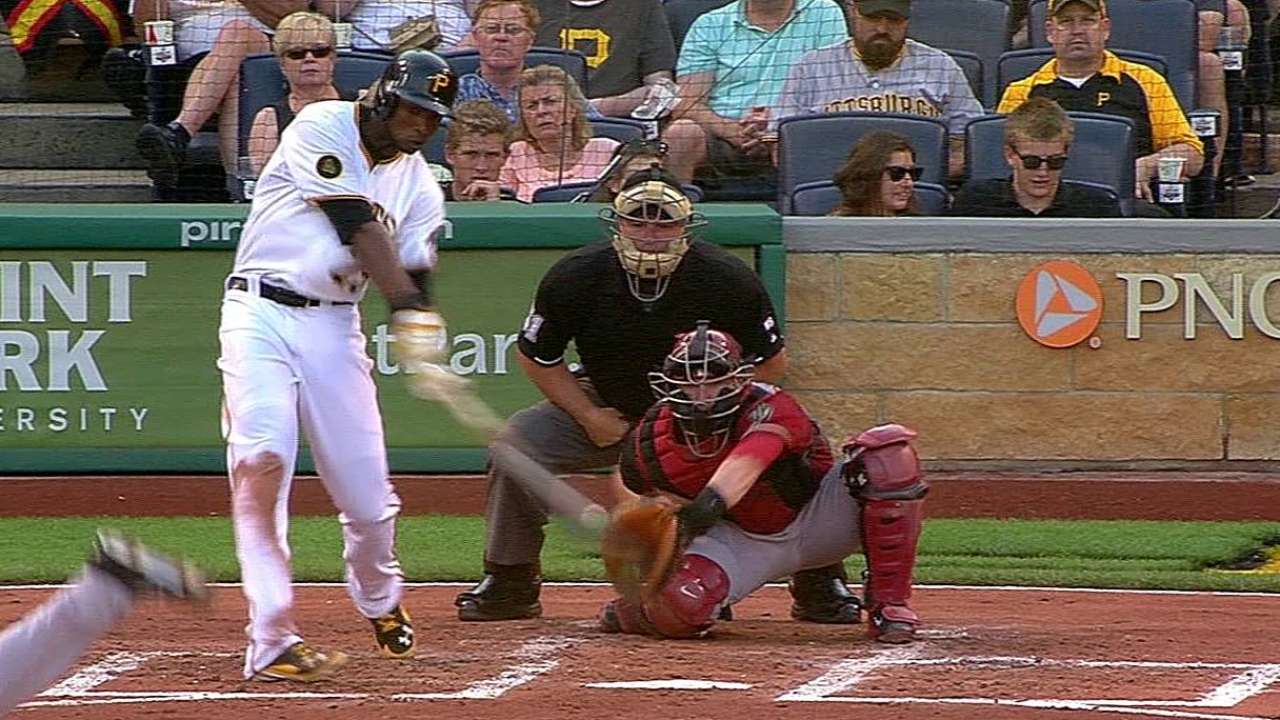 PITTSBURGH -- They started out in a hole, a deep one. Now, the Pirates are on a hill -- a small one.
Eight games under .500 six weeks ago, the Bucs (44-40) climbed to a season-peak of four games above the break-even mark with Wednesday's 5-1 victory over the D-backs at PNC Park.
With Charlie Morton working six innings and Gregory Polanco poking a two-run homer for the winning runs, the Pirates also supplanted Cincinnati for third place in the National League Central.
All of which Clint Hurdle preferred if you kept to yourself. The Bucs manager wasn't interested.
"We dug a hole," he said, "and we've been digging out. That's all we're doing now. We're not going to measure ourselves against other teams. We're digging out; nothing's changed. What's at stake, is how we play. And we're playing better baseball."
"Right now," noted second baseman Neil Walker, "our confidence is pretty high."
It shows. A night after the Pirates ambushed the D-backs with a ninth-inning rally after eight innings of nothing, the shoe could've been on the other foot. The Bucs were the ones to take a slim two-run lead into the eighth, but there was never a sense that they were in peril.
The Bucs were winners both nights, and the one thing both had in common was Polanco, whose pinch-hit single had furthered the Tuesday rally.
Polanco led off Wednesday's game with a double, wound up on third when his speed rattled right fielder Gerardo Parra into a fielding error and scored as Starling Marte grounded out.
The next inning, Polanco hit a similar drive -- only, a few feet higher, over The Clemente Wall into the seats for a two-run homer, his third. To do so, he had to fight off worms for a Chase Anderson breaking pitch.
"It was a curveball that I was trying to get down in the dirt, probably four or five inches off the ground," said Anderson, the rookie right-hander, "and the guy just put a good swing on it and hit it out."
"It's a good thing I have long arms," Polanco said, smiling. "I just tried to stay with the ball and put a good swing on it."
"It's fun to watch him," Hurdle said. "We're getting to see what a lot of our development people have seen in the Minor Leagues. We're getting to see it on a bigger stage. He's got skills."
The Pirates thus continued to take full advantage of a rare opportunity, five consecutive series against the five teams with the Major League's poorest records. With four to go (the finale against Arizona and a weekend series withe Phillies), the Bucs are 9-3 in this stretch.
The bottom-feeding has enabled the Pirates to creep up on the Brewers -- now six games behind, they have not been closer since trailing by five lengths on April 19. The Bucs' current three-game winning streak has coincided with Milwaukee's three straight losses -- marking the first time since May 6-9 that Pittsburgh has made up ground three days in a row.
Polanco has had a large role in three of those nine wins, all of them on this ongoing homestand. Prior to Wednesday night, his three-run homer spelled the difference in the 5-2 win over the Mets last Thursday, and his pinch-hit single was a centerpiece of the three-run ninth-inning rally Tuesday for a 3-2 win over the D-backs.
"It's hard to get him out," Anderson said. "We've got to figure out a way to do it, though."
Before the Bucs added on a pair of eighth-inning runs on Marte's RBI double and Andrew McCutchen's bloop run-scoring single, Morton protected the slim lead through six innings to collect his fifth win. He allowed five hits, but only two to D-backs not named Paul Goldschmidt, with three walks and five strikeouts.
Morton has been digging out of his own hole. He started off 0-6 and now is 5-9. Yet the thinking man's right-hander knows the perils of taking stats at face value. He will argue that at times that 0-6 pitcher, held hostage by poor run support, was better than the 5-3 pitcher since.
Certainly better than last night's version.
"That's the nature of the game. You might not pitch well, and the results might be good -- and vice versa," Morton said. "That was tonight. Yeah, it's nice that we're winning. I can come in here not satisfied with my outing -- which I'm not -- but it's great that we won and I got credit for the win. It was serviceable."
Apology not accepted.
Tom Singer is a reporter for MLB.com and writes an MLBlog Change for a Nickel. He can also be found on Twitter @Tom_Singer. This story was not subject to the approval of Major League Baseball or its clubs.