Anderson sinks deeper into funk as D-backs fall
Righty allows eight hits in 3 2/3 innings, drops fourth straight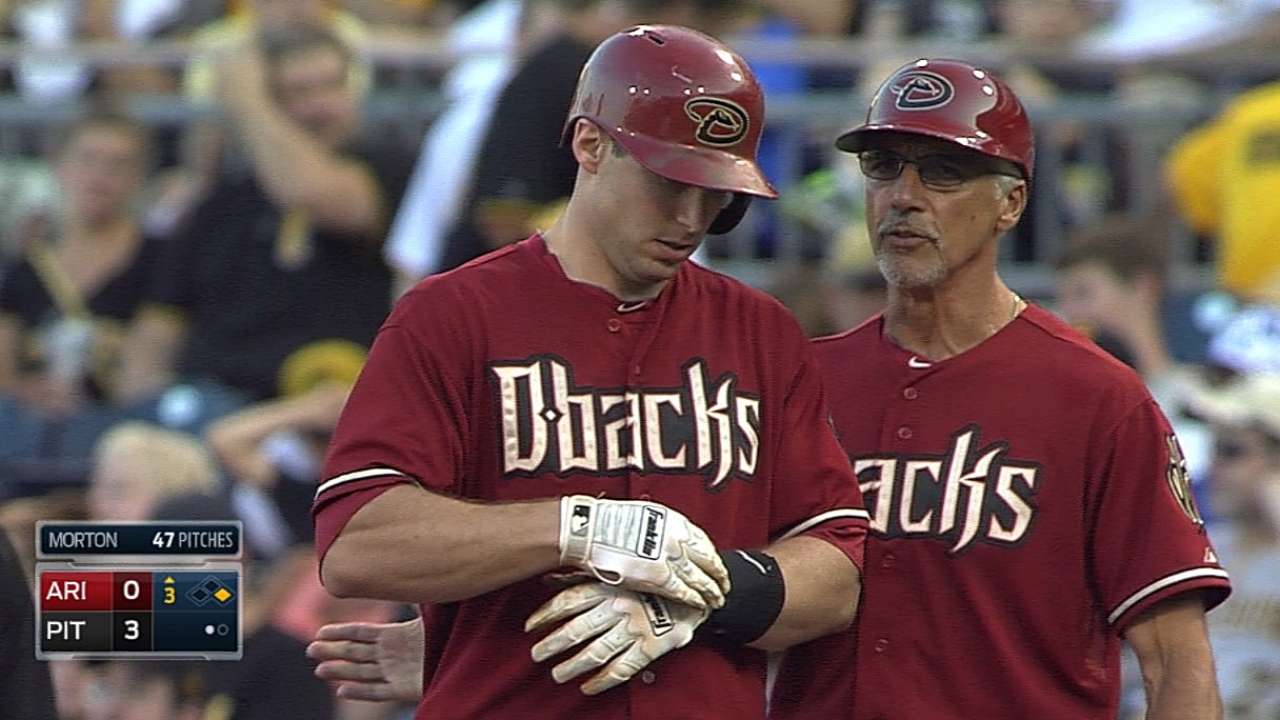 PITTSBURGH -- Heading into his Wednesday night outing, D-backs rookie Chase Anderson was hoping to snap his three-start losing streak and pitch deep into the ballgame.
Neither happened, though, as the Pirates jumped on Anderson early en route to a 5-1 win over the D-backs at PNC Park.
"Just fastball command once again," Anderson said of his issue Wednesday. "The first pitch of the game was a sinker away and from then on, I didn't have a feel for it. My off-speed pitches were pretty good, except for that one pitch hit for a home run. The leadoff double I didn't get it in far enough, I wasn't able to establish the inside part of the plate tonight. I didn't do a good job of putting myself in counts to be successful. That game's on me, for sure."
The loss was the third in a row for the D-backs, who will try to avoid a sweep when the three-game series concludes Thursday night.
If they want to do that, they'll need to find a way to jumpstart an offense that has scored just 10 runs over the last six games.
"You've got to give their guys some credit," first baseman Paul Goldschmidt said. "They've made some good pitches and got some good arms, but you've got to find a way to score more than one run. It's not a one-night thing; this last week or 10 days we haven't every day been able to put up the type of runs we'd like to put up. Hopefully we can start tomorrow."
Anderson won his first five big league starts, but is 0-4 since.
The Pirates took a 1-0 lead in the first when Gregory Polanco led off with a double off the wall and went to third when right fielder Gerardo Parra had trouble picking the ball up on the carom.
Starling Marte then grounded out to short to bring home Polanco.
It was Polanco who did the damage in the second inning as well when he smacked a 3-1 pitch into the bleachers in right for a two-run homer and a 3-0 Pittsburgh lead.
"It was a curveball that I was trying to get down in the dirt," Anderson said of the home run. "It was probably four or five inches off the ground and the guy just put a good swing on it and hit it out. It's a testament to him. It's a good swing. It was a decent pitch -- I wouldn't say a good pitch or a bad pitch, but kind of right in his wheelhouse. I should have tried to bury that pitch. Bad location."
Though he only surrendered three runs, Anderson allowed 11 baserunners and the Pirates put together some long at-bats to drive up his pitch count. Anderson was lifted with the bases loaded and two out in the fourth having thrown 88 pitches.
In trying too hard to make the perfect pitch, Anderson said his front shoulder has been flying open, causing him to lose command.
"I've been working in the bullpens and doing pretty good in between [starts] but I've got to carry it into games," Anderson said. "You don't last in this game very long if you don't go deep in the game as a starting pitcher. I've got to get better for sure."
Charlie Morton (5-9) managed to keep the D-backs in check for most of his six-inning stint.
Arizona's lone run against him came in the third when Goldschmidt singled with one out and came around to score on Aaron Hill's bloop single to right.
Goldschmidt was a rare bright spot for the offense going 3-for-4 with a double.
"He's a really good hitter," Pirates manager Clint Hurdle said. "We probably haven't hit the spots we like to, but this guy can hit. You keep the people off base in front of him, go from there."
Steve Gilbert is a reporter for MLB.com. Read his blog, Inside the D-backs, and follow him on Twitter @SteveGilbertMLB. This story was not subject to the approval of Major League Baseball or its clubs.