Indians rally in eighth, then hold on in ninth vs. LA
Aviles delivers go-ahead hit as Tribe finishes 4-4 road trip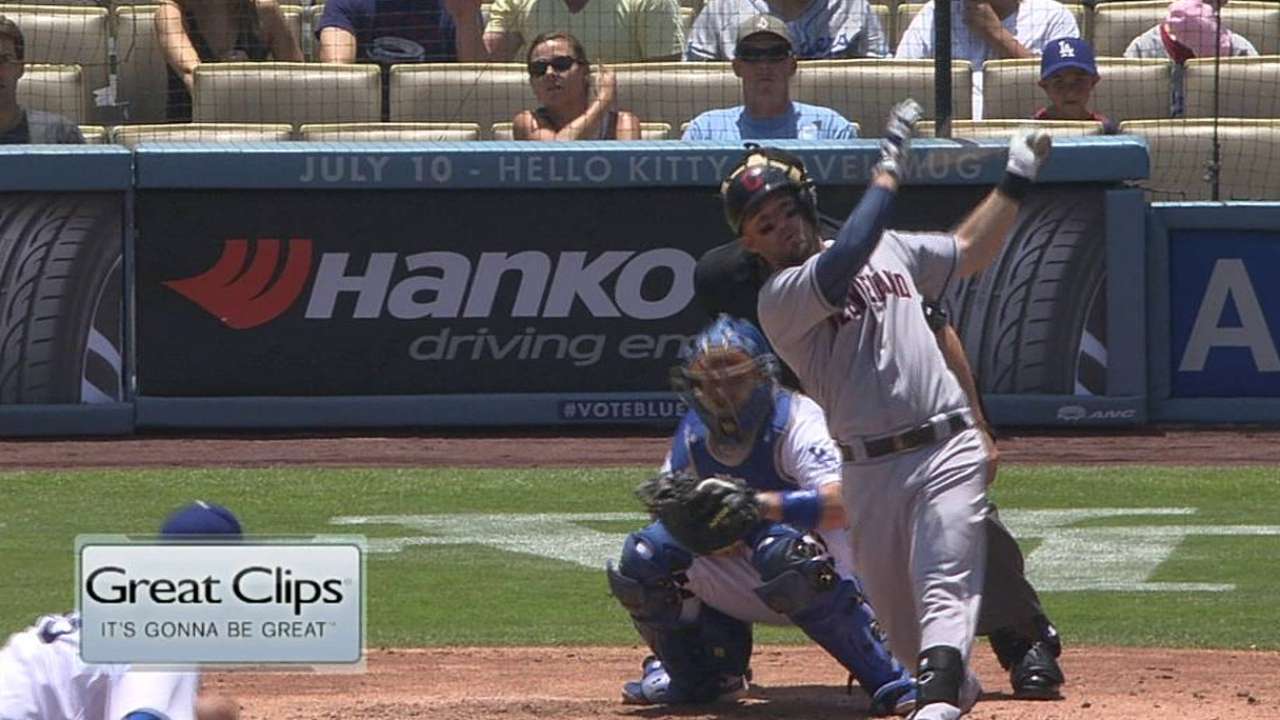 LOS ANGELES -- This was hardly a typical road trip for the Indians. Given the way things have gone over the past 10 days, Cleveland was thrilled to escape Dodger Stadium on Wednesday with a comeback win and a series victory.
The Tribe endured a 14-inning loss in Arizona. The Indians received a near-perfect game from starter Josh Tomlin in Seattle. Cleveland became the third American League team in the past century to suffer consecutive one-hit losses. And the club also turned a triple play with the help of two instant-replay challenges.
"It was definitely interesting to say the least," Indians utility man Mike Aviles said after Wednesday's 5-4 win over the Dodgers. "It was definitely an interesting road trip for all of us."
Aviles provided the decisive blow in the eighth inning on Wednesday, delivering a two-run single with the bases loaded to cap off a three-run outburst against Dodgers reliever Brian Wilson. That helped Cleveland (41-43) wrap up a 4-4 showing across its eight-game, 10-day swing through Arizona, Seattle and Los Angeles.
Starter Trevor Bauer gave the Tribe a decent effort -- one only marred by a three-run hiccup in the fifth inning. Still, the right-hander pitched into the sixth and put the Indians in a position to rally after they did little against lefty Hyun-Jin Ryu over the first seven frames. Contributions from some welcomed sources in the lineup, combined with a four-out save by Cody Allen, did the trick.
Indians manager Terry Francona expected that the journey back home to Cleveland would be a good one.
"What'd we go, 4-4? And we were gone a month," Francona quipped. "It seems like it's been a long trip. That's a good way to end it. We've got a long flight home, but we've got a day off [Thursday]. We won a tough game. That's good. That was a good game to win."
Francona constantly preaches about the importance of having contributions from up and down his lineup. Cleveland's offense is not the kind that can rely on only a few players carrying the load, and Wednesday's victory showed once again what the manager means.
Ryan Raburn, David Murphy and Aviles -- who have each dealt with offensive woes over the past month -- played key roles in helping Cleveland to the win column.
"That's the kind of team we have to be," Francona said. "We have to have balance. We have to keep innings going. And, when we do, that gives us our best chance for success."
Ryu stifled Cleveland's bats early on, limiting the Tribe to a two-run burst in the fourth. Those runs came courtesy of a home run from Raburn, who has been searching for last season's power stroke for three months. The blast into the left-field bleachers marked only his second homer of the year.
"It always feels good," Raburn said. "Especially the way the year's gone, it's twice as good as it normally is. I always say, any time I can help the ballclub, it doesn't matter what I'm doing. I'm just thankful I was able to get a nice little home run there."
In the Indians' final push against Wilson, Murphy came off the bench as a pinch-hitter with runners on first and second base. Murphy collected three hits in Tuesday's win after being mired in a 1-for-44 slump in the batter's box. This time around, the veteran outfielder slashed a pitch to left for a run-scoring single, pulling the game into a 3-3 deadlock.
On the play, left fielder Matt Kemp threw wildly to third base, where no one was covering the bag. That allowed Murphy and Carlos Santana to move up to second and third. After an intentional walk to Lonnie Chisenhall, Aviles made the Dodgers pay by pushing a pitch into right for a two-run single that put the Indians ahead for good.
"You're just trying to get something to fall in somewhere or at least get one run," Aviles said. "I definitely have nothing but faith in our bullpen. I knew if we got one run there, we were going to be OK. It worked out well."
Ryu not only had a solid day on the mound squandered, but the pitcher also helped his own cause with a pair of hits.
It marked the second straight game in which Los Angeles' starting pitcher had two hits against the Tribe. On Tuesday, Josh Beckett had a pair of doubles against Cleveland, becoming the first pitcher to have two extra-base hits in a game against the Indians since Interleague Play began. On Wednesday, Ryu's second hit ignited a rally.
In the fifth inning, Bauer surrendered a two-out RBI double to Ryu, who used an awkward swing to slice the pitch down the left-field line. Bauer followed with a pair of walks to load the bases for Andre Ethier. The center fielder drove a pitch up the middle for a two-run single that put the Tribe in a 3-2 hole.
That was all the damage Bauer allowed in his 5 2/3 innings, during which he struck out two, walked a pair and scattered six hits en route to a no-decision. Punctuated by Allen's eighth save of the season, the Tribe's bullpen limited the damage for the remainder of the afternoon.
Bauer agreed that the win was a great way to end Cleveland's wild road trip.
"We came out of it pretty well, actually," Bauer said. "Obviously, we had a couple rough ones in a row -- getting one-hit twice -- but to come back and win the last two games of the series, I think, was big for us. We finished the road trip .500 -- that's big.
"If we can play .500 on the road and take care of business at home, we can start moving in the direction that we want to go."
Jordan Bastian is a reporter for MLB.com. Read his blog, Major League Bastian, and follow him on Twitter @MLBastian. This story was not subject to the approval of Major League Baseball or its clubs.