Ryu strong, but Dodgers can't close out win
Lefty allows two runs and has two hits; Tribe scores three in eighth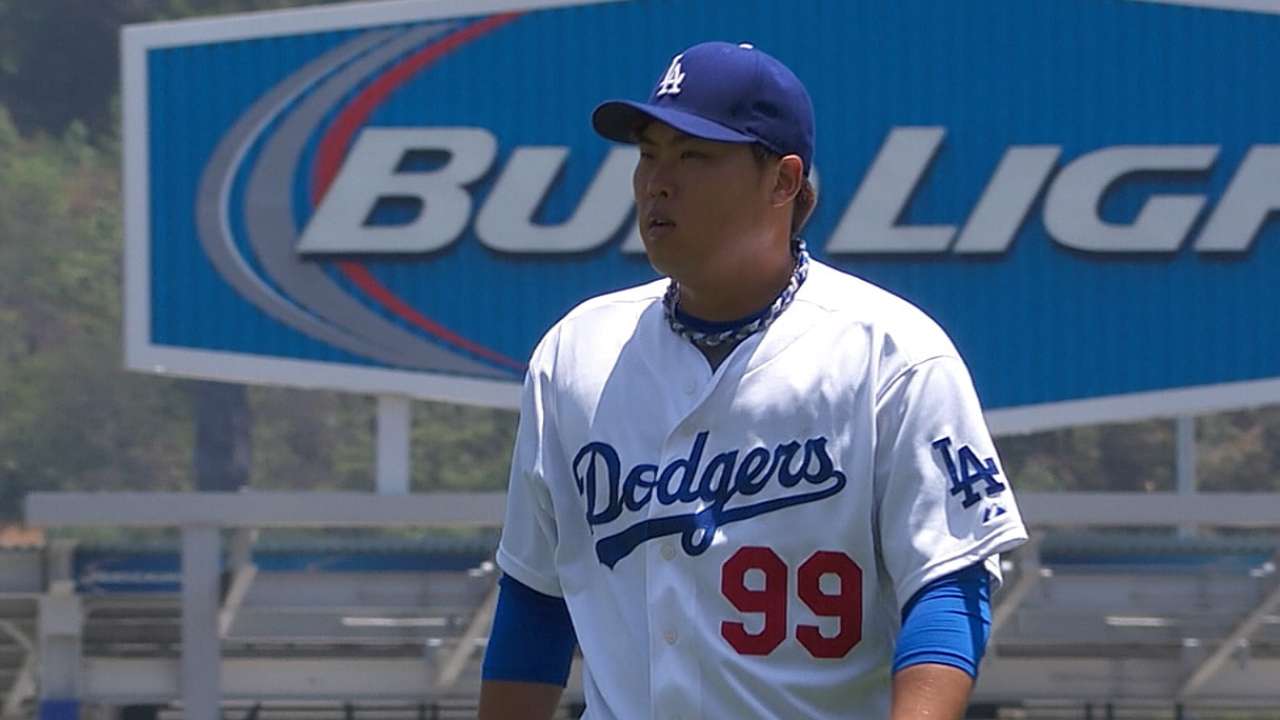 LOS ANGELES -- There wasn't much more Hyun-Jin Ryu could've done.
With a thin lineup behind him, the left-hander allowed just two runs across seven strong innings, picked up two of the Dodgers' first four hits -- including an RBI double that drove in the club's first run -- and handed the keys to the bullpen with a one-run lead, in line for his 10th win of the season.
But Wednesday's game fell apart as soon as Ryu left the stage.
Right-hander Brian Wilson imploded in the top of the eighth inning, walking three batters (one intentional) and giving up a game-tying single to pinch-hitter David Murphy and a go-ahead two-run single to Mike Aviles as the Dodgers lost, 5-4, to the Indians at Dodger Stadium.
Los Angeles was shorthanded to begin with. In a day game after a night game, manager Don Mattingly looked to rest most of his regulars, some of whom have been nursing injuries. There was no Adrian Gonzalez, no Juan Uribe, no Hanley Ramirez and no Yasiel Puig -- at least at the start. They would all pinch-hit in the late innings.
"It was a tough game," Mattingly said. "It was one of those days where we knew we had to get people off their feet today, and so we kind of went with some guys who weren't playing every day."
The Indians dealt the game's first blow in the top of the fourth, a two-run home run to left field off the bat of right fielder Ryan Raburn, who turned on a 90-mph fastball that Ryu left over the middle of the plate.
That was Ryu's lone blemish of the day. He allowed seven hits, walked none and struck out eight in seven innings.
"Overall, everything was good," Ryu said through an interpreter. "Pitch count was good, control was good. Strikeout count was up there.
"Besides the one home run I think I was pretty comfortable across the seven innings."
Ryu would help make up for that one home run in the bottom half of the fifth.
With two outs and Miguel Rojas on first, Ryu doubled to left field to plate the Dodgers' first run and jumpstart a rally. After the Dodgers stranded the bases loaded three times in Tuesday night's loss, three-hole hitter Andre Ethier came through in the fifth, singling up the middle to drive in two runs and give the club a 3-2 lead.
Los Angeles scored three runs on six hits in 5 2/3 innings against Indians right-hander Trevor Bauer, but his offense would bail him out with the eighth-inning rally.
Right fielder Scott Van Slyke -- who saved a run with an inning-ending outfield assist at home in the fifth -- tacked on the Dodgers' fourth run with a solo home run in the bottom of the eighth. The Dodgers had the potential go-ahead run on second in the ninth, but Indians closer Cody Allen got Matt Kemp on a flyout to end the game.
It was the second straight loss for the Dodgers after they had won three games in a row and had claimed sole possession of first place in the National League West for the first time since April 24. But there's little anxiety in their clubhouse.
"We're fine. I don't feel any frustration," Mattingly said. "We battled back today. We got the lead, we give it up, battled back again, have the winning run on second base. Obviously, you don't want to not win, but I'm not frustrated with our effort at all."
Ethier echoed his manager.
"Three weeks ago you guys said we were out of it. We're one game out right now," he said. "Do you think we're going to be down?"
Though it didn't help the Dodgers in the standings, Wednesday's game did provide the benefit of extra rest for the team's regulars. Maybe that rest robbed an effective Ryu of a win, but the left-hander took Mattingly's decision in stride.
"I absolutely agree with everything," he said. "Yesterday was a late game. Today is an extra early game, and I understand position players have to get a break and rest and heal. It would've been wonderful to get a win today, obviously, but we didn't.
"It's not the end of the world. We still have a long season to go."
Michael Lananna is an associate reporter for MLB.com. This story was not subject to the approval of Major League Baseball or its clubs.