Teheran leads Braves to seventh straight win
Johnson's three RBIs in first inning are enough to sweep Mets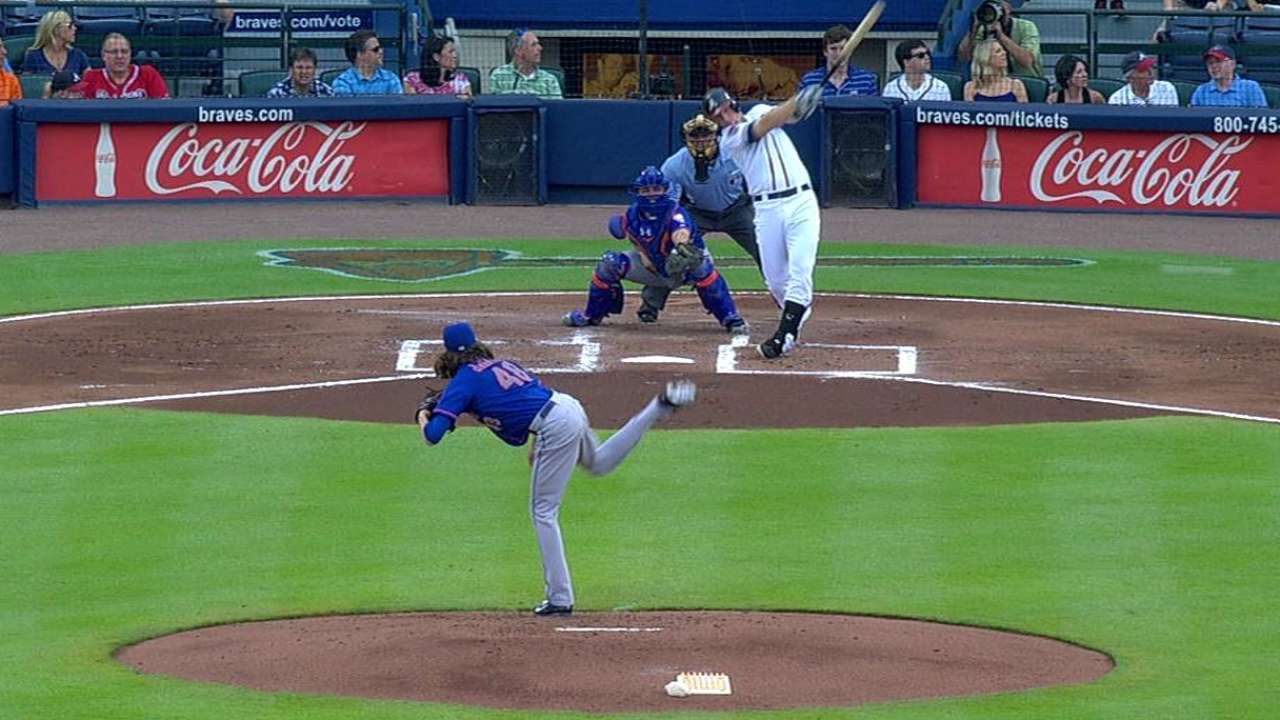 ATLANTA -- When the Braves were swept at home by the Phillies two weeks ago, it appeared they were a sinking unit. But since then, they have taken advantage of a friendly portion of their schedule and started to look more like they did when they cruised through most of April.
Consequently, the Braves have routinely felt the kind of satisfaction that surrounded them when they completed a three-game sweep of the Mets with a 3-1 win on Wednesday night. Julio Teheran delivered seven strong innings that were backed by the three-run double Chris Johnson recorded in the first inning.
"We've been doing a great job with the little things," Teheran said after bolstering his All-Star credentials. "That is something that is getting good for the team. I think we need to keep doing that and we'll be fine."
The Braves have won a season-high seven straight games and nine of the 10 games they've played since splitting a four-game series with the second-place Nationals. During this 10-game stretch, they turned a two-game deficit into a half-game lead in the National League East.
Johnson did not bite when it was suggested that the team hit rock bottom when it was swept by the Phillies on July 18. But the veteran third baseman said the 11-3 record that has followed is a sign that this is a club that refuses to quit.
"Maybe not rock bottom, but we were definitely upset," Johnson said. "It was definitely a quiet bus ride when we left here, and it was a bitter taste in our mouth and we're a team that doesn't really enjoy getting beat like that and getting swept, especially at home in front of our home crowd, but our crowd's been great this homestand, and we've turned it around, and we're playing good baseball."
Teheran experienced little trouble as he surrendered just four hits and one run during his determined 110-pitch effort. He lowered his ERA to 2.29, good for third in the NL. While he seems destined to earn his first All-Star selection, he likely will not pitch in the game because he's on schedule to start the final game before the break, which would make him ineligible to pitch in the game.
"He knows what he's doing," Mets manager Terry Collins said of Tejeran. "That's why he's been so successful. He pitches to both parts of the plate and keeps you off balance. He's tough to hit and you can't let him get a lead. We didn't have much of an opportunity."
Teheran was perfect through the first three innings and then incurred some damage both to his pitching line and body during the fourth inning.
Eric Young Jr. singled to begin the fourth and then advanced to third with a stolen base and a wild pitch. After Curtis Granderson scored Young with a sacrifice fly, Eric Campbell followed with a one-hop comebacker that struck Teheran's leg. After being briefly examined on the mound, the tough hurler remained in the game and fought off some of the stiffness that developed as the night progressed.
"At first, it was burning, but I wanted to stay in the game so bad," Teheran said . "I wanted to keep pitching and battle. I just tried to keep the same focus in the game and not think about the ball that hit me."
Teheran surrendered two of his four hits to begin the sixth inning. But the potential damage was minimized when he caught Young leaning too far off first base. This was the second pickoff off the season for the Braves hurler, who gained a lot of respect from opponents while notching a Major League-high eight pickoffs last year.
"I thought it was going to be one of those nights when we had to get him out of there early, but he battled, gave us seven strong innings," Braves manager Fredi Gonzalez said. "The last two innings, it was gut check."
The Braves did not seem bothered by the fact this was their first look at Mets starter Jacob deGrom. They loaded the bases with none out in the first inning and then saw Johnson take advantage of the opportunity when he snuck a two-run double past Campbell at third base.
Johnson's game-winner served as the only hit the Braves recorded in 10 at-bats with runners in scoring position. But while scoring each of their final eight runs of this series with two outs, the Braves provided further indication that they are proving to be a little more resilient than they were just two weeks ago.
"Just because it's two outs doesn't mean that we can't get some runs on the board, and there's really no quit in this team, so I'm not really surprised by that," Johnson said.
Mark Bowman is a reporter for MLB.com. This story was not subject to the approval of Major League Baseball or its clubs.