Rough start sends Mets reeling in Atlanta
deGrom's three-run first is costly as New York wraps 1-6 trip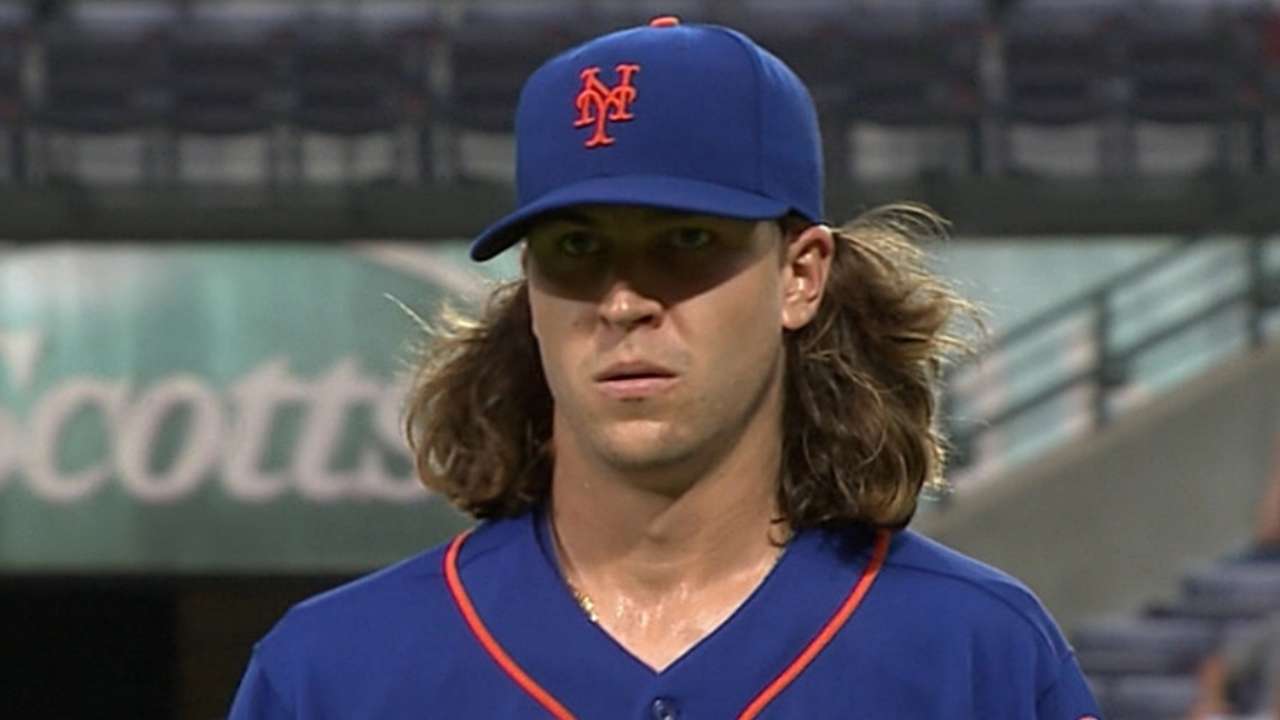 ATLANTA -- The Mets left Atlanta late Wednesday after three disappointing nights, with absolutely nothing to show for them. They lost all three of their games at Turner Field, including a 3-1 defeat earlier in the evening.
Heading into this series against the division-leading Braves, the Mets were simply looking to win two of three in their continued flirtation with .500 -- or at least their flirtation with something close to it. Instead, they went into Thursday's off-day a season-worst 11 games below the break-even mark, a season-high 10 games out of first place and at a loss for answers.
"We want to win baseball games," second baseman Daniel Murphy said. "It's no fun losing."
All the necessary damage in the series finale occurred in the first inning, when rookie starter Jacob deGrom gave up a single and two walks before recording an out. Though deGrom recovered to retire the next two batters without allowing a run, he couldn't nail down the inning's final out before Chris Johnson ripped a bases-clearing double past third baseman Eric Campbell.
"They did a really good job before I came up that at-bat, seeing a lot of pitches from [deGrom]," Johnson said. "We haven't seen him before, so it was nice to see some pitches, see all of what he had, and then I was able to get a ball out over the plate and luckily got it down the line."
Johnson's hit gave the Braves 10 runs scored with two outs in the series, compared to zero for the Mets.
"That was pretty frustrating," deGrom said. "That first inning got me."
deGrom settled down to deliver four scoreless innings after that, striking out eight without walking another batter, and a quartet of relievers also kept Atlanta off the board. But the Mets could not mount a comeback against Braves starter Julio Teheran, who allowed one run -- a Curtis Granderson sacrifice fly in the fourth -- over seven innings of four-hit ball. The Mets also went quietly against Atlanta's bullpen, which delivered 9 2/3 scoreless innings over the three-game series.
"I thought it was going to be one of those nights when we had to get him out of there early," Braves manager Fredi Gonzalez said of Teheran, "but he battled, gave us seven strong innings. The last two innings, it was gut check. He got himself into trouble and he made some great pitches. We gave him three runs early in the game. He made it hold up."
With that, the Mets finished their road trip at 1-6 and flew back to New York, where a 10-game homestand against the Rangers, Braves and Marlins awaited them. Already, talk around the team has shifted to the non-waiver Trade Deadline, as the Mets' recent slide has many pundits expecting them to be in sell mode. While a full-out fire sale may not be in the offing, the Mets could make some moves if they don't start winning soon.
Those searching for solace can look at the team's run differential -- a respectable minus-six -- as evidence that the Mets are not hurting as badly as their record might indicate. Mets general manager Sandy Alderson discussed his confidence in the team earlier in the day. But moral victories do not often result in playoff berths, and the club's chances at one of those seem as slim as ever.
Thanks to the Mets' pitching, the vast majority of their games this season have been close. But because of their below-average situational hitting, their record in those games -- particularly one-run games, in which they are 10-20 -- is poor.
The Mets should receive a boost Friday, when injured third baseman David Wright is due back to the lineup, and another later this week when starting pitcher Dillon Gee returns. But it risks being too little, too late for a team rapidly falling out of contention.
"We miss David's bat in the lineup, there's no doubt," manager Terry Collins said. "But we competed as good as we can compete. We went out and played hard. You look at tonight, we played a team that's red-hot and we were in every game. We're just not getting the big pitch made or the big hit. It's the same scenario when you're going through what we're going through pretty much nightly."
Anthony DiComo is a reporter for MLB.com. Follow him on Twitter @AnthonyDicomo. This story was not subject to the approval of Major League Baseball or its clubs.