Garcia gives White Sox walk-off victory in damp finale
Ninth-inning single plates winner; Danks strikes out 10 over 7 2/3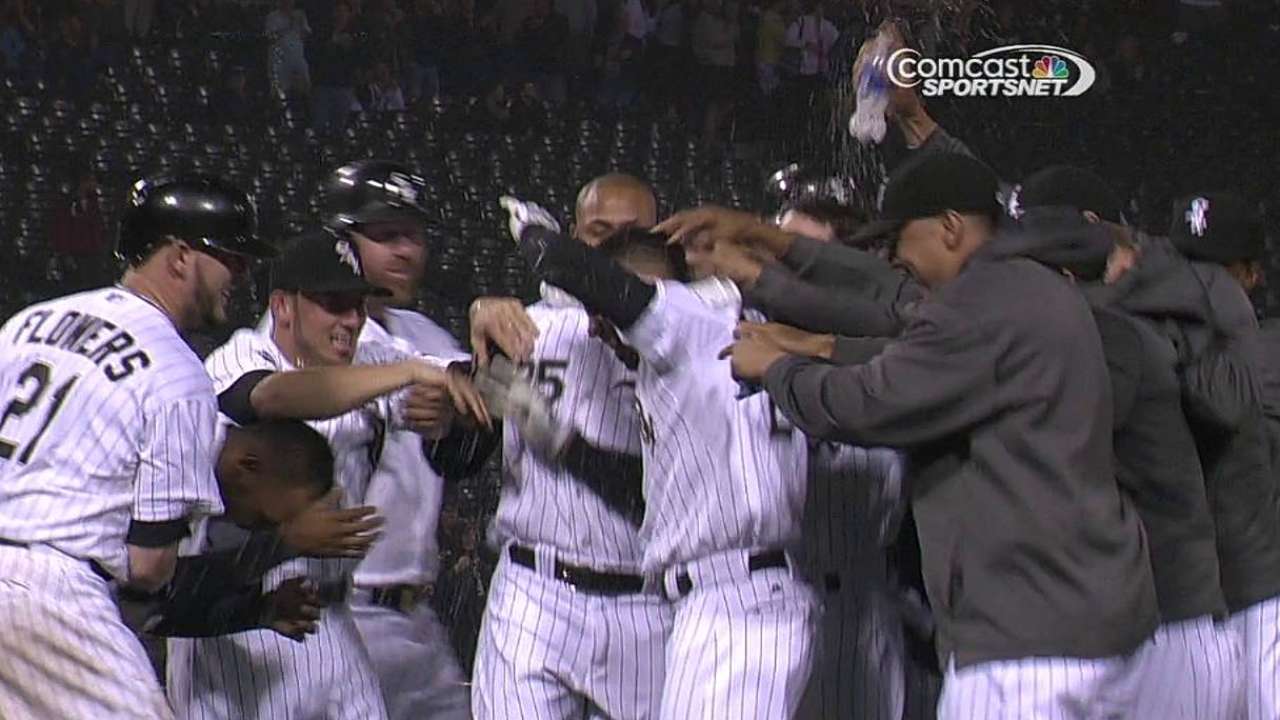 CHICAGO -- White Sox manager Robin Ventura sent an atypical and unsung pinch-hitter to the plate at the most critical stage of the series finale between his team and the Angels on Wednesday night at U.S. Cellular Field. Leury Garcia stepped into the batter's box during a tie game in the ninth with just one hit in his previous 25 plate appearances.
But on a 2-1 fastball, the second-year shortstop lined the swiftest hit of a cold, rainy night that brought home Alejandro De Aza from third to seal a 3-2 victory -- the South Siders' first of the season over the Angels.
"I think he was surprised in that spot to be pinch-hitting," Ventura said. "But he's going to make some contact. … That's a part of the game where you're really looking at contact, the way the field was, the conditions and everything."
Added Garcia: "It's kind of tough when you don't play every day, but you've got to still work and still try to get better every day and be ready for a situation."
With De Aza on third and Conor Gillaspie on first, Ventura noted that a squeeze was certainly on the table, citing the swampy field conditions and sitting with just one out. The Angels, meanwhile, went to a five-man infield.
"You're always going to go after guys, regardless of the situation," Angels pitcher Mike Morin said. "I'm not timid or shy or scared of anyone. ... I was trying to get a ground ball. A lot of my offspeed pitches usually generate fly balls. But I was trying to get a ground ball."
As De Aza raced home, the White Sox dugout energetically emerged to greet the giddy Garcia, and celebrate their seventh walk-off win of the season.
"It's fun," a beaming Garcia said after the game. "Awesome. A lot of fun."
The night was shaping up as another addition to the resurging saga of John Danks, who tied a career high with 10 strikeouts and was on the verge of his fifth win in six starts.
Danks, who recovered from a muddled May, during which he allowed 23 runs and 41 hits while going 1-4 in six starts, looked worthy of a hypothetical Comeback Player of the Month Award after going 4-1 in June with a 3.41 ERA.
But a pair of Angels homers by David Freese in the seventh and Josh Hamilton in the eighth prodded a pitching change to Zach Putnam (3-1), who earned the win with no hits allowed in 1 1/3 innings.
Ventura said he felt confident keeping Danks on the mound despite reaching 107 pitches through the seventh.
"He had gone through that part of the lineup and done pretty well," Ventura said. "You take what you've seen tonight and put it out there. He felt strong, talking to him in between the seventh and eighth, he felt great. So it's not an easy part of the lineup to go through, but the way he was pitching tonight and previously how he had gone through that part of the lineup, you give him a shot at it. I felt that was the best way to go."
Angels starting pitcher Tyler Skaggs, making his first appearance since June 5 after a stint on the disabled list, was the hot hand early. Skaggs was perfect through three innings, but loaded the bases in the span of just 12 pitches in the fourth and allowed the White Sox to pounce with a two-run double by Alexei Ramirez that gave Chicago just its second lead of the series.
Gordon Beckham bounced back from an 0-for-4 outing on Tuesday with a pair of hits, including a double with one on that preceeded Ramirez's RBIs. Beckham would've also had his eighth home run had Hamilton not yanked the ball back into play as it elevated just inches over left-field wall in the first.
"It is what it is," Beckham said. "[Albert] Pujols hit a ball pretty good, too and it didn't go out. Guess it wasn't really carrying to left as it was to right."
Record-setting Jose Abreu continued his historic season by extending his hit streak to 17 games, tying Ramirez for the White Sox season high.
Chicago turns to an off-day Thursday having won four of its last six, and will open a three-game weekend series against the Mariners on Friday.
Daniel Kramer is an associate reporter for MLB.com This story was not subject to the approval of Major League Baseball or its clubs.