Clutch Desmond leads Nats to fifth straight win
Shortstop knocks game-tying RBI single before hitting go-ahead homer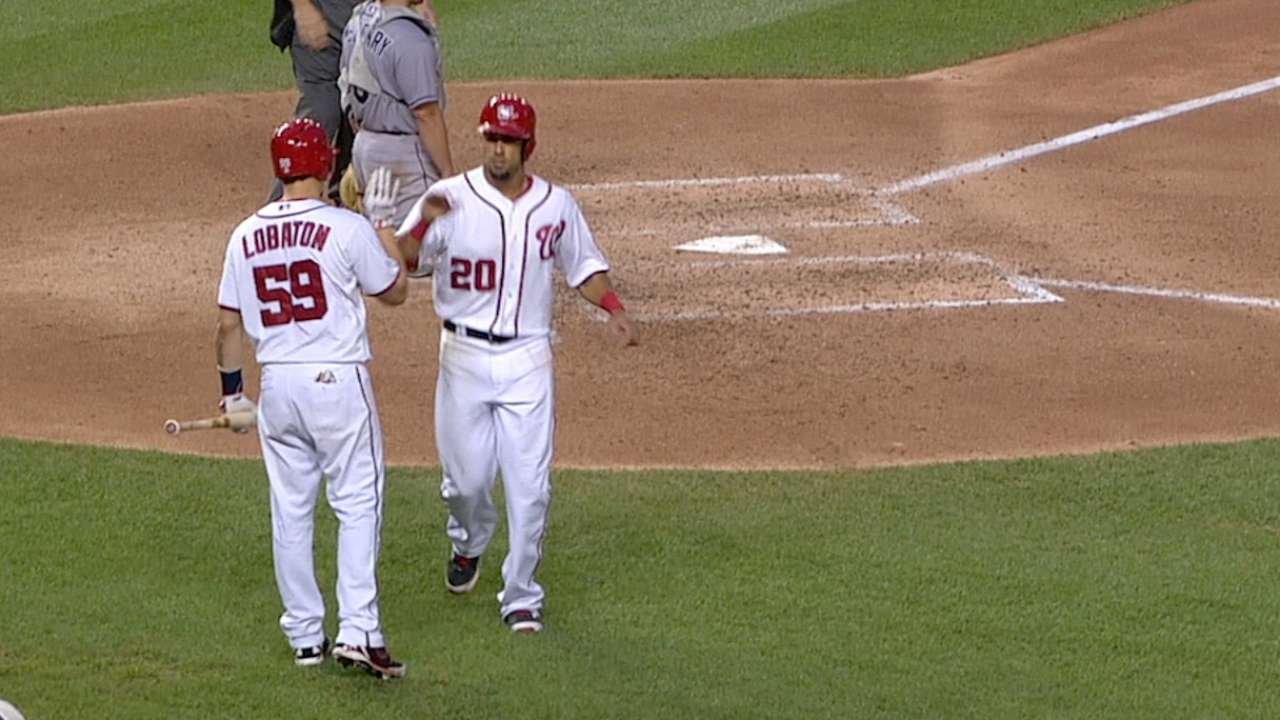 WASHINGTON -- Ian Desmond's home run in the seventh inning proved to be the difference as the Nationals edged the Rockies, 4-3, on Wednesday night at Nationals Park.
The Nationals swept the three-game series and have now won five consecutive games and improved their record to 46-38, a half-game behind the Braves in the National League East.
The game was tied at 3 when Washington took the lead in the seventh inning off reliever Matt Belisle. Desmond swung at an 0-1 pitch and hit the ball over the right-center field wall -- or did he?
The umpires ruled that the ball hit the top of the wall and Desmond was credited with a triple.
"The way it bounced back hard, I kind of assumed that it went over [the fence] and the way [center fielder Drew] Stubbs kind of just didn't go after it, made it a little easier," Desmond said. "At that point, I said I was going to get the triple. Yeah, I thought it was gone, but I wasn't 100 percent sure."
But crew chief Joe West decided to review the play. After 3 minutes and 42 seconds, the play was overturned and Desmond was credited with a home run, his 15th of the year. The ball hit the railing and went back onto the field.
"The at-bat was an indication of what he can do," manager Matt Williams said about Desmond. "He goes up there in that situation. He knows he is not going to get a ball to pull. And he stayed on it and it went over the fence. He has great power to all fields and he has the ability to do that at any time. It's just a good professional at-bat."
For the series, Desmond went 4-for-11 with the one home run and four RBIs. Of the 15 home runs he's hit this year, seven of them put the team ahead.
"It was just a mistake, sloppy slider to a hitter who is going really well this series," Belisle said. "That's it. That one's on me. I've got no excuse. Execution is all it is, especially late in tight ballgames like that. That game's got to be won or got to be held, or you've got to be beat by your best stuff. That was a poorly executed pitch."
Because of the Desmond home run, Doug Fister won his seventh game of the season. He lasted seven innings, allowed three runs on seven hits and struck out five batters.
Fister's only bad inning occurred in the second inning. After singles by Troy Tulowitzki and Corey Dickerson, Michael McKenry came to the plate and hit a three-run homer into the left-field bullpen to make it a 3-0 game.
But Fister settled down and retired the last eight hitters he faced.
"Doug felt really strong, which is an indication for him that the ball gets up in the zone a little bit," Williams said. "They made some nice plays behind him. The three-run homer from McKenry early put us in a hole. But he battled through. He found it a little bit in the last couple of innings he pitched -- down in the zone a little bit. It's probably because he was a little more tired."
Fister said it was a constant battle all night, but for a guy who started the season on the disabled list because of a lat strain, Fister won his team-leading seventh game of the year.
"I left a few balls over the plate and they made me pay for them. I really had to struggle to keep that going after that," Fister said. "The keys were guys playing defense. They came out and played well. They sacrificed a lot, whether it was diving or sacrificing themselves to make a play that was big."
While Fister was settling down, the Nationals managed to come back against Rockies starter Tyler Matzek in the fourth inning. With Anthony Rendon on first, Jayson Werth swung at a 3-1 pitch and hit the ball over the left-center field wall for his seventh home run of the season to make it a 3-2 game.
Three batters later, Bryce Harper blooped a double to left field before Desmond singled to left field, scoring Harper to make it a 3-3 game.
The Rockies made it very interesting in the ninth inning with closer Rafael Soriano on the mound. They had runners on first and third with two outs, but Josh Rutledge flied out to Werth in right field to end the game. Soriano ended up with his 20th save of the season.
"He is going to be ready every day, whether we are playing a doubleheader. It doesn't matter. He is ready for every game," Fister said about Soriano. "No matter what it comes down to, we have confidence in his abilities and what he does and know he is going to get the job done."
Bill Ladson is a reporter for MLB.com and writes an MLBlog, All Nats All the Time. He also can be found on Twitter @WashingNats. This story was not subject to the approval of Major League Baseball or its clubs.